The Gamers Galaxy Invitational brought some exciting moments to players and fans. Here are 7 reasons why we think it was an awesome event!
The Gamers Galaxy Dota 2 Invitational Series Dubai 2022 concluded a day ago with the astounding victory of BOOM Esports. Fans and players alike expressed their gratitude for the fun event. From the beginning till the end, the tournament did not disappoint and here we are, already struggling with the post-event blues.
To commemorate the Gamers Galaxy Invitational, we have compiled 7 reasons why the tournament was awesome! Let's begin.
1. First LAN event since TI10
The Dota 2 community was not hungry for a LAN event .. they were STARVED. It has been months-long since we've seen a top-tier Dota 2 offline event. When Galaxy Racer announced the Gamers Galaxy Invitational – the Dota 2 community was excited and the event definitely lived up to the hype. Gamers Galaxy was an inter-regional Tier 1 event that hosted world-renowned teams such as Team Secret, Nigma Galaxy, OG, and Team Spirit. Who would see these Dota 2 giants on stage together and not get goosebumps?
There is just no comparison between online and offline events. The real-life pressure, the live player interactions, interviews, stage, and so much more, bring a whole other experience.
And like KuroKy said in a post-match interview, "Online games are just not real games. This is the real Dota," he said. "It looks much better for the viewers too, the games are much more exciting."
And where else can we see these kinds of player interactions?
2. Some sunshine in these dark times
World issues, specifically regarding the ongoing war in Ukraine, have brought the world to a dark state. Many people of esports have voiced out for peace and shown support for Ukraine. In these dark times, the Gamers Galaxy event brought some smiles to the fans.
Team Spirit also used this platform to show their support for Ukraine. The team wore clothes displaying the word "PEACE' and have decided to donate their tournament earnings to the International Red Cross Movement. TSM also revealed that they will donate any tournament earnings plus additional funds to relief for the people of Ukraine.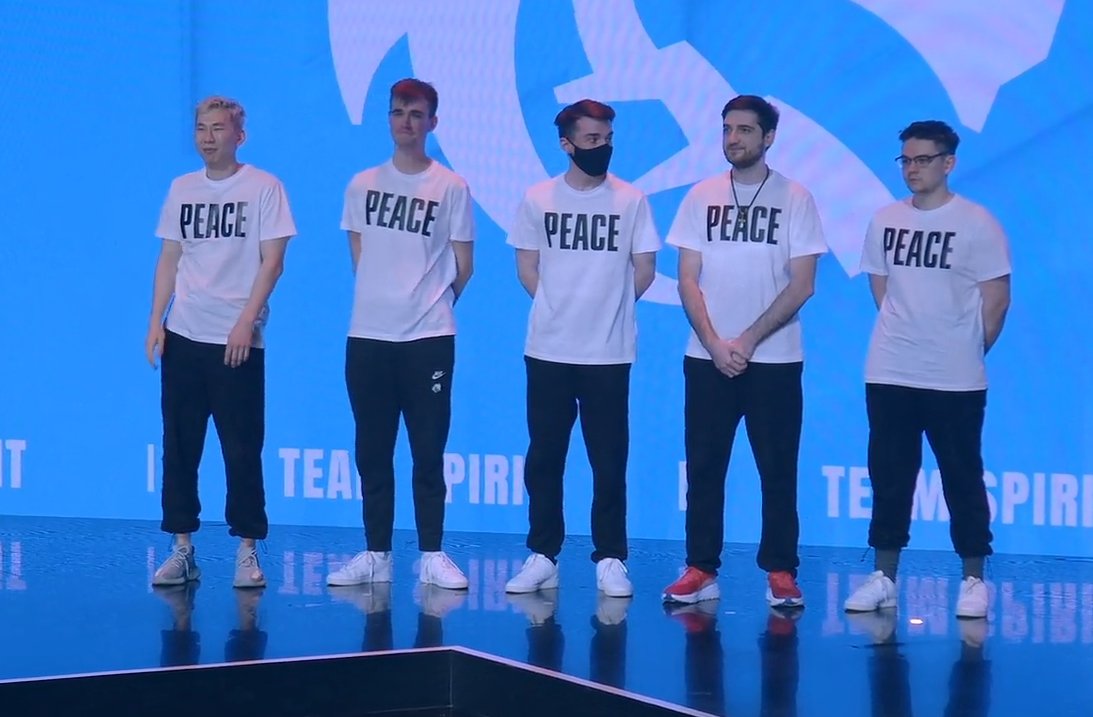 3. First Tier-1 tournament of Patch 7.31
The Gamers Galaxy Invitational was UNIQUE, and why so? The tournament took place directly after the huge Patch 7.31 was dropped. The new patch brought a huge shift to Dota 2, tweaking the most fundamental parts of the game such as the neutral creeps and the gold formula.
The patch was released on February 23, so teams and players had little time to prepare new strategies and tactics. It is like placing a pop quiz onto students who were not prepared and like it or not, it definitely makes a tournament much more unpredictable and exciting. We got to see the hottest hero picks of the tournament which can likely shape the meta as well.
4. A high-quality production
Nothing is more satisfying than a high-quality Dota 2 production. The whole event radiates a futuristic vibe with a drop of elegance. The setup was absolutely pleasant on the eyes with nothing too overwhelming. It also didn't have scrappy-looking desks that looked like it was taken out of a decade-old storage. Cough. TI10.
This tournament brought a Major-level prize pool on board. With 1,000,000 UAED or $272,000 USD on the line, stakes were bigger and the pressure was higher. The tournament format also gave the fans a good amount of Dota 2 with an action-packed Group Stage, Play-ins, and Playoffs. And players having the opportunity to play in the glitzy city of Dubai? That's one exciting experience.
The main Dota 2 observer, JJ also highlighted that he wanted to bring players closer to viewers. One of the ways he did this was by constantly showing their emotions during matches. And if it's not for this idea, we wouldn't get to see entertaining reactions by pros whilst in-game!
5. A fun twist to the broadcast talent
It is always interesting when actual pro players sit on the desk to talk about a game. And in this event, we were SPOILED with such content.
The Gamers Galaxy Invitational comprised a lineup of prominent analysts and casters such as Sheever, Cap, Fogged, and Ephey. Not only that, but Galaxy Racer also added two former professional players, N0tail and Resolution on board.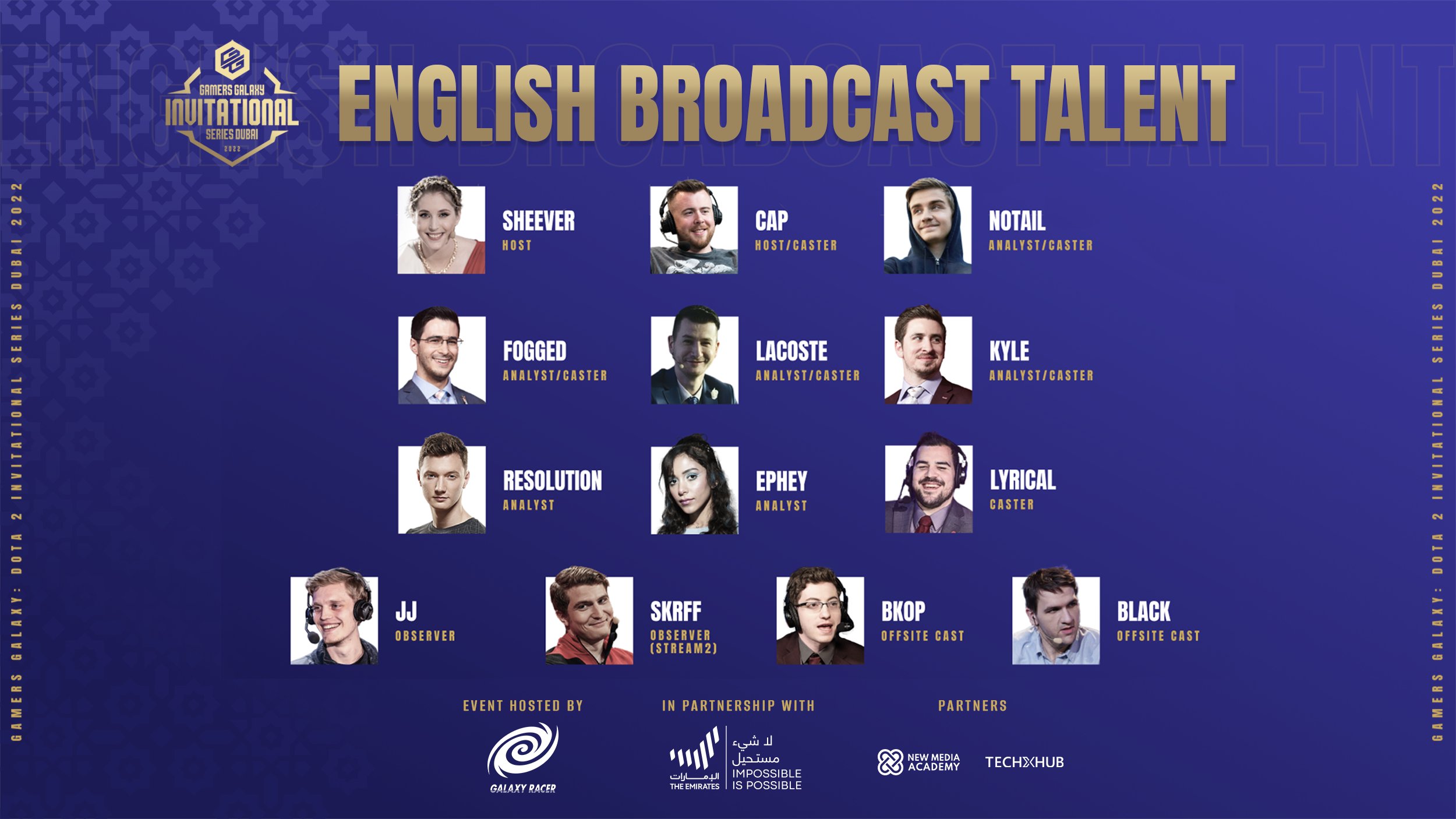 It is an understatement to say that we have missed their presence in the pro scene and to see them paneling throughout the tournament was a wild experience. N0tail casted a lot of games as well and he brought tons of valuable, totally unbiased casting. And who would've thought that N0tail would become a voiceline factory, churning out these funny commentaries?
During the Grand Finals, the audience was surprised with a trio cast which probably had a lot of Dota 2 fans drooling. N0tail, together with KuroKy and SumaiL sat on the casting desk to give a golden commentary on BOOM Esports vs Tundra Esports. It is not every day we get to see 3 legends with 4 Aegises on board. Definitely one hell of a crossover.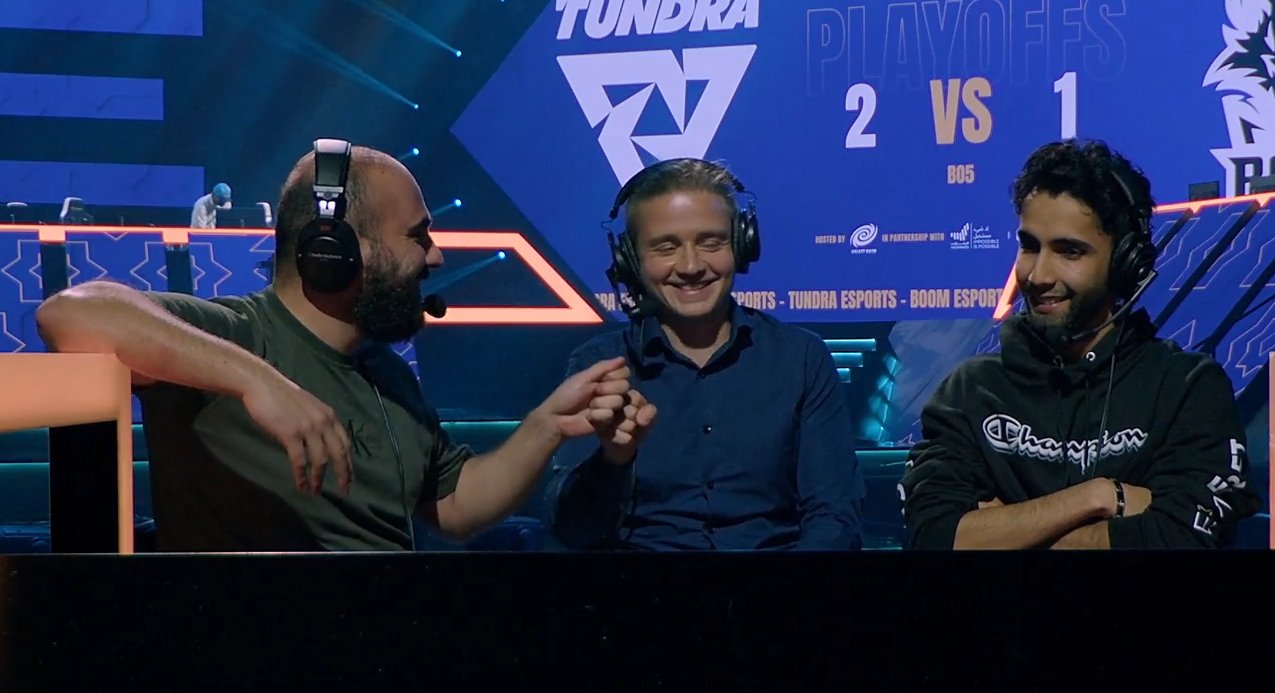 6. A gold mine of interviews
A highly anticipated content from tournaments is hands-down the interviews. These interactions with players are integral to connecting the audience to the pros. It's honestly SO precious that these players can say two words and the fans would be happy.
Kyle: Notoriously silent, no offense of tipping, but you're dumpstering everybody. What's the secret?
Yopaj: Being cute.
The Gamers Galaxy Invitational understood the importance of this bridge. They not only brought post-match interviews as per standard but also an interview prior to the matchup. The interviews were held casually with Kyle storming into their waiting rooms to ask a couple of questions. Although it strips off some formality and probably invites a little more awkwardness, they were definitely fun segments to watch. And hey, these interviews gave us the opportunity to see Nigma's strict regime behind the scenes – who would not appreciate that?
7. Fills in the DPC offseason
The Gamers Galaxy event could not have arrived at a better time. We are currently in the offseason of the Dota Pro Circuit and if it had not been for this event, we would've probably suffered from boredom.
The DPC ended a month ago and Gamers Galaxy commenced on March 2. Although this tournament held no DPC points, it definitely brought a fiercer level of competition compared to the Regional DPC. With players and fans thanking Galaxy Racer for the fun event, it did feel like a short getaway before things turn more serious as TI11 draws closer.
Now we are already geared up for the next DPC season to take off which will begin in a week.
Ever since the pandemic, the sight of a LAN event has been especially rare for Dota 2. This wonderful event has brought many joyful moments to both players and fans, so here is a big thank you to fellow organizer, Galaxy Racer!
Stay tuned to Esports.gg for more Dota 2 news and updates!