Actor and Liquid ambassador, Asa Butterfield is not happy with Valve's TI11 production
Renowned actor and Team Liquid ambassador, Asa Butterfield is dissatisfied with TI11 production and shaded Valve in his recent Tweet.
Asa Butterfield, a popular actor renowned for his role as Otis in Sex Education, just dropped a tweet shading Valve's TI11 production. He compared Valve's biggest Dota 2 tournament, The International, to a Smash tournament, stating that the difference in production makes "Valve look like an indie studio."
A Twitter user replied to his Tweet, saying that the production is under PGL. To this, Asa responded: "Yes but if my builder hired a team of penguins to fix my roof, I'm not gonna blame the penguins when it falls in. This is on Valve."

Asa Butterfield calls out Valve for how its handling TI11.
Asa Butterfield is not only active in the film industry but also contributes to esports and Dota 2. He is currently Team Liquid's brand ambassador and has been actively partaking in Liquid's content.
As TI11 Group Stage kickstarted today (October 15th), the actor expressed his dissatisfaction with the production and it's not surprising. Since broadcasts began, the Dota 2 sub-Reddit has been bombarded by complaints regarding production quality.
The broadcasts experienced in-game lags, frame drops, audio issues, and many more obnoxious errors. During the start of the day, random footage appeared on stream. PGL's Twitch extension, which serves to portray in-game info, also displayed wrong or outdated information.
A user on Reddit also shared a screenshot of TI11's graphic which displayed a loading icon.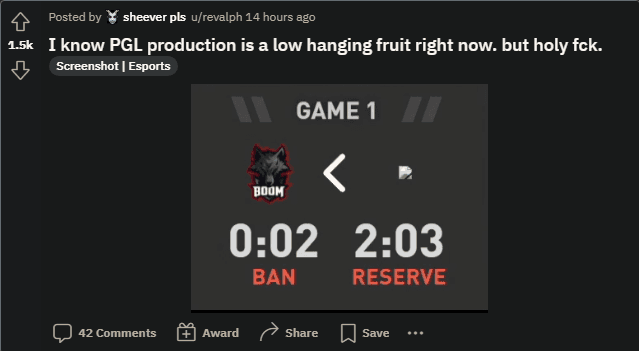 The community also complained about why the main TI Twitch channel is inactive. The "dota2ti" Twitch holds 1 million followers as compared to the PGL main channel with 360K followers. Activating the TI channel could bring more viewers to the prestigious tournament.
Occasional production errors have usually been of insignificant concern. But this tournament sees a deeply flawed production that is unacceptable to the community. And plus the fact that this is supposed to be The International - a tournament of high prestige - it's understandable that people are upset.
Not a good time for the Dota 2 community