Virtual events platform Gamerjibe introduces it's one-of-a-kind TI 10 Watch Party and Virtual Expo
With the DPC Regional Leagues over, and the AniMajor just ending, The International draws nearer and nearer. For most Dota 2 fans, the TI experience revolves largely around watching the official broadcast. Although nothing beats being at TI itself, there's always a good ol' pub stomp.
No, we aren't talking about smurfs crushing you in matchmaking. Rather, a pub stomp is a gathering or viewing party hosted in public places by Dota 2 fans worldwide. These events are the cornerstone of local Dota 2 communities, and usually take place during major LAN events like TI. At this time, where physical events have taken a backseat, one determined Dota 2 fan has brought his pub stomp to the next level.
Meet Peter Perez - VP at Gamerjibe by day, and long-time Dota 2 event organiser by night. He's created a TI10 Watch Party and Virtual Expo through the Gamerjibe platform - and he's convinced it's the next step in esports events. We sat down with Peter to find out more about Gamerjibe, and how he's breaking the mould of what an online event can be.
What is Gamerjibe?
"At it's core, Gamerjibe is a virtual events platform that aims to inspire and engage interactions in a new way over the browser"
The platform itself is a 3D immersive world, or a "metaverse" as Peter calls it. Each user is given their own customisable avatar, which allows them to navigate the event space.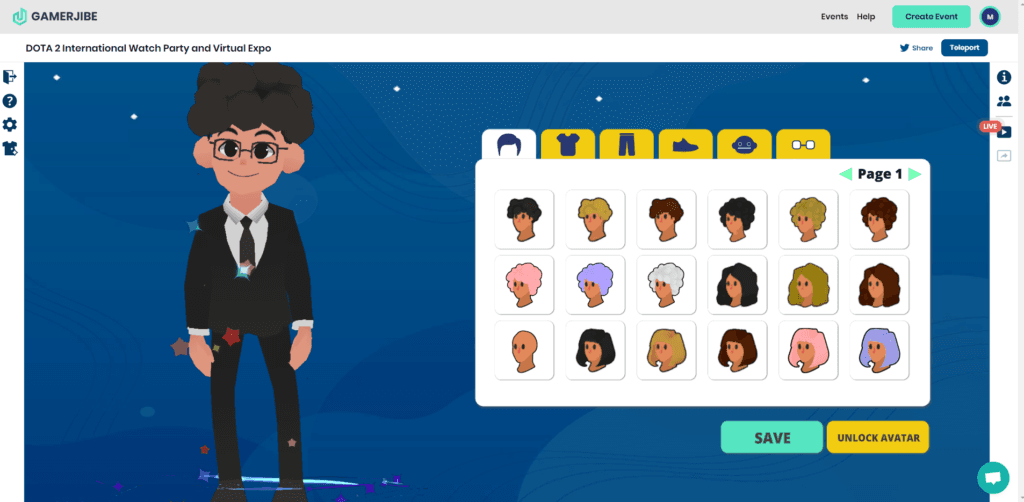 Avatar Customisation Options (screengrab via Gamerjibe)
Event attendees can engage with one another through text, voice, video and even screen-sharing. Whether you're looking to network, meet new friends or simply watch the matches - there's a room just for it.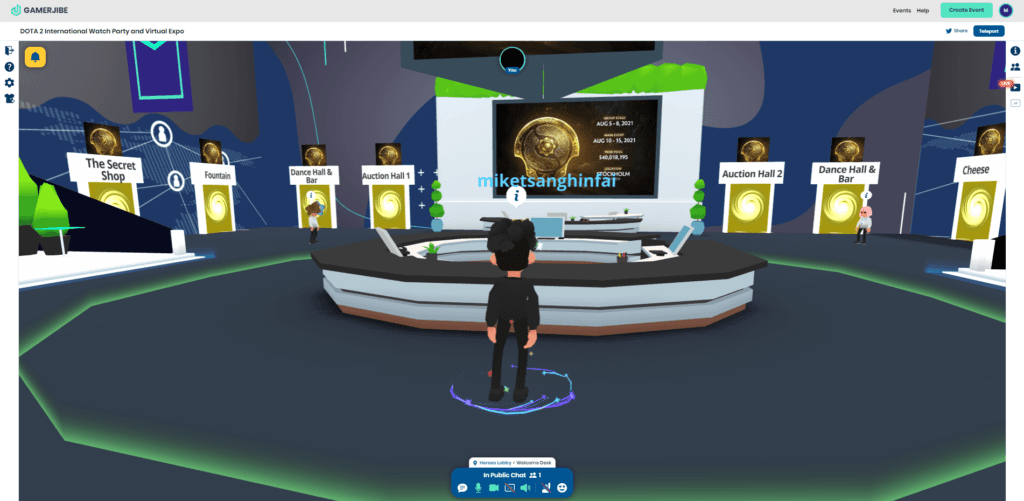 The Heroes Lobby - The Landing Area and Event Hub for the TI10 Watch Party and Virtual Expo (via Gamerjibe)
On top of being able to interact "face-to-face" with other users, the layer of gamification present in the metaverse is what makes the experience unique.
"The result is you can have what feels like an in-person event over the web."
Last but not least, the platform is accessible through any internet browser, no need for any downloads.
What can attendees expect from the event?
So how does the Gamerjibe platform lend itself to the purposes of a watch party?
The watch party portion of the event is pretty self-explanatory. Similarly to a physical watch party/pub stomp, the event space has presentation rooms that look just like a cinema - rows of seats with a large screen in front. Attendees can hop into the rooms, and watch the TI10 matches on the big screen.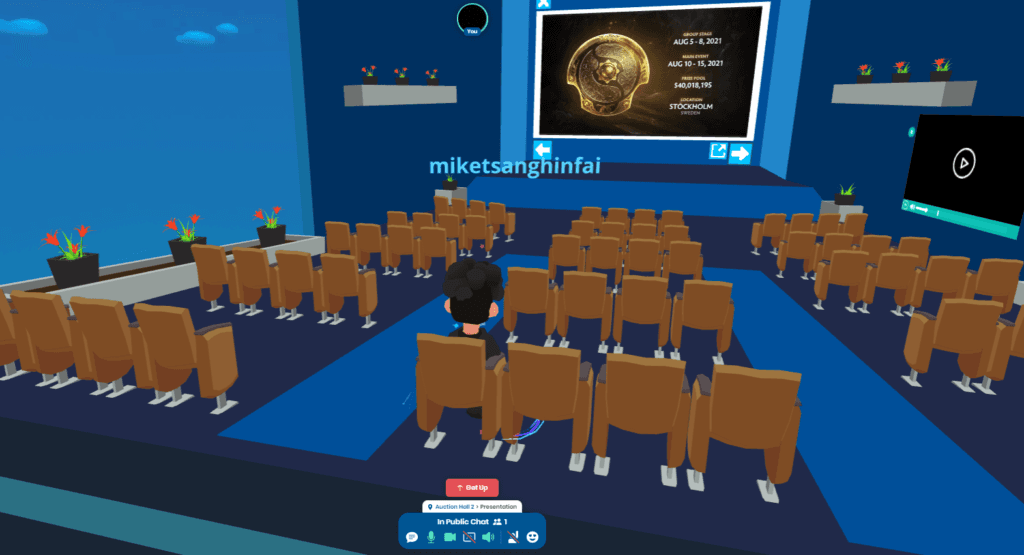 One of the "viewing" rooms in the TI10 Watch Party and Virtual Expo
That's not the only place users can tune in though. Most of the other rooms also have screens playing the Twitch broadcast, so that you can keep an eye on the action no matter where in the event space you are. There's also a "live stream" button at the right sidebar, that opens up a small window right of the screen.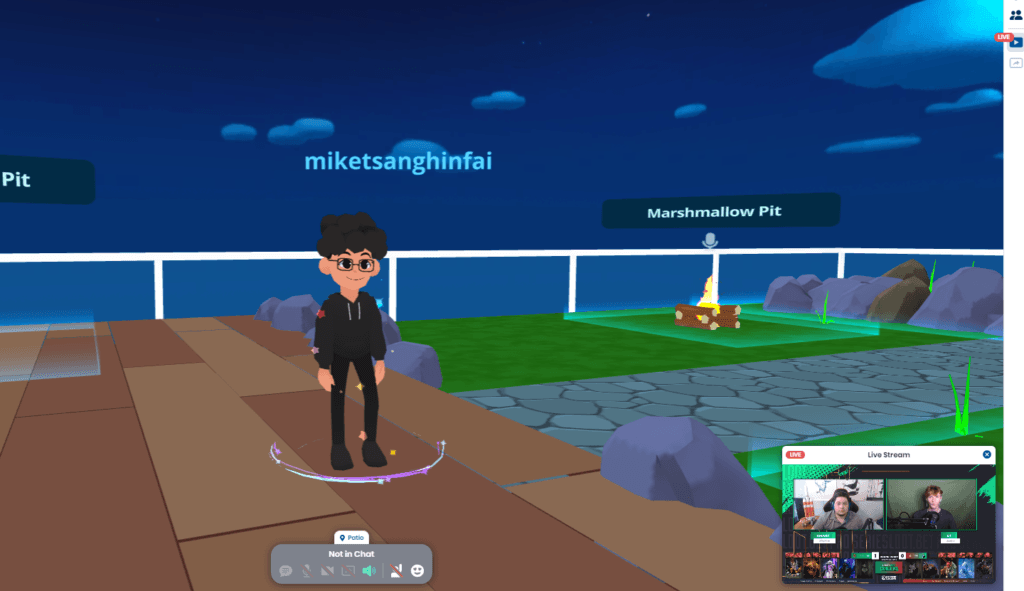 The Live Button at the right toolbar opens up a small screen to view the ongoing
DPC
matches (via Gamerjibe)
For Peter, one of the highlights of is being able to engage in smaller groups. Thanks to the voice and video connectivity between attendees, it's just like interacting with someone in real life,
"In the Gamerjibe platform, you get to have conversation with a manageable group of people over voice and video, and actually be screaming over your microphone and hear someone else's screaming reaction when someone makes this epic play, like stealing the Aegis or y'know discovering a huge bug halfway during a match."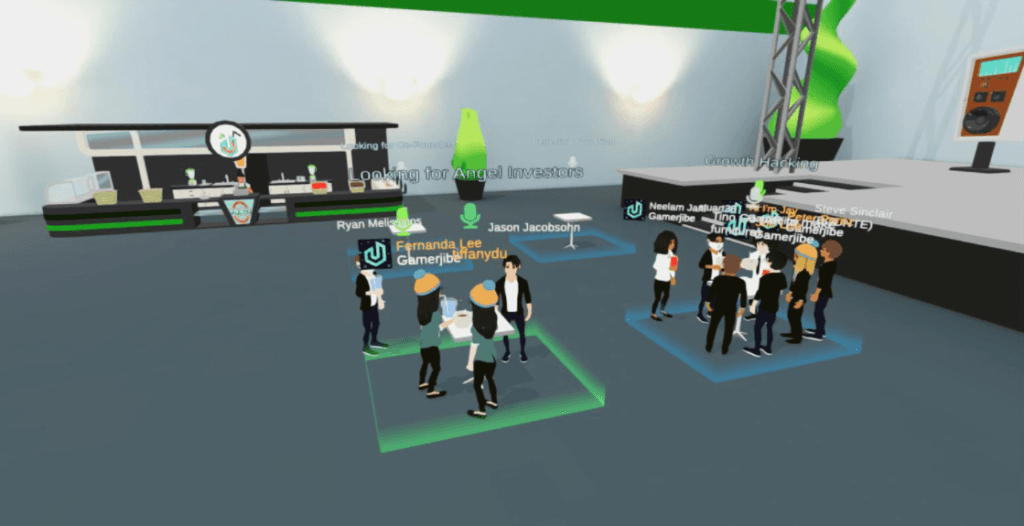 Private Voice Chat areas available for conversations in smaller groups (via Gamerjibe's LinkedIn)
Ultimately, these features come together to create an "online pub stomp" experience as close to a physical event as possible.
What is the Virtual Expo about?
While Gamerjibe's platform has mostly been tailored for corporate events, Peter realised that the Dota 2 community could take advantage of the same tools as well.
This is where the Virtual Expo aspect of the event comes into play. By having brands and organisations endemic to gaming come in as exhibitors, Peter believes that he can bring the esports ecosystem closer together.
"The bottleneck (in the esports ecosystem) is widening, because with tools like this platform, we get more access to the grassroot (Dota 2) communities. It allows engagement to go beyond that two-dimensional interaction that happens on Twitch or Discord."
This emphasis on meaningful engagement goes beyond just connecting and making new friends. The crux falls in blurring the line between being just a spectator and being a participant. These two roles are commonly misinterpreted, according to Peter.
"(Members of the Dota community) are typically limited to the communications that happen on Twitch, or our own Discord channels. But in these virtual event spaces, (people) are ready to talk, communicate and perhaps even network with you. For communities that want to consolidate ideas and goals, this type of event just takes it to another level."
Peter Perez, VP of Business Development for Gamerjibe and Creator of the TI10 Watch Party and Virtual Expo
At the end of the day, Peter hopes that his Virtual Expo will bridge the gap between people looking to be involved in esports, and the organisations in the esports ecosystem.
"The gaming audience (overall) is still getting younger. But as we start to mature, we have to look for something meaningful to be a part of. Some of us want to be creators, some production, legal, healthcare - but esports needs all of those things. These types of events help ensure that someone is able to plug in right where that missing link might be. I'm hoping that becomes obvious to the community."
Is Gamerjibe the future of online esports events?
Although the TI10 TI10 Watch Party and Virtual Expo is Gamerjibe's first foray into an esports event, Peter is confident that it won't be the last.
"I think immersive platforms like Gamerjibe are really the next iterative step of (esports events). Eventually, we will have competitions where spectators get to affect what happens in these tournaments. When you're able to participate in an event like the (TI10 Watch Party and Virtual Expo), it allows you to have a bigger voice in your community."
Apart from eventual plans to expand into other titles, mobile integration is on the horizon as well. For now though, this event is Peter's pet project.
"Dota 2 is a real passion of mine, and us having a $40 million prize pool for The International - no other title has even come close to that. We've all been Dota fans for so long, for me since it was just Aeon of Strife, and it really speaks to the power of the community - we're really going to push for what we want."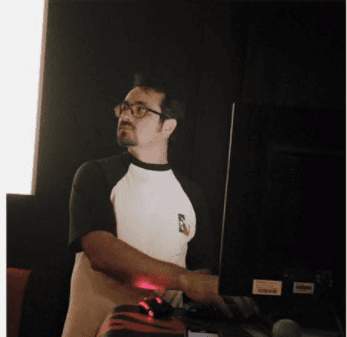 Peter at a pub stomp he organized for the Austin, Texas Dota 2 Community in 2015
So what is it that Peter wants?
I want the community to have direct access to the esports ecosystem, and other members of the community who are finding a way to create a business or solution in the esports world. That's my way of giving back to the Dota 2 community.
Peter Perez, VP of Business Development for Gamerjibe and Creator of the TI10 Watch Party and Virtual Expo
How to attend the TI10 Watch Party and Virtual Expo?
Of course, just like all of Peter's pub stomps, the event is entirely free. You can visit the event site here to find out more information.
Screengrab of the TI10 Watch Party and Virtual Expo event page
In terms of creating an account, users can link an existing Discord, LinkedIn, Google or Facebook account for easier sign-up.
As the event draws nearer, Peter hopes to bring in sponsors to potentially provide prizes - just like any other pubstomp. Who doesn't love free stuff, right?
Currently, Gamerjibe is giving away VIP access to the event through an in-platform Scavenger Hunt. All you have to do is find all the collectibles in the event space for a chance to win. What does VIP access entail? While the soft-cap for the event is tentatively at 500 attendees, VIP access allows you to come and go as you please.
VIP or not, Peter encourages the community to give the event a try for themselves.
"If you're not interested in connecting, and you want to banter and poke (at each other), then this might not be the event for you, but that's totally cool! That's what's great about the gaming world - you get to find the community you want to be part of. But if you want to make quality connections, and have something you care about - Gamerjibe is the place for you to say it and share it. We're taking community events and gamification to a whole new level my friend, and we're excited for it."