New IGL, New Stand-In, New System, Same Old NaVi.
After months of struggles, and external factors destroying the team. NaVi emerged victorious, taking the win at Blast Premier Spring Finals 2022. Their opponents, Vitality, could not put up a fight, as the star trio of NaVi rolled back to their 2021 forms.
"It's been one year and a half we didn't beat them.. I guess it's a bit too long," :apEX
Coming into the game, NaVi looked like the clear favorite for the match. Their star power was unmatched, Viktor 'sdy' Orudzhev was stepping up and Denis 'electroNic' Sharipov looked like a world-class IGL. The best thing for Vitality was that Mathieu 'ZywOo' Herbaut was right up there with Aleksandr 's1mple' Kostyliev in individual performance. Their interviews echoed the sentiment with both Emil 'Magisk' Reif stating that they were the underdogs.
The veto was an intelligent decision from Vitality to test out NaVi's map pool. The french-danish squad picked Overpass into NaVi, a map that the latter hadn't played with sdy. In fact, NaVi hadn't played Overpass since ESL Pro League almost 3 months ago. But first up was NaVi's pick of Mirage.
Natus Vincere removed Vertigo
Vitality removed Ancient
Natus Vincere picked Mirage
Vitality picked Overpass
Natus Vincere removed Nuke
Vitality removed Inferno
Dust2 was left over
"Perfecto taps them down! 4 frags to his name and 11 rounds to NaVi!"
Mirage started off with absolute domination from NaVi. The pistol round was a brawl that barely went the way of Vitality, but from there NaVi pulled together a T-side streak of 8 rounds. Vitality's aggressive play in round 12, put NaVi on the back foot. The defenders managed to string together 4 out of the last 5, putting up a respectable albeit shaky 5 round-haul.
NaVi's defense started off even better, with an Ilya 'Perfecto' Zalutskiy 4k taking the hopes of any comeback away from Vitality. While the attacking side had a brief resurgence, Valeriy 'b1t' Vakhovskiy stepped up to the plate and shut them down, with a quad-kill and two triples.
"[electroNic]'s very smart, he can outcall any IGL and he's really good in mid-rounds when you just need to go, don't use any nades, and they won't even expect you."
S1mple
"b1t's got it with the headshot! The kid is taking names, and his favorites are French and Danes"
The second map was supposed to be a punish pick but ended up backfiring on Vitality. Their start was better than Mirage, with the team picking up an easy pistol-round conversion. But immediately after that, NaVi started powering up again. Even when they had advantages, sdy and electroNic pulled that back into NaVi's favor.
After aces from b1t and electroNic, NaVi rushed towards the finish with an 11-4 half. The second half saw Vitality pick up a single B defense round, while b1t and electroNic continued their march and decimated Vitality, 16-5.
S1mple claims the MVP, setting a new record with 20
The event concluded as sdy lifted the Blast Premier Trophy, to the cheers of Lisbon. s1mple was awarded the MVP, taking his tally up to 20, beating out dev1ce's 19. This adds another accolade to s1mple's glittering career, setting him as the most decorated player to play CS:GO.
On the desk and in interviews, s1mple discussed their event win and their future. On the topic of electroNic as an IGL, he said "[electroNic]'s very smart, he can outcall any IGL and he's really good in mid-rounds when you just need to go, don't use any nades, and they won't even expect you."
Further, he praised sdy's position in the team stating "I hope [sdy] will play in Cologne, I think he played really great. He had a lot of key rounds against OG and against Vitality today, a lot of multi-kills. He is a really calm guy and he is ready to learn, he knows how to listen to other people."
Battle for Cologne intensifies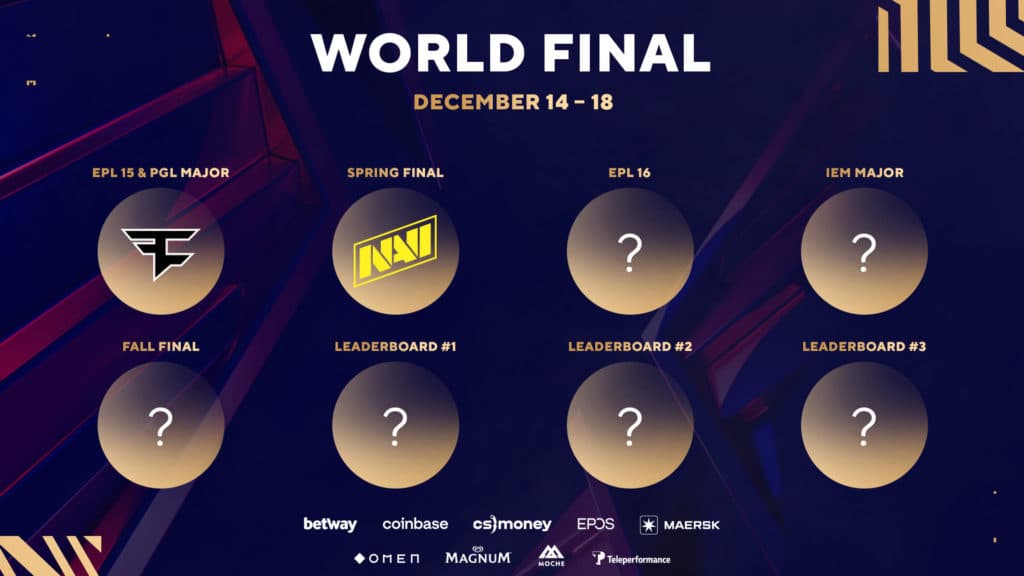 NaVi secure a World Finals spot with a win at Blast Premier Spring Finals
Blast Premier Spring Finals 2022 Results
1st - Natus Vincere [$200,000]
2nd - Vitality [$85,000]
3-4th - G2 [$40,000]
3-4th - OG [$40,000]
5-6th - ENCE [$20,000]
5-6th - FaZe [$20,000]
7-8th - BIG [$10,000]
7-8th - paiN [$10,000]