S1mple and B1ad3 from NAVI explained issues they faced before and during the European RMR tournament for PGL Major in Antwerp.
Despite all issues and obstacles the Ukrainian team faced recently, NAVI is showing maybe not a perfect but good performance at European RMR for PGL Major in Antwerp. After winning against Vitality today, NAVI finally secured their spot at Major.
Right after the game, NAVI's representatives went to talk with journalists: S1mple joined the official stream and B1ad3 had a short talk with HLTV. Both of them discussed how the war in Ukraine has affected their preparation, what went wrong in the game against Heroic, and possible revenge against FaZe Clan.
NAVI.B1ad3 about RMR: "We did not have any practice at all after ESL Pro League"
Both S1mple and B1ad3 didn't hesitate to say that NAVI had some serious issues with preparation for RMR. War in Ukraine affected not only the training process but also the morale of the players.
"We did not have any practice at all after ESL Pro League because of different circumstances and we could not get together," said B1ad3. "Our players were only playing individually and I think it affects us a little bit when we play versus tier one teams, because of our decision-making and analysis. It would have helped us if we practiced more to be more in the CS world so our brains can be merged with this universe, right?"
In that scenario, we would have been more focused on details, but still, we are happy without practice we managed to qualify".
"We need Legends spot. But probably we don't deserve it because we had no preparation at all after we lost ESL Pro League," S1mple said. "Because of different things. […] The whole situation in the world doesn't let us play consistently how we played. Last year we had practice, scrims, and all that but right now we are just playing individually. Hopefully, we will make it to Legends and get much better form".
When analysts asked about S1mple's personal performance and form at RMR, NAVI star-player answered with one simple number:
"30 hours for 2 weeks in Steam. But it's just a start"
NAVI S1mple: "Heroic surprised me with how they screamed after the end. It felt like they won major"
Another topic for discussion was NAVI's defeat against Heroic in the third round of the RMR tournament. After the game analysts noticed an unusual amount mistakes in team play and individual performance of certain players. S1mple and B1ad3 explained small details about the game and the psychological part.
"When we started to lose yesterday, we started to get a lot of nerves and we started to play more passive," admitted the team coach. I think emotionally we were not so fired up, especially on the last map.
I think we made too many mistakes, we lost 4v2 on the CT side of Inferno and that was a very important round, I think it changed a lot. On the T side, we lost the pistol round 3v2 before losing the next force buy. We were going into A 4v1, on round 5 or something, and we lost it.
"Heroic surprised me with how they screamed after the end. It felt like they won major," started S1mple with a joke. "But in terms of the game, they differently played really well on Nuke. on T-side. We knew what they are going to do but we got lost in our rotations."
"When they went to Secret or jumped on Vent. Sometimes we were too focused on Door or Outside and they just went Ramp. It was a bit unlucky game for B1t. But overall they definitely played much better".
S1mple about a possible game against FaZe: "We know how to beat them"
While NAVI is waiting for the results of the Swiss stage at RMR tournament, analysts dream about a possible revenge match against FaZe Clan – the team that kicked NAVI out of ESL Pro League. S1mple also is excited about this match-up but hopes for a better individual performance than last time.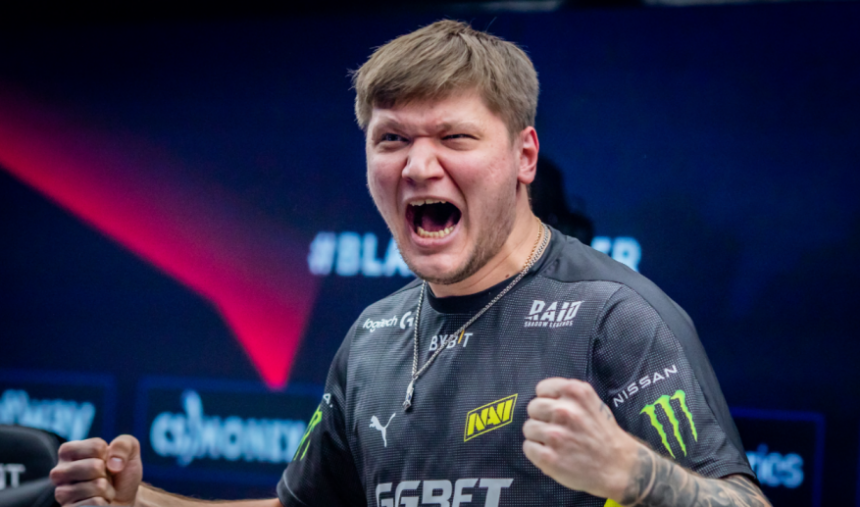 "They beat us last time, the same us Heroic, and definitely we want to get our revenge. And we know how to beat them. It was just unlucky games.
"And hopefully, we will be prepared for them much better next time and play better individually. Because in Katowice they played much better as players first of all".

S1mple.
For now, only two teams secured Legends status for PGL Major Antwerp – Heroic and BIG. The last day of Group A at the RMR tournament will decide the fate of two more slots. And NAVI still has a chance to grab the coveted slot. It will depend on the last games' results and a possible decider match against Forze.
Follow Esports.gg to not miss more news about NAVI's path at RMR and PGL Major Antwerp.