Mouz NXT won the WePlay Academy League and we caught up with the team's coach, Sycrone, for his thoughts on Danish CS and Academy teams in the scene.
Dennis "sycrone" Nielsen, was a part of the Danish sub-top IGL ecosystem for many years. Throughout his playing career, he played with a variety of Danish talents over the years. He was also a member of North Academy, one of the first generation academy rosters. After hanging up the mouse, he joined mousesports as the coach for their academy roster mouz NXT. Following their victory at WePlay Academy League Season 1, we sat down with sycrone to talk about his playing career and how he has transitioned into being the coach of the best academy roster in the world.
In your playing career, you played in a variety of organizations with a lot of Danish talent. On your last team Tricked, you played for about 9 months. What made you decide to become a coach? Has the switch always been somewhere in your mind?
Sycrone: I think it was always in my mind. I would say that I have played with the great players, and also in great organizations, I also played with some really good coaches. I had Toby in sprout, Ave in the North Academy, Fetish early on in my career, vorborg in Copenhagen Flames, Winspai in Tricked. And I think all of them had their own unique style, and I always looked at them and thought that it would be natural for me to transition into a similar role. I kind of pick and choose what I liked from each of them. And I think if you ask a lot of my past teammates, they will say that I would make a great coach someday.
Also on a more personal level, a few months before Covid became a thing, something happened in my personal life, and I decided to take a step back from playing. Back then I wasn't on a contract, but I did play with these players like Percy and SMF. I was off the game for maybe half a year, before I got contacted by Singularity. And not long after that Tricked contacted me and said that they wanted me to come and play for them. I saw it as maybe one of my best chances to get back into the game. But I just never really got back into the groove of playing again. As a player, you have to make so many sacrifices. And at this point in my life, I was tired of it. And I really wanted to prioritize other things in life to which I really hadn't done for many years.
---
How easy has it been to transition from being an ideal to a coach?
Sycrone: Very easy. I think that with the type of In-game leader I was, I already practiced and preached a lot of things that you need as a coach. Being a good role model, making sure you have a plan for the week to come for the daily practice, trying to have like a helicopter perspective on your gameplay. What are the reads our opponents could have on us? How do we build a good game system? How do we make sure that everyone on the team feels comfortable and that everyone is performing, not only in-game but also outside the game? Making sure that we have a good atmosphere, and that everyone feels like they're improving has always been a part of my role as team captain and in-game leader, so it's just very natural, I would say.
"If you're an upcoming player in Denmark. You will have a stable structure, a salary for playing, opportunities to play in tournaments"
Over your career, you have played with many Danish talents like stavn, acoR, b0rup, etc. that have gone on to become tier one players. Many experts have talked about the Danish ecosystem of IGLs as a key part of player development. Could you elaborate on how the Danish scene is so efficient at developing this talent?
Sycrone: Yeah, it's true that the ecosystem in Denmark is years ahead of any other country. You mentioned the in-game leaders in Denmark, I think if you go back 20 years to 1.6 we had great in-game leaders even back then. And just throughout the years, we have been producing good in-game leaders who have kept producing great talent. It's just always been the case and still is the case in Denmark. So I think that's part of it. And in more recent times, from a commercial aspect, I think Astralis have done a great job. At least back here in Denmark, and there are a lot of other organizations who are part of the ecosystem like Copenhagen Flames, Tricked, being the most noteworthy ones, but also AGF, Lyngby, etc. There's just a lot of good places to start your career if you're an upcoming player in Denmark. You will have a stable structure, a salary for playing, opportunities to play in tournaments, to Bootcamp, to be surrounded by teammates with similar ambitions and to have a coach in your team.
Even earlier in your career in Denmark, you can have esports as a subject in school, there are even over 100 boarding schools in Denmark that offer it. You can also have it in your high school. And some of these schools have very prominent teachers including myself. I'm a teacher in Denmark, and even top 10 players are coaching the players and students. I think that the talent mass in Denmark right now is great, but the talent mass to come is even greater. And I don't spot anyone else in the world right now who is even close to matching what's about to come.
So we are about to see even greater things from the Danish scene?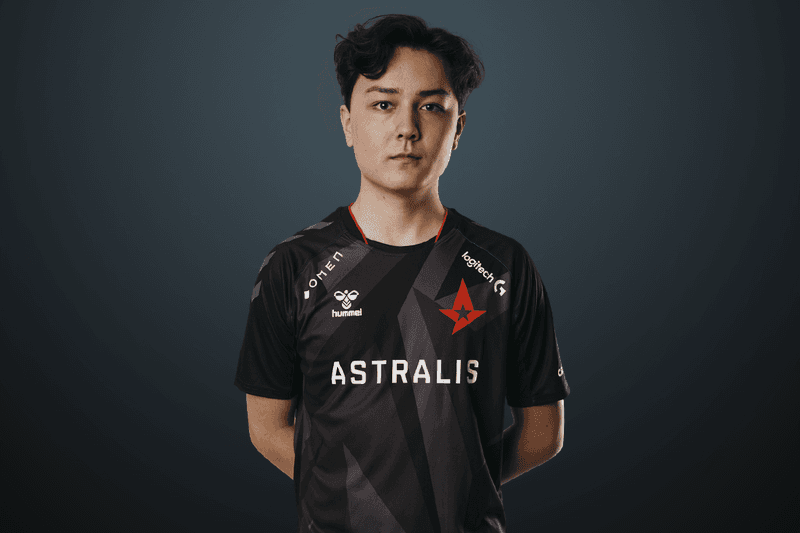 Sycrone played with Lucky on Tricked
Let's talk about one of those talents then. Philip "Lucky" Ewald was your teammate on tricked, and has recently moved over to Astralis, what are your thoughts on Lucky and his future potential?
Sycrone: Lucky is the type of player who makes the game seem totally effortless. For the past three seasons, in the Danish National League, he just dominated all statistics, he was always the highest-rated player, the MVP. Playing with him, it just seems like he doesn't put in any effort. But, he's always putting up the numbers and getting the job done. And I think if he puts in the work, and with the tools available on Astralis, the players that he's playing with now, and who he's able to learn from, I think it would be a failure if he doesn't take it far from here.
My personal suggestion to him is that I want him to care a little bit more. It seems like he really is emotionless and sometimes I miss a little bit of fire. And I think some emotional anger would be great from him. I would like for him to get angry and kind of fight off and play.
"In North Academy, we were never a priority to the organization [...] We were just left to fend for ourselves."
You were a member of North Academy, which was one of the first Academy teams set up in the world around 2017. What do you think, led to the failure of the academy squads in the past?
Sycrone: In the case of North Academy, it was mostly because we were never a priority to the organization. Back when they had to replace K0nfig, they came and asked for Mertz from our team. A week later, they came to get gade to replace Cajunb. A few days after that they came and asked to get Ave who was our coach at that time. It was obviously great for those three, but Borup, acoR, and I were just left to figure things out for ourselves. There was no plan in mind for who we could play with or how we're gonna play our tournaments or who's going to coach us. We were just left to fend for ourselves.
I think even leading up to the point where they pick the three players, it was clear that the main team was about to undergo changes. It felt like in North Academy our players just started playing for statistics. We had a really great team. We qualified for DreamHack, WESG, we were even around the top 32 at that time, and just within a few months, it all crumbled because the main team wanted a few players. It was hard to rebuild because it seemed like the organization just didn't take an interest in us, to be honest.
---
What are some of the takeaways that you've taken from North Academy to mouz NXT, maybe focusing more on player development, instead of siphoning through talent for the main roster?
Sycrone: Yeah, it's something I've talked with the mouz staff about. I don't want to create a team where we're constantly taking players from the academy team up to the main team. They need some time to develop the academy scene beforehand. If they don't have a plan in mind, for how the academy team can move forwards, or maybe they go a different direction, which could improve the team as a whole, you might end up in a situation where you hurt the academy mission. You can't just pick players as you decide, just to make sure that the main team is in a good condition.
Also, I think it's very important that the academy team gets some of the same treatment and resources, that you make sure that there's a coach at all times, to make sure that the organization management sometimes chimes in and talks to the players. For example, we have a group chat, where we have the media guys and even the CEO, and co CEOs. Everyone's writing in there, how things are going, and stuff like this. The sports psychologist of the main team is also connected to me. All of these things. Just make it so that there's a much higher interest in the academy team. And it feels like we're part of the kind of a family. It feels like even if they just have one team and it will feel like we were the main team, in some sense.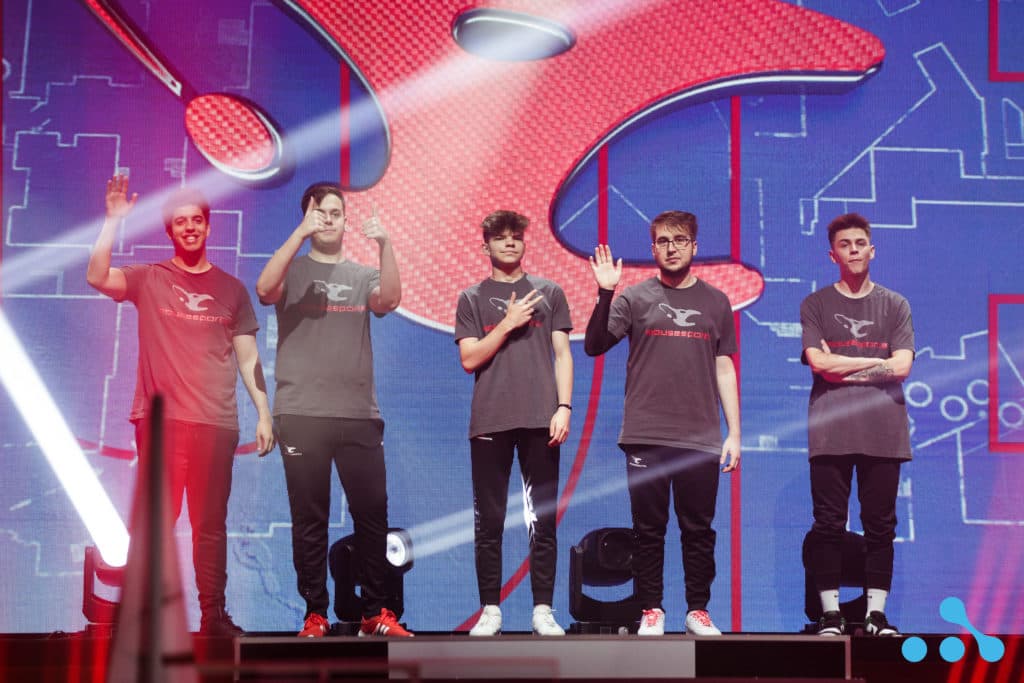 The mouz NXT's roster.
How long before the creation of NXT, were you contacted by mousesports?
Sycrone: I'll say was probably six weeks before the inception of the team. And the first four weeks were spent on scouting and picking players.
---
Most general managers or coaches, when they start conceptualizing a team, think of what roles they want in their team. What was the system that you had in mind while assembling this roster?
Sycrone: Yeah, I think it's very important that you get a roster that makes sense role-wise. You can't obviously have five goalkeepers or five AWP players, you need players that could fill every role in the team and probably some players who are a bit versatile. And if early on you start struggling for positioning, and people are fighting for what spot you want to play on the map, there's a chance you might never get on the same page, or find your identity as a team.
So I did a lot of player interviews. I talked to everyone and got a good idea of their personalities, which I think is very important. I got to feel if this is someone working in a team environment, as it's obviously a team-based game. Are these guys the type of people who put others before themselves when needed, but also believe in themselves to become the best at their respective roles?
That's all very important. Some of the harder roles to fill out are, I would say, probably the AWP role and mostly, the In-game leader role. So I had to make sure that once I had Kamil [Siuhy] in mind, that he was also on board with the way that I visualized the team, how I saw it working together, how I saw the roles playing out? Of course, he has a different way of seeing the game, but could we somehow work together? I think that's very important that it's not just me controlling the game, or that it's just him controlling the game. So it was very important for me that he also saw that he could play out the way I saw it.
---
So it was something like both of your visions for the game merging to create the ideal vision for mouz NXT?
Sycrone: Yeah, I would say so. But he was one of the later pieces that we put together for the team. Like really early on, we already had Xertion, Torzsi, and JDC in mind for the team. I mean, no one was signed yet, so if we had to go a different route, we could do that. But I'm just very happy that he visualized it the same way I did. So it worked out.
Keep an eye out for the second part of this interview, where we talk about mouz NXT's roster and their performance at the WePlay Academy League. WePlay recently announced the Season 2 for the Academy League and mouz NXT will be one of the eight teams to take part in the $100,000 tournament. Season 2 will run from September 28-October 9 and CSGO fans can catch all the action live on Twitch.