Astralis are in the US Stock Market! Here is what you need to know about the Danish organization's expansion into the US.
It is a big day for the Danish esports team as Astralis are in the US Stock Market. They will join Upcomer and Enthusiast Gaming, parent company of Luminosity Gaming on the US Stock Exchange.
Becoming a public company on the US Stock Market is big for this team. Now, fans of the organization will be able to hold stock and ownership in the Danish esports organization. The Copenhagen Based Astralis are in the US Stock Market and are ready to capitalize on their US fanbase. For those that are interested in owning some shares of Astralis, here is how you can be apart of it.
Astralis are in the US Stock Market
The popular esports team will trade under the ticker symbol, ASGRF. The ticker symbol is what you will type into search to see how much each share is worth. Here, they will join the developing esports market; in hopes of branching out to their US base.
"It will give our current and potential new shareholders an additional and larger regulated platform from which they can conveniently trade our common share and it provides added exposure to an expanding US market of esports investors," Astralis CEO Anders Hørsholt said.
Astralis are in the US Stock Market, but they are not newcomers.  Aside from their recent inclusion into the US Stock Market, they are also trading in the Danish Stock Market. To add on, they are known as the first publicly traded esports organization after releasing their IPO in 2019.
However, the Danish organization is not finding the success they are hoping for. Initially joining the Danish Stock market at a price of $1.35 USD per share, they are now down. The esports company reached a low point of $0.70 USD per share in October 2020.
That being said, while lower than their initial IPO (Initial Public Offering) release, they are beginning to bounce back. As of writing, ASGRF is currently trading at a price of $0.95 USD per share. Thus, the stock is now trading $0.25 USD per share higher than their lowest point in 2020.
Luckily for them, they are in a developing esports niche in the US Stock market. Esports companies are slowly beginning to pick up pace in the US. Esports company Allied Esports found success, reaching a high of $3.71 USD per share in March 2021. Initially at a price of under a dollar, the Irvine based company currently sits at $2.33 USD per share.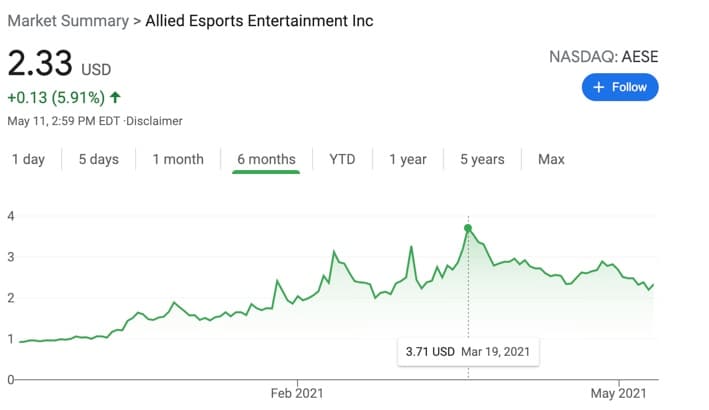 Astralis are in the US Stock Market and looking to expand their presence internationally more.
How is Astralis As an Esports Organization?
Stock market aside, Astralis currently hold three esports divisions dispersed between CS:GO, LEC and FIFA. The Danish esports team is beginning to branch past their CS:GO roots and into more esports titles. With more esports titles on the way, Astralis are looking to become a pioneer in esports.
Astralis are four time major champions in CS:GO.
In the meantime, Flashpoint 3 will run through the remainder of the Upper Bracket Round 1 matches. Afterwards, they will continue again with the Round 1 losers, all before May 19.
What are you thinking now that Astralis are in the US Stock Market? Let us know what you think!