Accessibility, viewership, and impact: Talking Call of Duty: Mobile esports with Sam Braithwaite
An interview about the growth, market, and future of mobile esports.
ESL FACEIT Group (EFG) has announced that the Call of Duty: Mobile (CoD Mobile) World Championship will happen at DreamHack Atlanta. Ahead of this tournament, we sat down with Sam Braithwaite, the vice president of mobile game ecosystems at EFG, for an exclusive interview about CoD Mobile esports, the impact of the Snapdragon Pro Series, and more!
Call of Duty: Mobile World Championship 2023 information (Image via Activision Publishing, Inc.)
How Call of Duty: Mobile esports champions accessibility
When it comes to mobile gaming, it is accessible in a way that a lot of people can easily play games even if they don't have a gaming PC or are just traveling. For Braithwaite, in particular, games such as CoD Mobile, Marvel Snap, and Honkai: Star Rail can be enjoyed at his convenience while having a family life.
"Mobile gaming has very quickly become something that is easily accessible," Braithwaite added. "I am able to compete and get short bursts of competitive energy out and entertainment in three to five minutes. It's a perfect thing to kind of break up the day."
CoD Mobile gameplay screenshot (Image via Activision Publishing, Inc.)
He then noted that mobile gaming's appeal is in its broad demographic reach. Unlike PC gaming, which requires specific hardware, mobile games can run on a wide range of devices. This makes them highly accessible and offers opportunities for players of all ages and backgrounds.
"There's people who compete [in] Candy Crush Saga, there's people who do it [daily and enter] matchmaking games and team-based games," he said. "And that is something that is popular throughout the entire world — that everybody has a phone in their pocket. We've never had a more accessible opportunity for people to compete in video games, and that's because of mobile devices and mobile technology."
Snapdragon Pro Series levels the playing field
Braithwaite also highlighted how the trio of the Snapdragon Pro Series, Qualcomm, and Samsung unites esports operations, matchmaking, and the player experience. For example, the 2023 CoD Mobile World Championship is operated by EFG's Snapdragon Pro Series and powered by Samsung Galaxy. EFG also works with developers and publishers to test and optimize games on mobile devices.
"We're actively working with Qualcomm and Samsung to get those devices over to the developer and the publisher who is running tests and ensuring that everything works well on those devices," he said. "And then we get those devices, bring them to the event, and have all the players use the same device to make sure that everybody's playing on an equal playing field and that they get pretty much the most high-tech, up-to-date devices that you can imagine."
Error 404 is the name of CoD Mobile Season 8 (Image via Activision Publishing, Inc.)
The global mobile esports market
At the moment, one of the biggest challenges for EFG is championing mobile gaming and the consumption of mobile esports in Western markets where PC and console titles dominate the scene.
Braithwaite acknowledged the global popularity of games like Mobile Legends: Bang Bang (MLBB) and PlayerUnknown's BattleGrounds Mobile (PUBG Mobile). These have significant participation, prize money, and viewership numbers. The Snapdragon Pro Series Season 3 SEA Challenge Finals for MLBB, for example, reached over 820,000 peak viewers.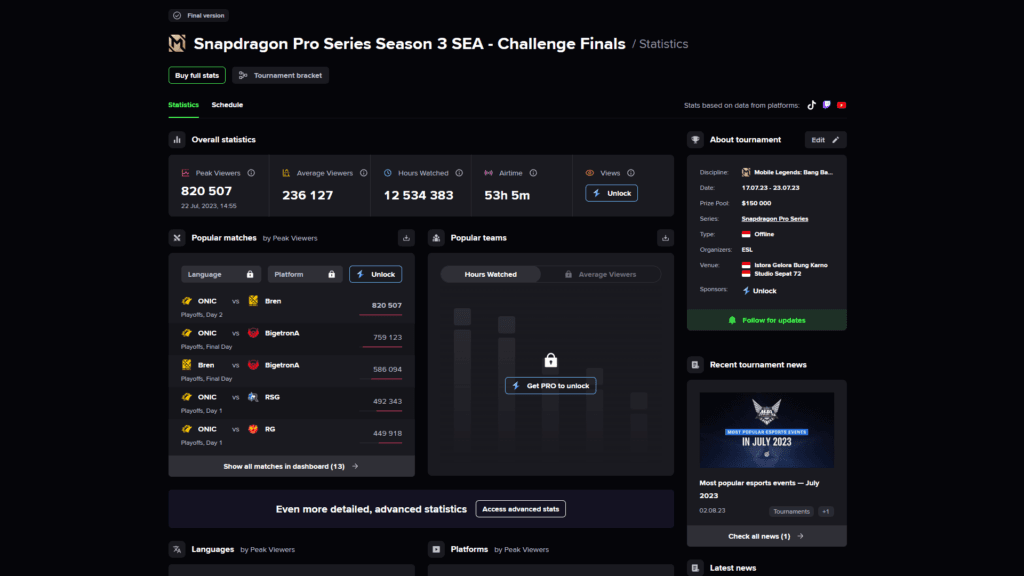 Snapdragon Pro Series Season 3 SEA Challenge Finals viewership (Image via Esports Charts)
"It is a phenomenon that is occurring right now in Southeast Asia [and] in China," he said. "It's starting to really gain momentum in India and Brazil and Latin America. And the biggest challenge that we have is converting the active player base into fans of the esport and fans of the competitive side.
"We know the player base is there. They're actively playing these games, but getting them to support and follow the competitive scene has proven to be quite difficult. We think we still have a few years ahead of us in order to show that this is just as awesome and just as cool and just as competitive as PC counterpart titles.
"We know that it works. We have proof in the pudding with what we're seeing around the world, but it's really trying to bring that energy and that momentum into those Western markets. And that's truly, I think, the biggest hurdle that we have."
Activision, choosing the right game, and growing an audience
Braithwaite went into the importance of selecting the right games for the growth of mobile esports as well. He noted how the partnership with Activision brought CoD Mobile into the Snapdragon Pro Series. This collaboration leveraged the game's brand to attract players, create engaging broadcasts, and encourage viewership.
A notable aspect of these broadcasts is mobile-centric viewership. This means the challenges and opportunities involve tailoring content for mobile consumption. There is a focus on short-form clips, clean user interfaces (UIs), and re-evaluating video structures to make content easily accessible and consumable.
"One of the cool things that I actually really like about EFG [is] we run surveys at the end of each of the events," Braithwaite added. "And we do two different surveys. One is an audience and on-site experience. The other is [a] viewership experience, and we really collect and analyze that data and use it to improve what we're trying to do moving forward. We've gotten a lot of very valuable advice, I would say, from these surveys that have actually prompted several product decisions."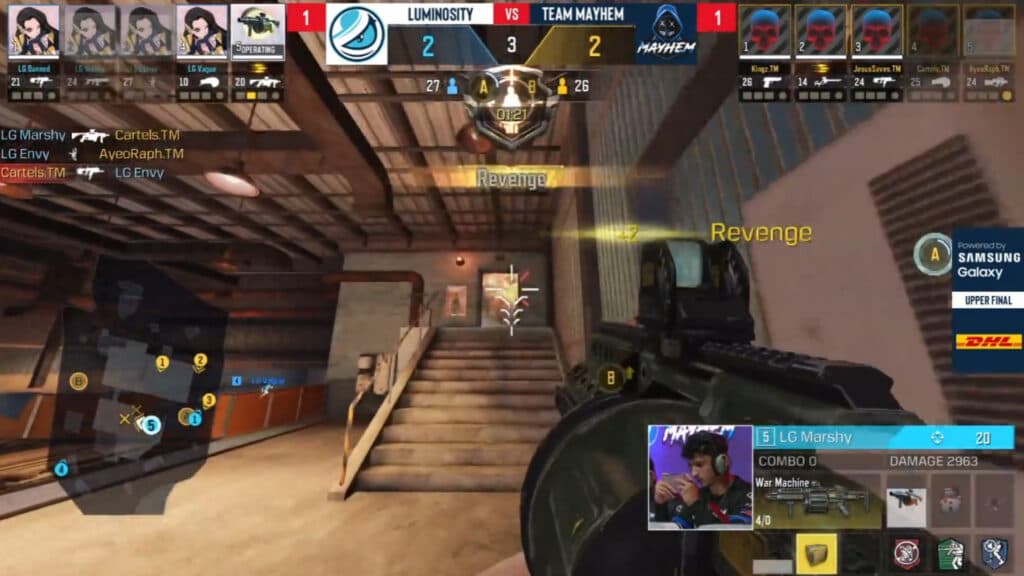 Call of Duty: Mobile esports screenshot (Image via ESL Gaming)
The future of mobile esports
According to Braithwaite, not a lot of organizers or third parties have championed opportunities for the mobile gaming community. This is because of the barrier to entry. For example, hosting mobile esports tournaments is more complex than their PC counterparts due to the technical aspects of connecting players, creating private lobbies, plus managing map selections and bans.
However, tools like ESL Play and application programming interface (API) integrations with game developers have automated the competitive experience for players. Braithwaite described how these tools can streamline the process and reduce a 10 to 15-minute ordeal of manual setup and coordination to a single press of a button. This makes mobile tournaments scalable.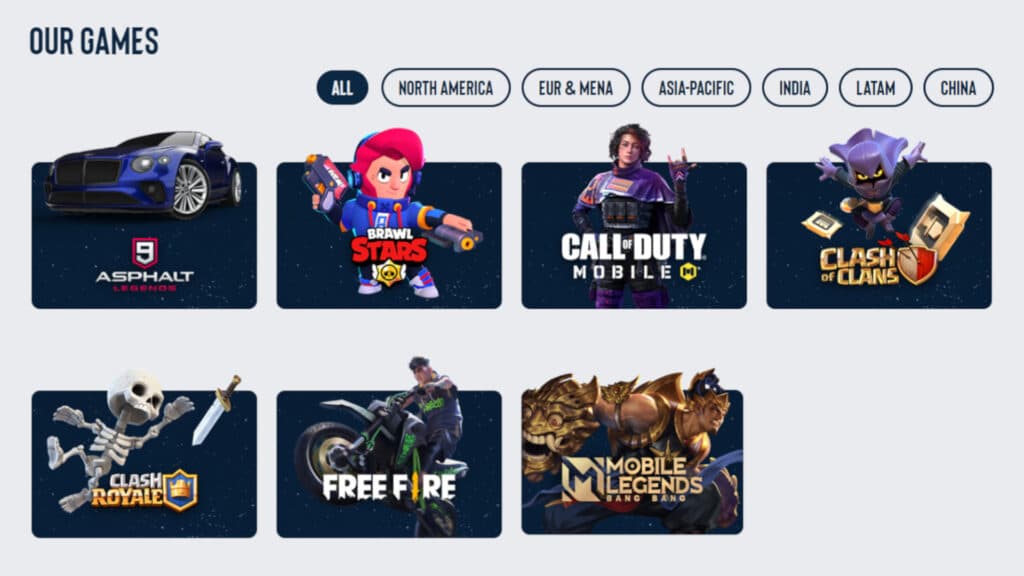 Call of Duty: Mobile esports is featured in the Snapdragon Pro Series (Image via ESL Gaming)
He then encouraged interested players to visit the Snapdragon Pro Series website. There, one can explore available competitions for their favorite games.
"There is likely something for you out there if you are a mobile gamer and if you're a fan of mobile games," Braithwaite said. "Join the movement, get excited, participate in tournaments. There's nothing more fun than being able to compete."