OpTic Chicago remain undefeated after their biggest win of the season, and the Subliners downward spiral continues in CDL Stage 5 Week 2.
CDL Stage 5 Week 2 was certainly one of the most exciting stages of the season thus far. Two of the last place teams came up with two huge wins, and the top team in the league was finally taken down. Teams are continuing to battle for seeding in the fast approaching Major.
Clayster removes himself from the lineup as NYSL sit winless
It has been a very strange few weeks for the New York Subliners. They haven't looked at all like the team fans are used to, which has cause for concern moving into the major.
They started off with a soul crushing game 5 loss to the LA Thieves in week 1. Since then, they have yet to recover. A brutal 3-0 loss to Chicago followed, and to make things worse, they were knocked off by the bottom tier Royal Ravens to conclude CDL Stage 5 Week 2. 
It was announced on July 19th that Clayster will be stepping back for the final week of the group stage. A lot of the comments were extremely exaggerated regarding his future in Call of Duty. Others called out the team for making the wrong move by 'benching' Clayster.
The fact is, Clayster is taking some time to gain some much needed rest with such a grueling season it has been. Quite frankly, this move makes perfect sense. NYSL are currently at 0-3, which means they will have no chance at starting in the winner's bracket for the major.
So instead of having Clayster burnt out and not playing to his ability, this gives him, and the team a chase to regroup. The two-time world champion will most likely be back for the Stage 5 Major.
Toronto Ultra and Florida Mutineers quietly perfect through two weeks
All of the attention has been towards the teams in group A during this stage. But with just three teams being undefeated still, two of them are in group B.
The Toronto Ultra are once again playing a near flawless group stage. The kings of the north have dismantled competition so far while only dropping one map. Group B consists of 4 of the same teams they had in their group back in Stage 3. Toronto ended up entering the Stage 3 Major with a perfect 5-0 record. While they currently sit at 3-0, their two toughest matches come this week against Dallas and Florida.
Florida has been the epitome of inconsistency all year long. There have been moments where it looks like they could be the best, and others where they look just abysmal. However, they have started off this stage well enough to give themselves a bit of breathing room.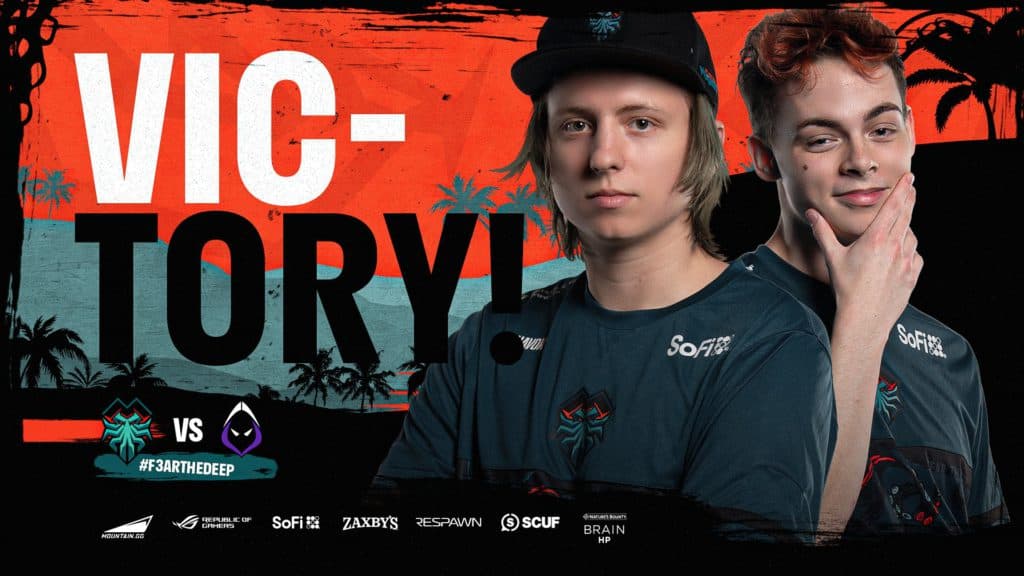 via @Mutineers
They started off by taking down the league's worst in Seattle. They followed that up by outclassing the Stage 4 Major runners-up, Dallas Empire. The win against Dallas could be a huge factor for seeding, and may have guaranteed themselves a winner's bracket appearance for Major 5. With an upcoming match against Toronto to try to secure the first seed, they'll have to prove they can remain consistent.
OpTic take down a juggernaut in CDL Stage 5 Week 2 showdown
 The Marquee Match on Sunday featured the first place Atlanta FaZe, and fan favorite OpTic Chicago. The two squads both started the stage quite strong, which meant Sunday's matchup was set up to be a dandy. FaZe entered the match already 3-0 to no one's surprise. Looking to finally get rolling were Chicago, who sat at 2-0.
Atlanta started slow on map 1 Moscow Hardpoint, something that has been a rarity so far this year. 250-177 would be the scoreline in favor of OpTic. The maps would go back and forth all the way to game 5, with each map very tightly knit. A spectacular 11-kill performance from Envoy led the way to a thrilling round 11 win for Chicago.
This was by far the biggest win of the year for OpTic. Their struggles to win the big matches and the cursed round 11 may finally be over. This squad has been through a ton, and it's hard to think this is not only a huge win in the standings, but mentally as well. Now sitting at 3-0 and in the driver's seat in group A, OpTic have the potential to close out groups with a flawless record.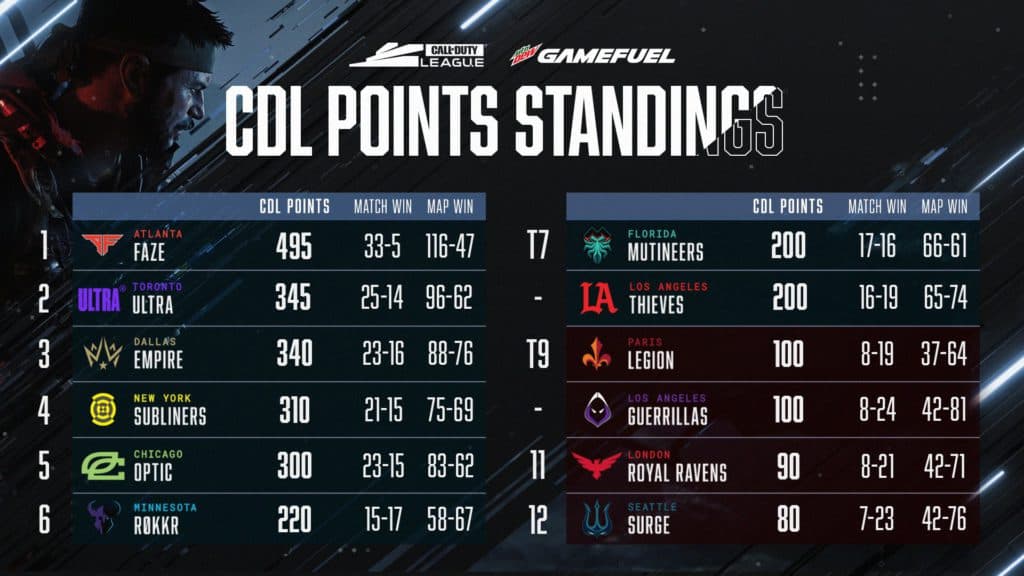 CDL Standings after CDL Stage 5 Week 2
CDL Stage 5 Week 2 was once again a good one. Tons of upsets and thrilling matches highlighted the week, only building up the Stage 5 Major even more. Action continues Thursday July 22nd in the final week before the major.