Atlanta FaZe wins the CDL Stage 3 Major, making it their second major win of the season
Atlanta FaZe has captured their second big win of the season, winning the CDL Stage 3 Major. Fans were treated to some terrific Call of Duty all weekend long, and many teams are coming into form.
Atlanta FaZe Back on Top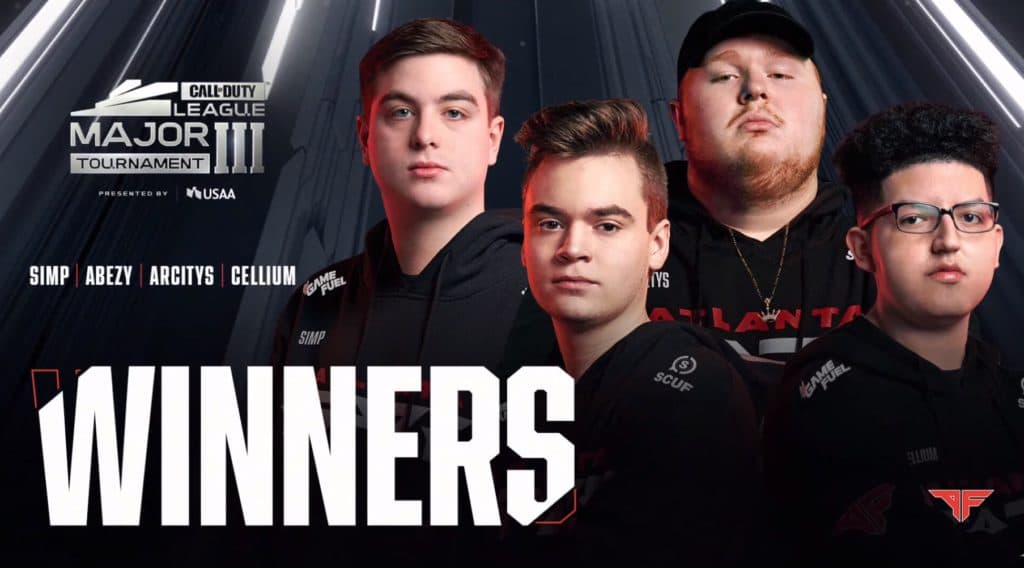 Atlanta FaZe were back to their best
After yet another impressive group stage, FaZe has once again reclaimed their throne as the game's top team. They achieved a 4-1 record during groups, with their only loss coming to the top-seeded New York Subliners in Group B.
Entering the Stage 3 Major, Atlanta were placed in the upper bracket in round 1, where they'd play a struggling Dallas Empire. A swift 3-0 victory would push them into round 2 to face the Toronto Ultra who went undefeated during group play.
FaZe proved why momentum is so huge in big tournaments by clutching up in game 5. They went up 2-0 early on, but Toronto answered with a narrow victory in control and hardpoint to even things up. Atlanta would win in convincing fashion however, preventing the reverse sweep Toronto was cooking up.
New York Subliners Win Second Straight vs. FaZe
The winner's finals were set. New York had won their lone match against Florida in WR2 to reach this point. Both teams were coming in very hot, so there was no clear cut favorite in this series. Atlanta dropped the first two maps, with both remaining somewhat close, losing 250-181 and 6-4.
Then the Stage 1 champions were able to rally back however, essentially crushing NYSL over the next two maps. The series went the absolute distance in game 5, going all the way to round 11. HyDra on the side of New York strung together, two kills, as well as a 1v1 clutch to secure the win for the Subliners.
They would once again face Toronto, but this time in a do-or-die situation. Yet another back and forth series between the two, ultimately led to FaZe winning in game 5 fashion once more. The 6-2 win on Moscow SnD would punch their ticket to a third straight grand finals appearance. Their opponent would be the New York Subliners for the second time in the Stage 3 Major. This would be somewhat different though, as it would be a best of 9 series, or first team to 5 wins.
Atlanta FaZe's Arcitys was voted Player of the Stage for his contributions
Atlanta Finally Breaks NYSL Curse in Stage 3 Major
Garrison Hardpoint would be the first test for both of these teams. New York came out of the gate firing on all cylinders, controlling the majority of game 1. Atlanta were able to bounce back in a huge way, winning the next three maps to really put the pressure on. The series gap was closed after a 6-3 Search and Destroy win by the Subliners. Perhaps there was still some hope for New York though, as they had beaten ATL twice in the last four weeks.
Game 6 would be an important one. This meant either Atlanta would be pushed to match point, or NYSL could tie it up, essentially making it a best of three. Checkmate Control was the map and mode for this critical game. Every defensive round was won by the respective team, sending it to the final round of the game. FaZe managed to capture A quite quickly, giving them nearly two minutes to try and secure B.
They gained life advantage and map control late in the round. A huge play by Asim with time ticking away made it look as if NYSL were to win the map. However, FaZe's last player alive, Arcitys, was able to slide in and pick up the kill and win.
So with a 4-2 series lead, Atlanta had all the momentum heading into one of the best Search and Destroy maps. Raid SnD started off with four straight round wins for FaZe. Only one hiccup occurred on their way to a 6-1 win, and Atlanta FaZe would be crowned the Stage 3 Major champions.
Some outstanding Call of Duty was played over the course of the Stage 3 Major. From upsets, to teams really proving how good they are, Stage 4 is sure to be a great one. With teams heading back to LAN next month, get ready for a shakeup in the CDL.
Final Standings - CDL Stage 3 Major