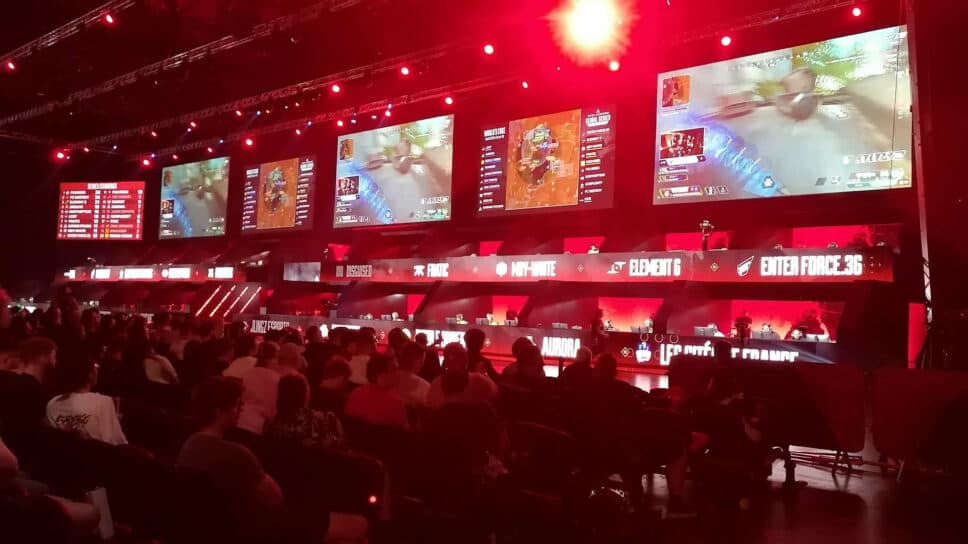 Senior EA staffers reveal how they make ALGS a fan-focused experience
The ALGS Championship has transformed into a festival celebrating the professional scene and fans alike, and that's deliberate on the organizer's part.
The Apex Legends Global Series: 2023 Championship is currently ongoing at the Resorts World Arena in Birmingham, UK. Over the course of five days, 40 teams will compete for a two-million-dollar prize pool, with thousands of fans in attendance. And according to the senior EA staffers, the event is wholly created for the fans.
Esports.gg was invited to attend an event organized by Esports Insider, where EA's senior director of esports brand and marketing, Monica Dinsmore, and global senior brand marketing manager for Apex Legends esports, Jasmine Chiang, spoke about some of the work that goes on behind the scenes to make an event like the ALGS Championship happen. The pair talked about the fan-centric approach to organizing the ALGS, and why that focus is so important to them.
Why Birmingham for the ALGS Championship?
(Image via esports.gg)
One of the first questions answered by EA's executives was 'why Birmingham?' The UK's second city, which is currently gracing headlines thanks to its imminent bankruptcy, seems like an unlikely choice to host the largest Apex Legends LAN ever, but apparently, it was an obvious decision: "We had two events in London, and both sold out. We needed a bigger and better venue for all the fans in Europe. The Resorts World Arena had it all," said Dinsmore, speaking on a panel with herself and Chiang.
Why are the fans so important? Well, perhaps it's just how rabid they are for ALGS: "We had a guy drive 21 days to London [ALGS Split 2 Playoffs] from China. So if we don't show up for that guy, what on earth are we doing?" Fans were queued up at 8 a.m. on a Wednesday morning for ALGS Championships. And both the Split 1 and Split 2 at the Copper Box in London sold out. And as Dinsmore explains, that presented some unique challenges. "We sold out [in London]. And at 11 p.m. we managed to cram 100 more seats into the venue."
"We had a guy drive 21 days to London from China. So if we don't show up for that guy, what on earth are we doing?"
EA's senior director of esports brand and marketing, Monica Dinsmore on why ALGS events are so fan-focused
These kind of challenges made the switch to the larger Birmingham venue a clear choice. "We can come here and do more. And it so happens we're here with Insomnia and it becomes a great event." Insomnia 71, an annual gaming festival, is taking place from September 7 until September 10 just a stone's throw away in the NEC.
"This is our first full year of LANs, and our third live event in a row. We took the lessons from the Copper Box Arena and gave them more of what they wanted." For ALGS fans, that means more player meets, more merch, and more access to teams. "We listen, we spend a lot of time listening to our fans on socials, and we listen and hear what they want."
ALGS Fans come first
(Image via esports.gg)
That decision to listen to fans manifested in the ALGS Championship with a packed area filled with activations from multiple teams and scheduled meet-and-greets. It gives the live event a festival atmosphere, as fans can walk from booth to booth, win giveaways, buy merchandise, and interact with both players and members of the organizations.
But alongside teams are brands, and that's where it becomes important to be authentic. "Sponsors want to find a demographic in esports that's trending younger. So we work with them to find out what will resonate with them," says Dinsmore. "Fans can be fickle, and you don't want to annoy them, so we work to bring brands and fans together in a way that's authentic."
That's part of Jasmine Chiang's expertise: "Before I was with EA, I worked with a [esports] sponsor, so I know how important it is." One example of the attempt to maintain authentic with their sponsors is the gold-plated Herman Miller chair, which's been on prominent display in the Resorts World Arena lobby all event. As part of the activation, four of chairs these are being given away to the winning team (three to players, one to the coach), and a fifth will be displayed in a gaming-themed museum. "Fans get here and say 'oh my god, where can I get one?'" says Chiang.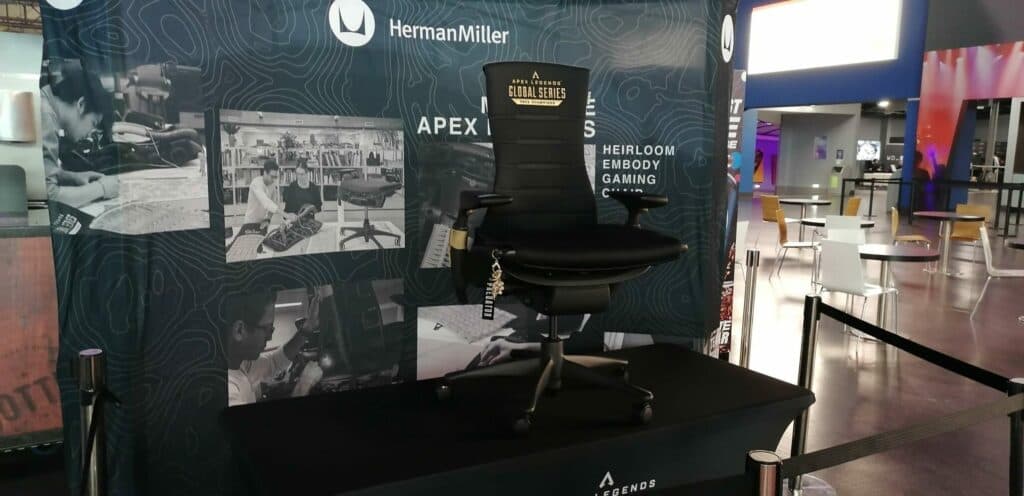 (Image via esports.gg)
The activation is also part of a giveaway. Fans complete a series of "objectives," such as visiting a team stall, and taking a picture with the Herman Miller chair, and in return they receive tokens that can be used in a claw machine filled with Nessie plushies. The claw machine is weighted towards victory, so the incentive to interact with the various activations is high. And it rewards fans for doing things they may have already planned on doing, or just needed an extra push or incentive to do.
But another challenge comes from making this interactive, festival-like experience resonate with the fans at home. This is done in a few ways, in both the on-screen production and Twitch viewing experience. "The ALGS is broadcast in six different languages and prioritizes being an international experience," explains Chiang. "And we have some awesome Twitch drops as well. Perhaps my favorite ever."
All this combines into a truly special experience. A festival for Apex Legends esports fans, rather than just an esports championship. And given this is only the first full LAN schedule, we only expect it to get bigger in the future.
---
Stick with esports.gg for more Apex Legends esports news and information!