TSM star ImperialHal took to Twitter to blast the Samsung $100k tournament. He described it as the worst apex tourney since the beginning of the game. The tournament was marred by several basic mistakes, leaving viewers and players very disappointed.
Twitter was awash with confusion and frustration following the Samsung Odyssey Invitational $100k Apex Legends tournament on Wednesday. The $100k prize pool made it one of the biggest community tournaments that has been hosted in Apex Legends history. Despite the huge amount of money on offer, the tournament will only be remembered for a shambolic experience.
It is hard to find a single aspect of the tournament that was run effectively. Team lineups were hidden until the tournament started. There was next to no advertising ahead of time that the tournament existed. There was no "main stream". Despite the record breaking prize pool, there was not even 20 teams in the lobby!
Samsung's Shambles – no central stream despite $100K prize pool
When companies, brands and sponsors choose to host an Apex tournament, their intention is clear. Put on a spectacle for viewers, engaging the biggest players, to grow their brand. Everyone walks away with a positive experience.
By throwing down such the enormous $100,000 prize pool (by Apex standards) Samsung had the basis for an incredible tournament. Tournaments such as Twitch Rivals are always well received by players and fans.
Looking to established series such as Twitch Rivals should have been the blueprint for Samsung.
Not having a central cast of the games reduced the exposure for Samsung significantly. Players are playing the game, not advertising the Samsung brand. It also made it a poor viewer experience, there was nowhere to know what was going on overall.
Invited… uninvited
Possibly the most ridiculous mistake was the lack of teams. When you have the such a large prize pool, there should be no shortage of players willing to compete.
Yet the Samsung Invitational was played with just 16 teams. This looks unprofessional, but it is also a real wasted opportunity for all the players who missed out.
This is made worse by the number of players who took to twitter to express frustration that their invite had been revoked because there was a lack of space. Then.. the game starts with 4 squads missing.
Notable names such as Baronful and RamBeau revealed that they had been invited. They were then told the Samsung Apex tournament was full. There was even players saying that they were asked to stand in last second, because of the lack of teams. Even they were then told it was full.
ImperialHal BLASTS Samsung
Leading the criticism of the Samsung Apex tournament was TSM player ImperialHal. He took to twitter to let Samsung know exactly how he felt.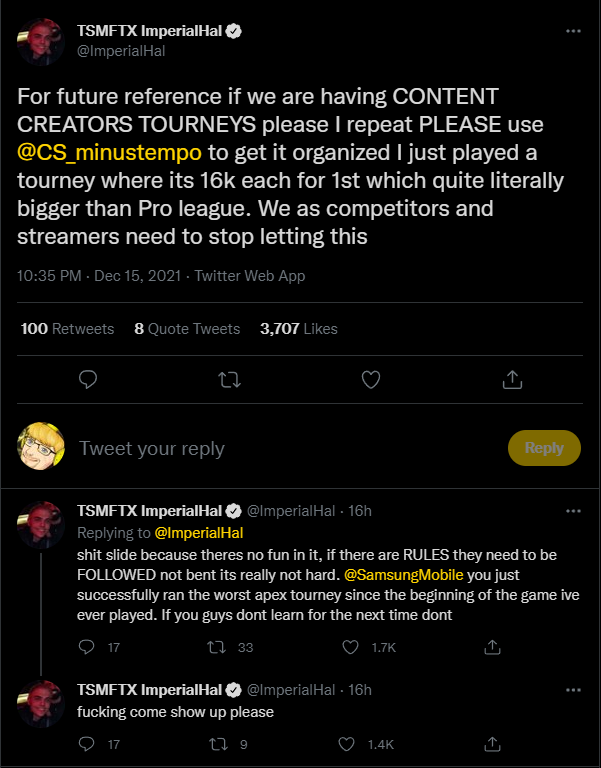 Most notably he called the tournament "the worst apex tourney since the beginning of the game" that he has ever played.
Hal noted that Samsung should have approached someone in the community to help run the tournament. While he named Clockwork Solutions (MinusTempo also works for TSM) there are many good tournament organisers from VNM, Crown Series, Battlecord and others. Big brands need to tap into the vast array of strong community talent.
"Content creator controversy"
One of the biggest complaints outside of the actual running of the tournament was the rules around content creators. The term Content Creator is incredibly unclear in Apex Legends.
This leads to some incredibly unbalanced teams. This isn't just an issue in the Samsung tournament however. The term has been used with varying definitions for years.
While some tournaments such as the Sweetdreams 10k invitational get the rules right, many have got it wrong.
There was a lot of controversy when ImperialHal picked his two professional teammates in the Twitch Rivals Bloodless Battle. TwitchRivals have since learned from their mistakes, and they set much clearer rules.
The problem comes when many content creators are former pro players, or compete in high level Apex anyway. NRG Rogue for example, a signed content creator for NRG, has appearances at LAN and a track record in ALGS. iZeroPlus, who played in the Samsung Apex tournament as a content creator, secured 2nd place in the ALGS Winter Circuit #1, and then appeared in the Winter Playoffs and the ALGS Championship.
How do you keep community tournaments fair?
Unfair and unbalanced teams is not fun for the players or the viewers. Controversy around rules and selections quickly takeover Twitch chats and Twitter timelines. Brands like Samsung and others want good exposure and fun games.
The term content creator needs to be retired. It allows people to exploit technicalities to create unbalanced teams, but is also disenfranchises pro players who do not have big streams. Viewership matters for exposure, and naturally captain spots are handed out to people with large followings.
This means for a large chunk of the pro scene, who are talented but do not have large Twitch streams, these opportunities are not available to them. Even though, people who play against them very often are classed as content creators.
Instead, tournament organisers should listen to the community. Set clear team rules. Stop people who compete for the same competitive team in ALGS playing together. Use finals appearances, or other clear metrics to define eligibility. Hand out opportunities fairly, shine a light on unknown talent. Work with community organisers, casters and admins to create a quality event. Your brand will feel the benefit.
Stay tuned to esports.gg for the latest Apex Legends news and updates.