Post Malone has teased his upcoming Apex Legends collab.
Post Malone and Apex Legends are teasing a collaboration event for next season. Announced on X, Post Malone dropped a video of him lying on the floor, asking if someone can revive him.
This has been followed up with announcements in game, hinting at "two weeks of beautiful mayhem." As of right now it is not clear what the event will be, with more details to come soon.
What could the Post Malone Apex event be?
Fans are already wildy speculating about what the event could be. The in game teaser seems to point to something substantial, rather than just a small collaboration.
It's possible that there will be multiple facets to the two week long event, which will take place in the early days of Season 19.
While there has been some light hearted discussion of an in game concert, we are more likely to see a mix of cosmetics and a potential TDM or new mode.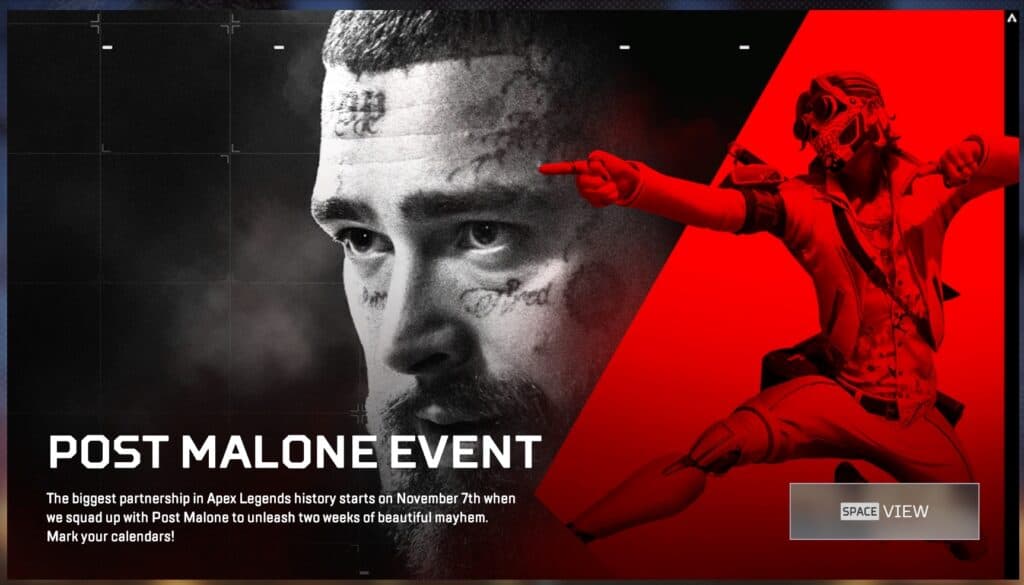 When does the event start?
The event is set to start on November 7th, and run for 2 weeks. That will mean the event will finish on November 21st.
Why is Post Malone collaborating with Apex?
Post Malone has a public love for Apex Legends. He's hosted tournaments in the past, as well as streamed for charity. Apex Legends has long lacked major collaborations with big brands, and there has been a positive reaction to the news.
The music star has previously said he is a massive fan of the game. "I was never a BR guy because I'm not that good at them, but something about Apex, I started playing it, and I really enjoyed it," Post Malone said in an interview with Full Send back in Summer 2022. He went on to say just how much more enjoyment he gets from Apex Legends than games like Fortnite or Warzone.
Stay tuned to esports.gg to see exactly what Apex Legends and Post Malone have in store.