Oxygen Esports still approaching Champs as underdogs
Oxygen Esports spoke with esports.gg ahead of the ALGS Championship.
Oxygen Esports were the breakthrough stars of the ALGS Split 2 Playoffs in July. Epitomising the strength in depth that North America has, they burst onto the scene to take third place.
This result was an incredibly fair reflection of the strong weekend that Oxygen had. They were incredibly comfortable throughout the group stage and winners bracket. This result was vindication for the work put in by, and professional environment that surrounds, the Oxygen Esports roster.
However, you can only breakthrough once. Now, Oxygen Esports are considered genuine contenders in Birmingham. That brings all new pressures ahead of the biggest event in the ALGS calendar.
Oxygen Esports feeling pressure to adapt to new meta
Like all teams, the recent Season 18 changes were top of Oxygen Esports Coach Anthony "Psykho" Vicente's mind.
Oxygen Esports coach Psykho (photo EA/Joe Brady)
"[Preparing for Champs is] a very stressful process. We're dealing with having season adjustments right before one of the biggest tourneys of all of our careers. At the end of the day, we understand where things were going well in playoffs and where things weren't. As much as it is stressful and a lot of work, we are working through it just as we do as a team. We're synergizing the best we can and that gives us high hopes."
Oxygen Esports' in game leader, Nicholas "Vein" Hobbs, feels that the Season 18 changes have had a big impact on their gameplan coming into Champs.
"It's affected us a lot. It hasn't really affected us on Storm Point, but just overall how we're playing out early and midgame is a lot different now. We're still playing both beacons, so survey and ring console, but the fact that the rings are different a little bit and less people have consoles.
"We're kind of leaning more towards even if we don't have a ring console, we can still early rotate off of the survey beacon based on who has what Ring Console and who doesn't. So it changes the flow of our early mid-game. That is the main thing we're trying to figure out right now."
Oxygen Esports IGL Vein (photo EA/Joe Brady)
Oxygen Esports benefitting from analyst
The changes to ring console spawn rates has kept Oxygen Esports analyst Jack "SWL" Pato busy. Oxygen are one of the teams that operate with both a coach, and an analyst. The benefit is certainly felt after big changes are released.
"For me, it does affect the workflow quite a bit with gathering Rings and data itself from those Rings.
"Having to do it differently and having to pretty much start over with a brand new index is very interesting. We're putting in a lot of hours per day to work on macro and to try to adjust for the news changes."
Reedz still feels that Oxygen are underdogs ahead of Champs
While people are taking Oxygen Esports much more seriously ahead of the ALGS Championship, it is important that the roster does not feel excess pressure ahead of the event.
Stephen "Reedz" Bailey feels that the TSM and DarkZero dynasty means that everyone else is an underdog at the event.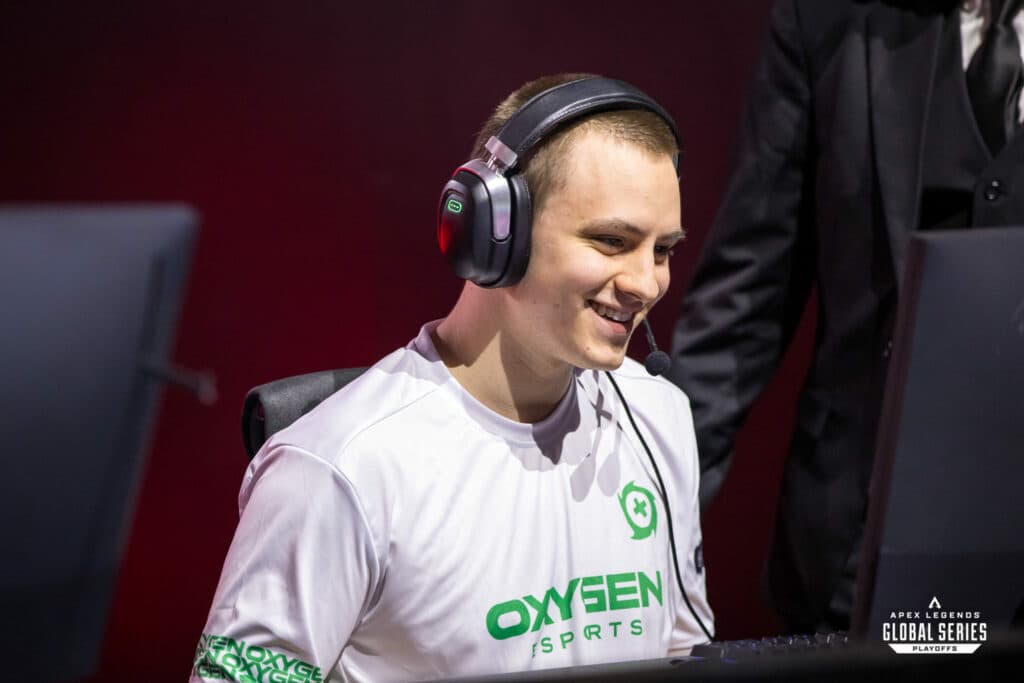 Oxygen Esports' Reedz (photo EA/Joe Brady)
"I definitely think we're coming in again as underdogs in a sense. It's TSM, DZ and everyone else.
"That's because they only ones to have won LAN, right? So that's what people expect, wins. We're definitely still underdogs of sense, but we definitely feel a bit of pressure. We're just going to go in and play our game and play how we practice."
Coach Psyhko wants Oxygen Esports to simply focus on their own performance.
"Nobody else and nothing else matters. Just like the last time I said it before and I'll say it again, I don't care about all the outside noise. I'm focused on what we gotta do here and doing it as best as we can to give ourselves the best chance at winning."
Getting to match point faster will be key
Oxygen Esports, at their boot camp in Boston, had clearly put a lot of thought into what they needed to do to become match point contenders. Coach Pshyko was clear that the speed at which a team arrives at the all important 50 point threshold is key.
"I think last time the thing that we struggled with the most is getting on the match point as fast as DarkZero and TSM. The quicker you're on match point, the more likely chance you have to win. We've been talking a lot about what needs to be done in order to make those changes and keeping secrets and things in our pocket in order to enable us to try and do that as quickly as possible."
Why do Oxygen Esports operate with a big support network?
Something unique about Oxygen Esports is the size of their visible roster. They have a dedicated team manager in Thordan Smash as well as the Coach and Analyst. This creates a solid unit of six, all working specifically on success in the ALGS. Thordan comes across as incredibly hands on, one of the team through and through.
(photo EA/Joe Brady)
Thordan feels that every member of the team being specialised in Apex Legends is a big advantage.
"One thing that I think is interesting is a lot of other teams will have background staff, but very few are actually specialized in Apex Legends. For instance, Jack as the Analyst is known for just being in Apex Legends. I work explicitly in Apex Legends. Anthony is a coach, obviously works in Apex Legends.
"What's interesting about our support staff compared to others is we are specialized in the Apex scene. That's one thing that really helps is we all have an understanding of what each other are trying to do. We all have our strengths and weaknesses. But, we know what those are and we can better understand that between each other because we understand the game at a certain level."
There is a real family feel to the Oxygen Esports team. The camaraderie is clear to see across social media and in game. There is a clear inspiration drawn from traditional sports, where much larger support teams are commonplace.
Will there be further interest in any of the squad?
In a segment of a stream, Zer0 of DarkZero confirmed that Aidan "aidanthedestroye" Macmillan was a player of interest to them after they decided to depart with RamBeau. DarkZero ended up with Xynew and went on to win the Split 2 Playoffs.
DarkZero were interested in Aidan (above) (photo EA/Joe Brady)
What made Aidan decide to stay with Oxygen Esports?
"I just didn't have a lot of fun. I feel like I have a really good chance to win with Oxygen. Plus I qualified with these guys. So it just felt right going to Playoffs with them, and it worked out. We did really well.
"At the time, I felt like I had a better chance of winning with these guys than just randomly roster swapping right before Playoffs."
If Oxygen Esports put in another strong performance there could be more interest in Aidan, or any of the team. Manager Thordan has a realistic approach to roster moves.
"At the end of the day, I want what's best for them. So if they have an opportunity that is offered to them and they feel comfortable taking it, I am never going to say, no, sorry, screw you, you're stuck.
"Esports is in such a weird infrastructure where sometimes the players being so young, aren't taken care of the best that they should be. So I'm never going to try and withhold someone from doing what's best for them. That being said, I do actively try to take care of them the best of my abilities and make sure that they are taken care of."
Oxygen Esports will look to back up their strong ALGS Playoff performance as the ALGS Championship gets under way tomorrow, September 6.
---