NRG won the Oversight Apex playoffs, with a dominant showing across 2 days. They will hope to carry their form into Pro League.
A dominant NRG performance saw them take home the Oversight Apex Playoffs. 20 teams played 12 games spread across two days for a share of the $20,000 prize pool.
This was the first tournament on the Season 15 update. However, games were still only spread between Worlds Edge and Storm Point. Broken Moon is yet to come to the tournament circuit.
This NRG win puts them in prime position for a strong showing in the first weekend of Pro League, which returns this Sunday.
NRG's blockbuster Oversight Apex streak
In a 12 game series, consistency is key. For most teams, that means making end games regularly and chipping away at your points total. Yet, NRG didn't find outstanding consistency in the Oversight Apex playoffs. Instead, they sent a warning shot to North America about their big game potential. Something that will have many teams worried ahead of Pro League on Sunday.
Sweet and Nafen (photo esports.gg)
Huge 30 point game
Their big game potential was epitomised by their showing in round 5 of the Apex Oversight playoffs. Fighting throughout the game, NRG found a near impossible balance of aggression and control. They were able to rack up a huge 18 kills, all while remaining relatively relaxed. The trio of Sweet, Nafen and Gild were never really under pressure the entire game.
The bar was set from the off, as NRG caught Cloud9 out with a fantastic arc stick on a trident.
The composure to execute a play like this is part of what sets Sweet apart from his competitors. To identify the ability to stick the trident, and execute it, is no mean feat amid the pressure of a tournament as big as the Oversight Apex playoffs.
Gild (photo: Joe Brady/EA)
By controlling a lot of space, NRG perfectly worked the final circle, picking up kills from both of the final 3 teams to maximise their kill potential and secure maximum points. If they can secure anywhere near a 30 point game in Pro League, NRG will be very happy indeed.
Apex Oversight Playoffs - Top 5
NRG - 124 ($8400)
Complexity - 91 ($4800)
The Guard - 91 ($3000)
Spacestation Gaming - 90 ($2400)
TSMTFX - 87 ($1400)
Difficult Apex Oversight Playoff showing for FaZe
In their first tournament since joining FaZe, Snip3down, SlurpeeG and Albralelie didn't get the start they would've wanted. They struggled across all 12 games. They only made one top 3, and picked up just 15 kills across all 12 games.
With a team as talented as FaZe, they will want to pick up titles such as the Apex Oversight playoffs in the near future. Yet clearly, FaZe have work to do ahead of Pro League this weekend.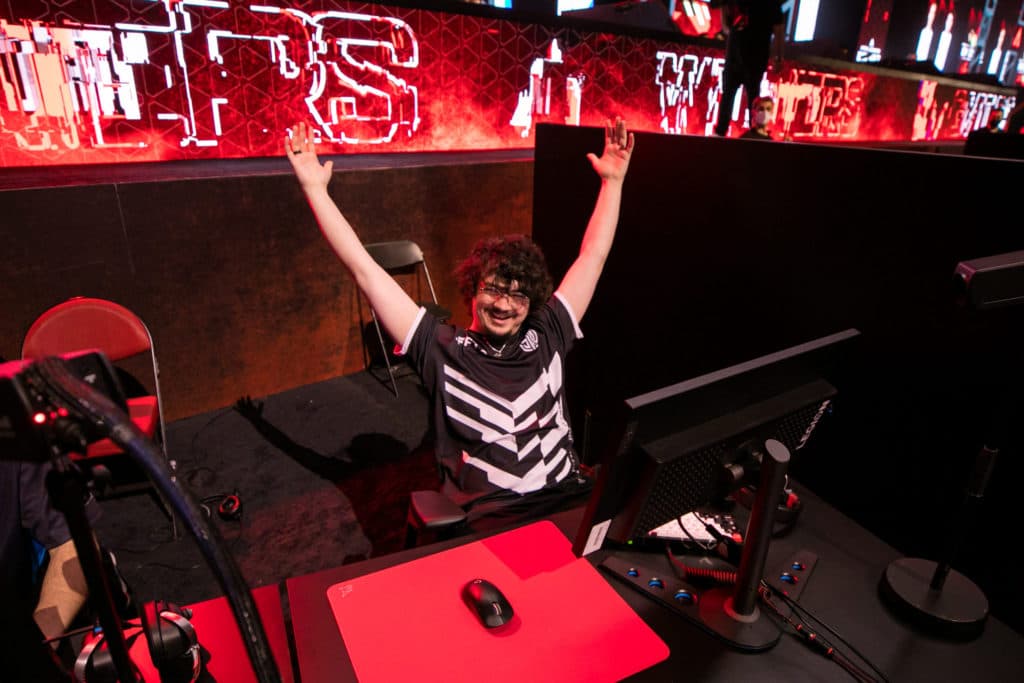 Albralelie (photo: Joe Brady/EA)
One of the biggest issues FaZe face is finding an identity. The successful teams in North America have a clear game plan. Play edge, and take fights, or fast rotate and hold down a strong position. FaZe are attempting to play edge, but are often spending far too much time in zone and their communication in fights leave a lot to be desired. The talent is there and it is very early doors for this roster but they will be disappointed in todays performance.
Something that comes with playing for a team like FaZe is pressure - and fans will be expecting far better from the trio. They finished a dismal 17th overall in the Oversight Apex playoffs, earning just 33 points. This was only 3 points more than champions NRG earned in a single game.