The IGL is a position filled with potential glory but overwhelming responsibility. It's time to unveil the three finalists for Best IGL EMEA in our Apex Legends Awards.
After unveiling our ten nominees for the Best IGL EMEA in our Apex Legends Awards, it's time to reveal the 3 finalists. These three players featured in our judges' top 5 more than any other players. This category is to pay homage to the skilled team leaders in the professional Apex community. The judges were asked to rank their top IGLs in their region based on shot calling, leadership skills, call outs and ability to facilitate team cohesion.
What makes a good IGL? Thoughts from iG coach EMEF
"IGLing is typical a couple of different roles in one. Every team's IGL will function differently, but the IGL will typically take the majority of the strategic load, both in and outside of the game," said TheEMEF, coach and analyst for iG International, whose roster placed 6th at the ALGS Championship competing as Endeavour.
The IGL will determine the team's style of play based on the current metagame, from team composition to drop location, leaving the two other players to focus on executing orders and enemies.
"To put that into practical terms, an IGL that commands an edge team for example will need a different skillset to one who leads a fast-rotating, centre zone team. The edge IGL will be heavier on the side of fragging play, as they will need to be more comfortable closer to danger to be able to see opportunities to fight for, and will need to have better charisma and authority to quickly rally their team to the correct position to capitalise on the opportunities that the IGL has found or made," said TMEF.
"Contrast this with the rotation-prioritising IGL, someone who will do a lot more work out-of-server to accomplish optimal routes to zones and timings to avoid other teams, as well as the knowledge to know where they actually need to go, predicting zones long in advance. They will need to consider all eventualities, perfect timing to execute, nearby teams' tendencies, and optimal utility usage to get the cleanest possible fights, as the defensive style that they have decided for their team will offer much more time to plan and execute plays in the mid and late game."

The amount of information a top IGL has to process is immense, which makes the achievements of these three finalists all the more impressive.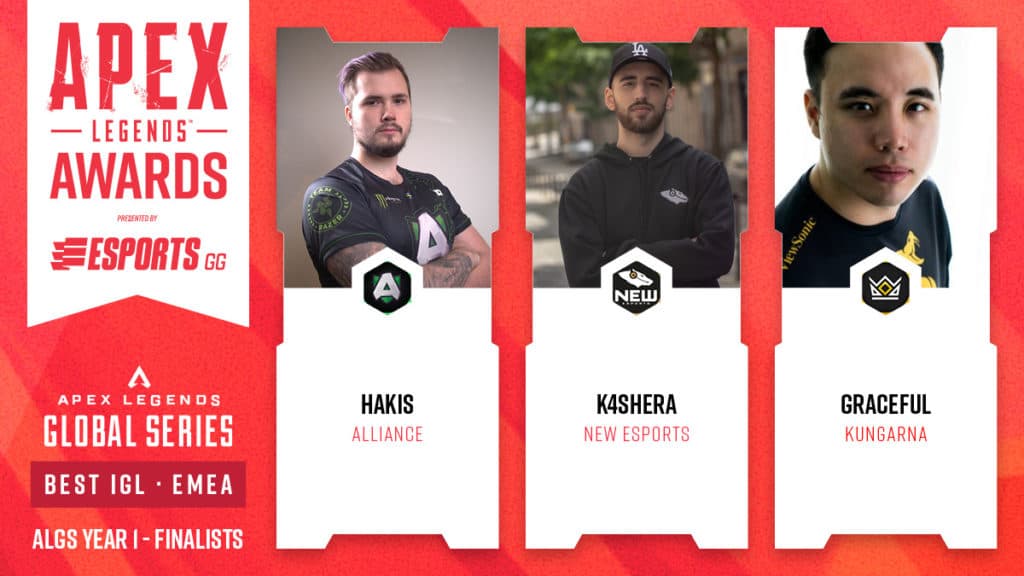 Our 3 Finalists for Best IGL EMEA
John "Hakis" Håkansson
Hakis is one of Europe's most prominent Apex figures and for good reason. Alongside team-mate Vaifs, Hakis earned the highest ALGS Points out of any EMEA player, and led his team to 3rd place at the ALGS Autumn Circuit Playoffs and consistent success in the ALG Online events. Hakis is also one of the spearheads of the Apex EMEA community and quite the slayer himself - so much so that he is also a finalist for the Best Slayer EMEA Award.

"One team that has nearly always committed to an edge style (though has been flexible in the past) is Alliance, leaning into their drop spot's strengths, as Thermal Station is known as one of, if not the most successful edge-style drop spots in ALGS history, which they have ruled with an iron fist for so long. Having access to the loot that they have gives them a much easier time going into the mid-game, but Hakis as an IGL wields his teams offensive and medical economy extremely efficiently, allowing their team to thrive in what is typically the hardest period of the game for an edge team to survive in.

On the topic of offensive utility, Hakis has some of the most flexibility Legend-wise for a player of his role, the frontlining IGL, and this experience allows them to make use of some of the more creative compositions that Alliance as a team are known for. Horizon, Pathfinder, Valkyrie, (Fuse at times, for some reason), as well as the classical Octane and Wraith have been used by Hakis to a degree of success that has made Alliance as a team synonymous with innovation and creativity."
Hakis IGL style according to iG coach EMEF
John Francisco "k4shera" Miguel Nogueira Alves
23-year old K4shera is another pillar of the Apex Legends EMEA community, and a leader who has not been afraid to make decisions for the good of the team. Unlike the majority of teams in the ALGS, New Esports went through multiple roster changes but the team still delivered. K4shera's team placed 2nd place at ALGS Autumn Circuit Playoffs and 4th place at the ALGS Winter Circuit Playoffs. The Portuguese captain has been responsible for opening the door to competitive Apex for multiple players, and according to our panel of judges is one of the top 3 IGLs in the region.
"K4shera has primarily teamed with classical anchor player PostKill, facilitating the rotationally-minded filter that K4shera views the game through strategically, and in turn giving K4shera the tools needed to adapt his playstyle to his roster's strengths, being PostKill's ranged mechanics and dedication to his role. But this is the only consistency that K4shera has found in his roster, as half a dozen frontline fraggers have passed through NEW with little change to their placements, as K4shera's aura of interpersonal discipline and consistent playstyle has lead them to become one of the greatest match point/playoffs team in terms of their accomplishments.
This has ranged from successful and role players, to hidden talents, to even moulding historically supportively minded players for the complete opposite role. Few can say that they have been as close to winning as many times as K4shera.
K4shera IGL style according to iG coach EMEF
Martin "Graceful" Wongphrom
Graceful is the most mysterious of the three Best IGL EMEA Award finalists, but few could doubt his skill, especially recently with him winning MVP of the tournament twice at BLAST Titans. During ALGS Year 1 Graceful led Nessy, who would be picked up by Kungarna for the ALGS Championship. Graceful's Nessy were incredibly consistent, placing top 8 at the Summer, Autumn and Winter ALGS Circuit Playoffs. Similar to Hakis, Graceful is killing machine turned IGL, giving him an extra edge of the competition in the field. Graceful is a
"Somewhat competitively enigmatic, Graceful's team is infamous for their lack of streaming exposure, and has been that way for almost all of the Global Series. From what can be gleaned from the limited third person perspective, the flexibility of the team not only with the player's legend pools, but the ways in which the players can shift entire roles, is unlike anything normally accomplished in competing teams.

It is an entirely unique accomplishment to see an IGL move from a frontlining Wraith focused on creative entry and the micromanagement of fights, to a passive Gibraltar with complete autonomy bubbles, to even anchor characters such as Caustic and Wattson, the characters most avoided by IGLs historically.
Graceful's IGL style according to iG coach EMEF
The 10 nominees have been rounded down to only 3 finalists. We will unveil the winner of the Best Team EMEA Award on Wednesday September 8th! So keep an eye on the Esports Twitter account for more finalists and the winners of our Awards!