The Apex Awards are here! We are here to break down the nominations for North America's IGL! Come take a look at the 10 incredible nominees.
The Apex Awards are right around the corner! Today we are looking at EMEA's best In-Game Leaders, or IGL. This category is to pay homage to the skilled team leaders in the professional Apex community. The judges were asked to rank their top IGLs in their region based on shot calling, leadership skills, call outs and ability to facilitate team cohesion.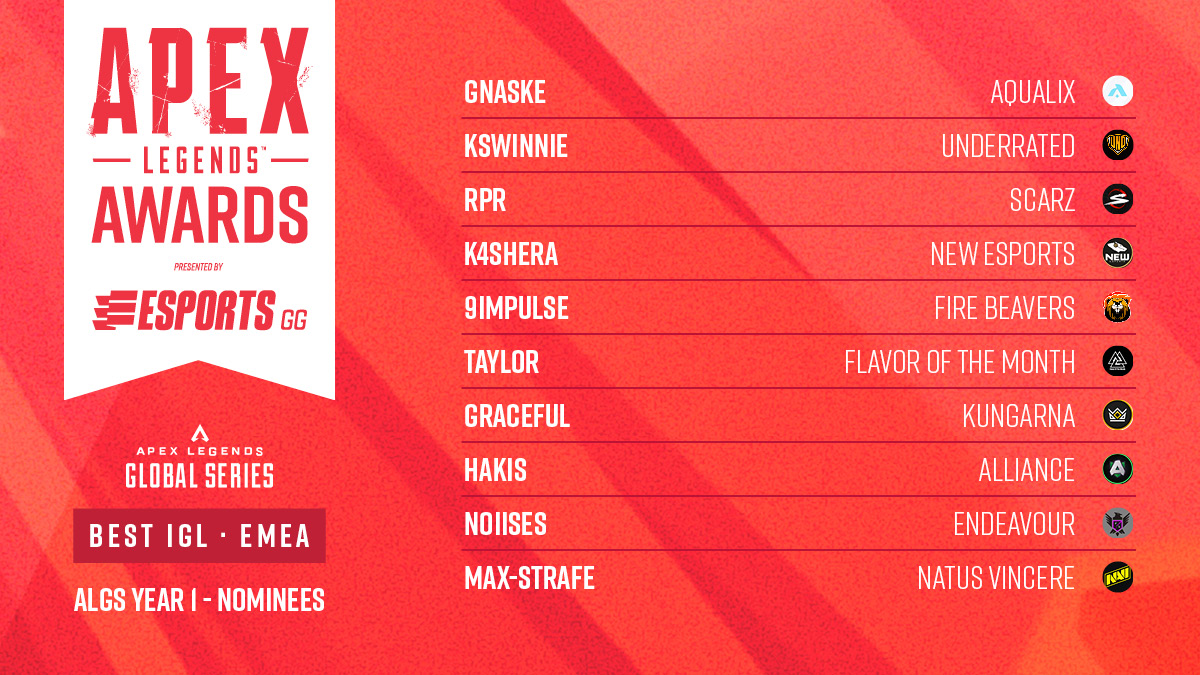 Johan "Taylor" Taylor
Current Team: Flavor of the Month
Twitter / Twitch
Our first nominee for EMEA's best IGL is FlavorOfTheMonth's Taylor. Coming into the ALGS Championships, Taylor and his squad were a fan favorite as they placed 1st in both the 2021 ALGS Winter playoffs and the Winter Circuit 3. Unfortunately they didn't place well in the EMEA championships. Regardless, Taylor leads his team to consistent top 10 placements and has earned himself 10,910 ALGS Points this season.
Dan "rpr" Ušić
Current Team: SCARZ EU
Twitter / Twitch
SCARZ EU were champions of the EMEA ALGS championships this year, and couldn't of achieved victory without their leader, rpr. The Croatian player also led his team to back to back victories in GLL Masters and the Summer Circuit 3 under team North and as the orgless Mikkel Can & Dan . Over the course of the season rpr has earned 11,720 ALGS Points and continues to lead the SCARZ EU squad.
Cameron "Noiises" Walker
Current Team: Invictus Gaming International
Twitter / Twitch
Noiises and his squad made quite the splash on the Apex scene under the orgless banner of Endeavour. The 22-year old led his team to a 6th place at the ALGS Championship 2021. Noiises achievements given his limited previous experience have to be commended. Noiises earned 4,220 ALGS Points over the course of the season, and off the back of his leadership the Endeavour trio were picked up by Chinese organisation Invictus Gaming for the ALGS Year 2 Pro League.
Kirill "9impulse" Kostiv
Current Team: ZETA DIVISION
Twitter / Twitch
9impulse leads the newly signed ZETA DIVISION squad, who was previously known as the infamous Fire Beavers. Under his leadership Fire Beavers earned 7,350 ALGS Points and were whiskers away from hijacking the Finals of the ALGS Championships. 9impulse has a decorated past, as his squad in 2019 made 17 top 5 finishes out of the 25 tournaments they participated in. Additionally, they were runner ups for the 2021 ALGS EMEA Championships.
Elwin "KSWINNIIE" Echeveria
Current Team: Underrated
Twitter / Twitch
The French leader for the Underrated squad has made quite a name for himself over the past couple years. Kswinniie played for a variety of teams including Warthox Esports, Outsiders and Purge. Leading his squad to various top 10 finishes in top tier tournaments and victories in several GLL Community cups. The squad surprised the community with their 4th place finish in the ALGS EMEA championships.
Martin "Graceful" Wongphrom
Current Team: Kungarna
Twitter / Twitch
Next up is the leader of Kungarna's squad, Graceful. The Swedish player has accumulated 12,210 ALGS points over the year and has impressed the community at large. Although they did not place well during the EMEA ALGS Championships, Graceful is a highly respected IGL among his peers and his proven his worth more recently at the BLAST Titans event.
John "Hakis" Håkansson
Current Team: Alliance
Twitter / Twitch
Hakis joined Alliance in early 2020, and has cemented their position as a titan in competitive Apex Legends. Outside of being a phenomenal player, Swedish John "Hakis" Håkansson is also one of the figure-heads of the Apex Legends pro scene in Europe, fighting for change and improvements. In-game leader for Alliance, Hakis is one of the OGs of Apex Legends in EU and was a familiar face at the top of the kills leaderboards throughout ALGS Year 1.
Casper "Gnaske" Præstensgaard
Current Team: GnaskeOliDel
Twitter / Twitch
Formally the captain of the Aqualix squad, Gnaske took the team to a 5th place finish at the EMEA ALGS Championships. Additionally, with more top 5 finishes in other tournaments like Blast Titans, GLL Community Cup and Box Fight Championships, Gnaske has made a solid name for himself. Especially after earning 10, 735 ALGS Points over the course of the ALGS Year 1. He now leads his new squad GnaskeOliDel with his previous teammate SirDel and new teammate Badoli.
Francisco "k4shera" Miguel Nogueira Alves
Current Team: NEW Esports
Twitter / Twitch
The Portuguese player k4shera of NEW Esports had a rough start to 2021 with his team. But with some blood, sweat and tears and a first place in the ALGS Winter Circuit's last chance qualifier, they turned their luck around. New Esports placed top 5 in the following 3 tournaments, and the team turned heads at the ALGS Championship groupstage by finishing in 1st place. k4shera earned 8,550 ALGS Points in Year 1.
Maksym "Max-Strafe" Stadniuk
Current Team: Natus Vincere
Twitter / Twitch
Our last nominee for EMEA's best IGL is Max-Strafe. The Ukrainian team captain for esports giants Natus Vincere has been with the team since mid-2020. Although the NAVI squad hasn't placed top 5 in top tier tournaments, Max-Strafe has still accumulated 11,310 ALGS points and earned the admiration of his fellow Apex pros.
Look out for our Finalists announcement on September 6th
There you have it, our 10 nominees for Best EMEA IGL based on the votes from our esteemed panel of judges; a mix of ALGS broadcast talent, players and managers.
We will be announcing the 3 finalists for the Best EMEA IGL award on September 6th and the winners on September 8th!
Follow us on @esports on Twitter and Instagram.