Alliance use Newcastle to full 'Effect' in the ALGS Pro League
Alliance, using Newcastle, comfortably cruised to victory as the EMEA ALGS Pro League's regular season drew to a close.
Alliance ended their Pro League regular season in style, comfortably winning the final game day of the ALGS Pro League split. They will head into the Regional Finals next weekend as clear favourites.
Elsewhere, Bitfix Gaming impressed as they clawed their way into the top 20 at the last opportunity.
The top 20 teams in the EMEA region will now prepare to do battle in next weekends Regional Finals, which will feature the ever dramatic 'Match Point Format'. The winner of next weekends Regional Finals will join the top nine teams at the Split 2 Playoffs.
Alliance once again forging new metas
Alliance, the masters of new metas, have taken to using Newcastle across Storm Point. Having found success with Rampart, and then with Ash.
Alliance have long enjoyed innovating, refusing to ever obey the general meta. What is most impressive about Alliance is how quickly they adapt their gameplans to the latest off meta legend that they are using. Particularly when there is such a lack of high quality practice for ALGS Pro League teams.
They comfortably closed out their regular season campaign with a 20 point victory over Bitfix Gaming.
Alliance drag Effect back into the game using Newcastle
The day's game three was a textbook use of Newcastle by Alliance.
They set up with their back to a cliffside near Countdown. For any other team, this would have been totally unplayable, but the Castle Wall made this a prime spot to bully all the teams that were falling over each other trying to escape Countdown.
Alliance Yuki celebrates in Raleigh (Photo EA/Joe Brady)
Effect has been a stand out star for Alliance. He leads the overall kill leaderboard, and is perhaps the most in form player anywhere in the world. However, Alliance would have been forced to play the final moments of game three without Effect, if it was not for Newcastle.
But, in a fantastic display of all of Newcastle's kit, Hakis was able to drag effect to safety. Newcastle's passive letting Hakis drag Effect to behind a combination of the Mobile Shield and Castle Wall.
Then, in true Effect style, he used his second lease of life to clutch up the victory for Alliance. The fact that Effect has his London VISA already in hand will strike fear into the hearts of teams across all five ALGS regions. Perhaps using a legend like Newcastle to help keep the flamboyant controller fragger alive is Alliance's best chance of success in the Playoffs.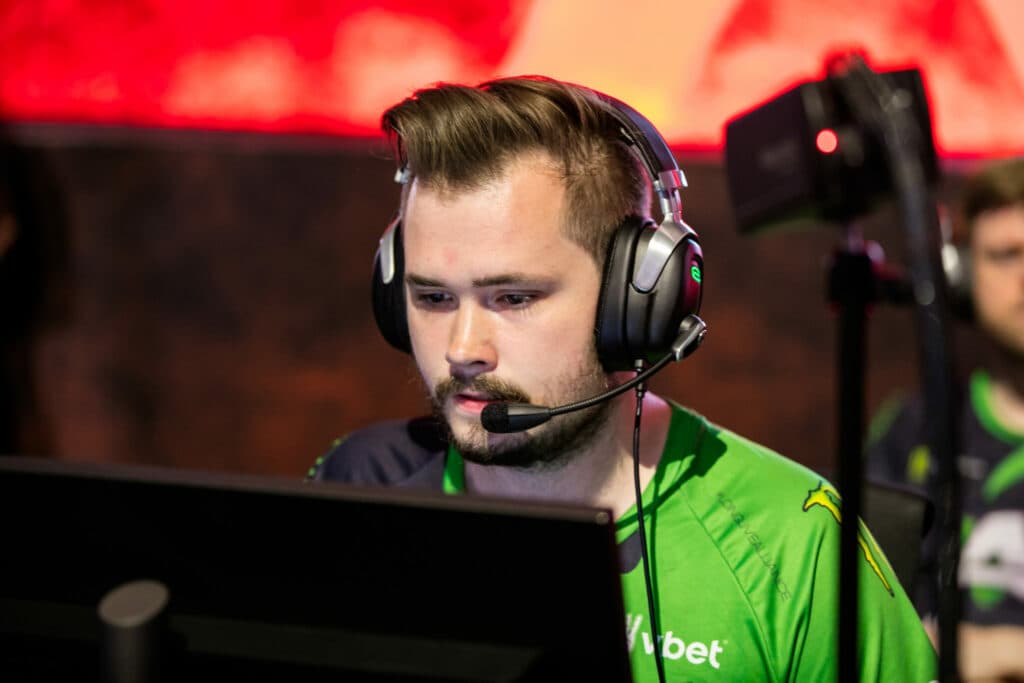 Alliance Hakis provided textbook Newcastle Gameplay (Photo EA/Joe Brady)
Slayers pulls off incredible solo victory
Fresh off their huge victory yesterday, Element 6 followed up with a solid performance. They took eighth place, firmly securing their spot in the LAN qualification spaces.
Undoubtedly the most impressive moment of Element 6's performance today came from Slayers. The British controller fragger pulled off an impossible solo win.
Having hidden inside rocks, Slayers managed to escape the attention of BFG. BFG trying to fight Slayers led Hardecki and the Gaimin Gladiators to push BFG. Following a messy fight, the solo Slayers was somehow left with a 1v1 against Hardecki for the victory, which he duly won. All of this on Lifeline, no less.
Element 6 have been experimenting with lots of different legend compositions in recent weeks, and fans will wait expectantly to see what they bring out at LAN.
Who makes Regional Finals?
Today's action concluded the regular season of the ALGS Pro League. Now, the top 20 teams will advance to the regional finals. While five teams have secured their LAN spot already, any of the other 15 teams can qualify by winning the Regional Finals, or securing a spot in the top 10 through points.
Alliance - 118 (Q)
Vexed Gaming - 107 (Q)
Fire Beavers - 97 (Q)
Pioneers - 97 (Q)
Element 6 - 95 (Q)
ACEND - 97
JLingz - 87
Horizon Union - 72
2R1C - 69
Vortex - 69
-------------
SAF - 65
Aurora - 64
Myztro Gaming - 63
Gaimin Gladiators - 62
Danish - 61
Ethernal - 60
FUT Esports - 58
V2 - 57
Phoenix Legacy - 49
Bitfix Gaming - 47
The surprise inclusion in the top 20 teams has to be Bitfix Gaming. They surprised everyone with their incredibly strong second place. Deploying a new found aggression, Bitfix racked up an impressive 35 kills. However, their failure to win a game might leave some doubts about their ability to win in a match point format.
Stay tuned to esports.gg for more ALGS coverage and esports news.