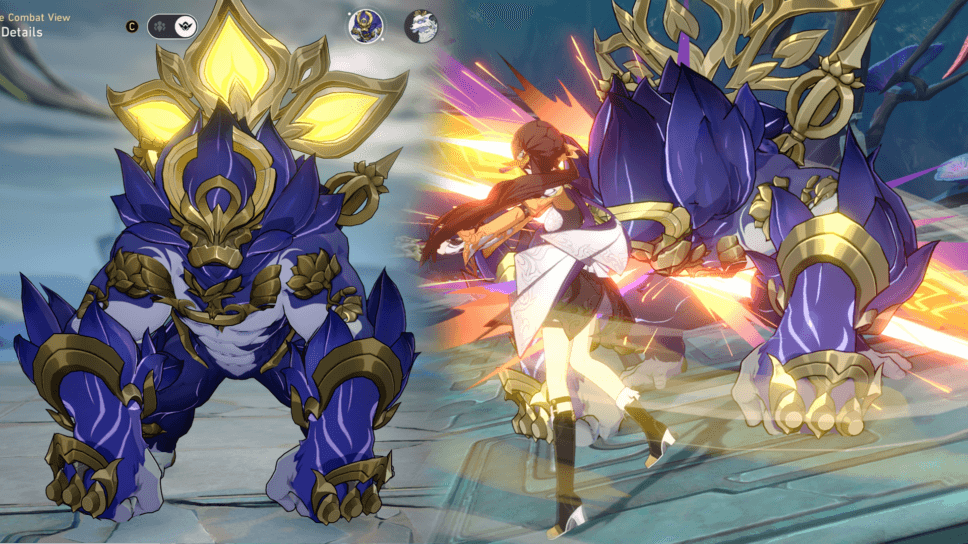 How to Beat Malefic Ape in Honkai Star Rail
Tips on how to beat Malefic Ape, the new Elite Enemy in Honkai Star Rail version 1.2. It's actually a lot easier than you think.
Malefic Ape is one of the new Elite Enemies that arrived in the Honkai Star Rail 1.2 update, and can be surprisingly difficult to beat compared to other monsters.
You'll first encounter Malefic Ape in the open world mission A Dragon Gallant, Its Ocean Distant in Scalegorge Waterscape, but the monster can also be found in the Cavern of Corrosion. How to beat Malefic Ape you might ask? We've got you covered.
You'll first encounter the Malefic Ape in Scalegorge Waterscape
In Open World combat Malefic Ape will be accompanied by two other Spirits; Wooden Lupus and Golden Hound. Wooden Lupus can also use its ability Rallying Howl to summon a Shadow Jackhyena with the same current HP as itself. You'll want to take out the Wooden Lupus first if you want to beat Malefic Ape.
| | | | |
| --- | --- | --- | --- |
| Abundance Sprite: Wooden Lupus | 90 | Fire, Wind, Imaginary | |
| Abundance Sprite: Shadow Jackhyena | 60 | Fire, Wind, Imaginary | |
| Abundance Sprite: Golden Hound | 90 | Ice, Lightning, Quantum | |
| | | | |
How to beat Malefic Ape in Honkai Star Rail
General Tips
Pay attention to which party member is being Monitored by the icon above their head
Switch Malefic Ape's target by casting any Skill (Ultimate's don't count)
Consider using Shield Characters (e.g. March, Gepard) or characters with Taunt (Trailblazer/Clara)
Keep an eye on the turn sequence to know when Malefic Ape's turn is coming
Consider having two Abundance characters (Natasha + 1)
If Malefic Ape's casts Fiery Majesty be warned it means he will deal 20% more damage for 2 turns (Max 3 stacks)
High Speed characters will deal more DMG over time with Basic Attacks
If you're party members are under 1500 HP, consider using consumables to boost HP
Eliminate all Abundance Sprites (multi-target) before taking down Malefic Ape (single-target)
If your healer(s) dies just retreat and restart the battle, don't waste your time
To defeat Malefic Ape you will need to pay attention to two things; Skill usage and the turn sequence. Malefic Ape is a single-target enemy and a one-trick pony.
How to beat Malefic Ape: Keep an eye on which character is being Monitored
At the beginning of combat Malefic Ape will cast Wrathful Roar which gives him three stacks of Gusto and marks a target for "monitoring". Essentially, which of your characters is about to get a single-target smackdown. You can see which of your characters will be Malefic Ape's target by the icon above their avatar.
Important: The monitored target is randomised at the start of battle. However, whenever a character uses a skill, Malefic Ape will make them their new monitored target.
After Wrathful Roar, each Malefic Ape attack will drain one charge of Gusto (a damage buff). Once all three charges have run out, he will need to re-cast Wrathful Roar.
Malefic Ape's Fiery Majesty can boost his damage up to 60% with 3 stacks, so dont underestimate the incoming damage. So now we know what Malefic Ape does, how to we beat it?
| | | |
| --- | --- | --- |
| Simian Strike | Single-target | Consumes 1 stack of Gusto and deals Quantum DMG (475% ATK) to a Monitored target. |
| Fiery Majesty | Buff | Increases DMG dealt (20%, 2 Turns). This DMG boosting effect is stackable (Max 3 Stacks). |
| Wrathful Roar | Lock-On | Gains 3 stacks of Gusto and marks a random target for Monitoring. Until Gusto is exhausted, any target that uses their Skill will become the new Monitored target. Monitored targets are makred with an eye above their avatar. |
Malefic Ape skill list in Honkai Star Rail
Strategy #1 - Divide and conquer
The first strategy is to simply trick Malefic Ape to always attack your highest HP character. Malefic Ape only really has one attack, so as long as you wipe out any support monsters beside him, you'll be fine.
Spread the damage between your party (will require all party members to have 1,500-2,000 HP)
If a character drops low HP, have a high HP character cast a skill to become Malefic Ape's new target
Focus on high-DPS Basic Attacks to take down Malefic Ape
Pay attention to the turn sequence to avoid your healer casting their skill last
Use a DEF boosting consumable pre-battle (e.g. Simple Protective Gear)
Strategy #2 - Shield and Tank
The second strategy to beat Malefic Ape is to play around Shields or Taunts. Simply nominate a character to be your punching bag and shield and heal them up ahead of the beating. In terms of free basic characters, March 7th and Trailblazer (Preservation) are your best bet.
Remember that Malefic Ape targets whoever casts the Skill, not who the Skill was place on (e.g. March 7th's Shield: Power of Cuteness).
IF you're still struggling with Malefic Ape, it could be you're not high enough level or need a fresh face in your character list. Consider farming Stellar Jade to beef up that roster and equipment.