Marvel Snap Conquest mode guide: Leagues, rewards and shop
If you want to know everything about Marvel Snap's latest game mode, Conquest, this article is for you! Here's everything you need to know!
Today we will explain Marvel Snap Conquest, the second competitive mode of the popular card game by Second Dinner. Ben Brode's announcement on Summer Game Fest only increased fans' hype, but it didn't go into many details. That's why we've prepared a guide about Marvel Snap Conquest mode for you.
"Conquest takes the Battle Mode format you know and love from Friendly Battles to the next level! In Conquest, players will queue up against other players to face-off in Battle Mode to earn rewards."
What is the Marvel Snap Conquest game mode?
Conquest is a new competitive game mode for Marvel Snap. It consists of a series of Leagues that players can unlock by winning the previous tier or paying a Gold entry fee. Players who successfully complete a League without a loss will earn rewards based on the tier they played.
These are the Marvel Snap Conquests leagues:
Proving Grounds: it's free to enter, and you can unlock its rewards with a single win.
Silver: you will need to win in Proving Grounds or pay 80 Gold to enter. You will need two wins to unlock its rewards.
Gold: Gold Tickecks can be earned in the Silver League or by paying 200 Gold. It takes three wins to unlock the rewards.
Infinity: entering the Infinity League costs 500 Gold or an Infinity Ticket that can be won from the Gold League. This league requires 5 wins, and it's only open during the last week of each season.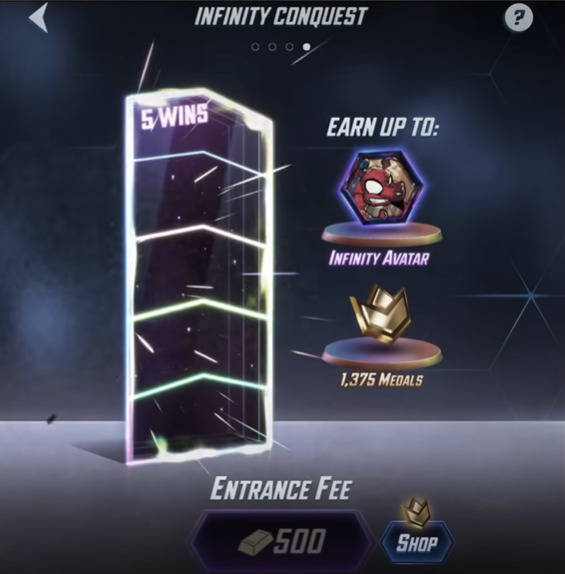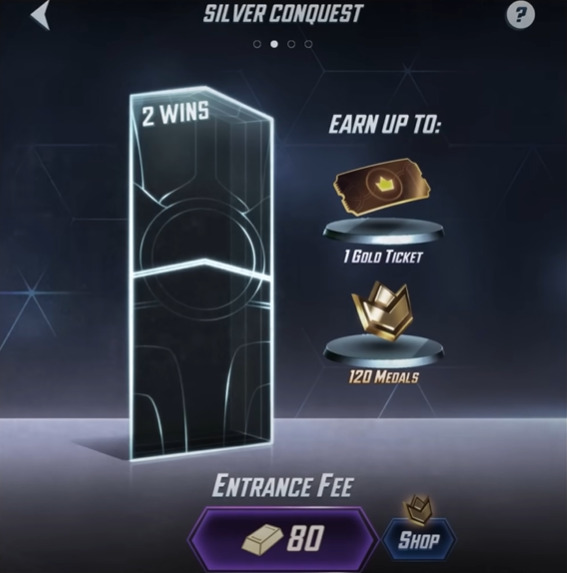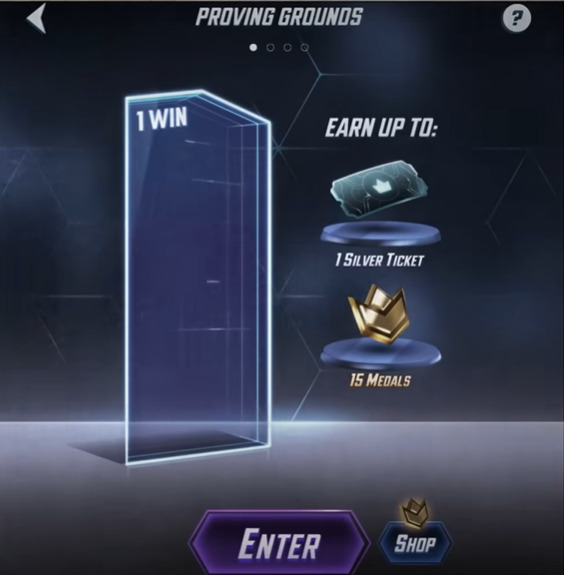 Marvel Snap Conquest matches are not regular ladder games. They consist of Battle Mode encounters, in which you need to win 10 Cubes from your opponent before they do it. If you need to refresh how Marvel Snap Battle Mode works, we have prepared an article for you, feel free to check it out.
"We think that Battle Mode is a super fun way to play MARVEL SNAP and Conquest lets you play Battle Mode whenever you want, against the best competition, for the best rewards!"
Second Dinner Roadmap
The Conquest structure allows players to enter for free and grind Tickets for the upper tiers while earning rewards in the form of a new currency: Medals. Of course, players who chose to spend resources can cut corners and get access to the higher Leagues and their rewards without spending time in Proving Grounds.
Marvel Snap Conquest Rewards
Each time you successfully complete a League you will earn a Ticket for the next tier and Marvel Snap Conquest Medals. Players can exchange this currency for rewards, but it's important to mention that Medals don't carry over from season to season.
Here's a chart where we break down the different Marvel Snap Conquest Leagues and their rewards.
Marvel Snap Conquest Rewards
As you see, while Proving Grounds is free to enter, its rewards are nearly 100 times less than what you can get in the Infinity League. Grinding the system will take time, but it gives players a new incentive to play besides just accumulating cubes in Inifinite rank in the ladder.
Moreover, Marvel Snap Conquest creates a new way to obtain rewards in the form of game resources and cosmetics, with the Infinity Avatar probably being the one content creators will brag about the most. Players can exchange the Medals they got during the season for different rewards in the Conquest Shop.
The Conquest Shop
Each Marvel Snap season, the Conquest Shop will feature a different array of rewards. We have confirmation about what rewards are available in the Conquest Shop, with an exclusive Card Variant as the big prize.
"There's a brand new Conquest Shop every season with new cosmetics, including a seasonal exclusive variant that can only be unlocked in the Conquest Shop."
Conquest Shop rewards vary from other Marvel Snap currencies like Boosters, Credits or Gold, to cosmetic items such as Avatars, Titles and Boosters. Notably, players can also buy Tickets in the Conquest Shop using Medals to make extra runs.
Marvel Snap Conquest Shop
Each item can only be purchased once, with the exception of the bottom 3 items. You can buy those as many times as you want. Have in mind that Medals won't carry over from season to season, so if you have any left upon reset, they will be "melted" and converted into Boosters using a ratio of 100 Medals = 15 Boosters. Curiously, that's better than the 35 Boosters for 250 Medals item offered in the Marvel Snap Conquest Shop.
When does Conquest mode release?
Marvel Snap Conquest mode is live already! The game mode was released on June 13, with the last monthly patch.
The time of the release is even more speculative. Everything indicates that the mode should go live on Tuesday most likely at 08 am PDT. In case you need it, we've prepared a countdown and time converter in this article for you to check out.
That's all for now, but stay tuned to esports.gg, and don't forget to check out our Marvel Snap content and guides. See you next time in the multiverse.