Xiinya talks about her rapid growth in the streaming world, her plans to grow the Japanese Dota 2 scene, and more. #sponsored
For those who hang around the realm of Twitch and Dota 2 - chances are, you might have seen the energetic and entertaining Japanese streamer, xiinya.
Her streams deliver a myriad of content, including gameplay, travel streams, karaoke streams, cosplays, collaborations, and more. She brings her fans along in her adventures, constantly interacting with an audience of 11,000 followers. While she has only started streaming in late 2021, she quickly became a sensation on Twitch, courtesy of her popular Dota 2 streams.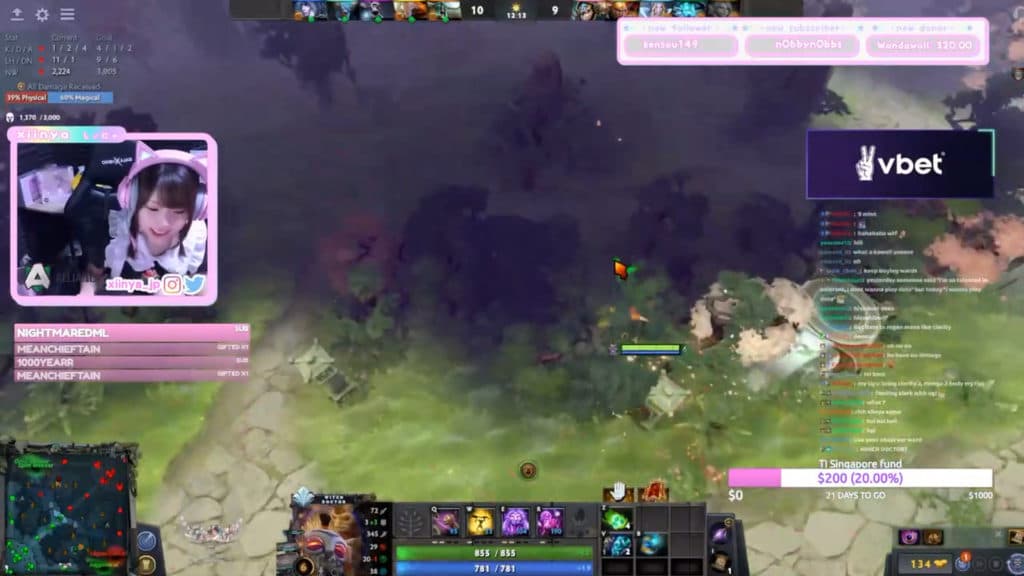 Xiinya actively streams Dota 2 to her 11K followers.
Granted Twitch Partner only 4 months after her channel started, it was no surprise when she joined Alliance, one of the household names in esports, as a streamer.
We were eager to know more about xiinya and so we sat down with the streamer to talk about how she started streaming on Twitch, her mission to grow the Japanese Dota 2 scene, how she joined Alliance, and more!
---
---
Xiinya discovers Dota 2
The PC MOBA game, Dota 2, is undoubtedly one of the biggest video games, equipped with a long history and a large pro scene. But to xiinya, the video game didn't exist until she discovered it through a friend in 2021. She explained that the reason was because of Dota 2's microscopic presence in the Japanese region.
Dota 2's [popularity] in Japan is like 5%. I didn't know about Dota 2 until last year, it's so unpopular in Japan. I didn't know there are pro teams and pro players. After I knew about the pro scene I was shocked. Why didn't I know this Dota world?
Previously, xiinya played a lot of Animal Crossing and some mobile games. She first entered the waters of PC gaming when a friend of hers introduced her to Apex Legends. And late last year, she sets foot in the MOBA scene when she tried out Dota 2.
As it was her first-ever MOBA game, everything felt more difficult to understand and play. She shared her experience of starting out in Dota 2.. and it wasn't really pleasant.
At first I was so scared because in the very first game, I got reported! We were playing Unranked and I was playing Crystal Maiden, [my friend] recommended CM because I was a newbie and she said it is easy to use. I was playing SEA server and they called me 'idiot'.
Even though her initial experience wasn't as great, xiinya found inspiration to continue playing Dota 2. Her friend had recommended her to watch Dota 2 documentaries like Free to Play and True Sight, and like most Dota 2 fans, xiinya was pumped with inspiration after watching them.
"I was watching a lot at that time, like those Dota movies and I got inspired..100% inspired by that. I was like, maybe I can play like this someday," she laughed.
The start of xiinya's Twitch career
Before xiinya started streaming, she was no stranger to Twitch's community. She watched plenty of streamers including Topson, which she became a fan of after watching True Sight. "I watched a lot of streamers before, I watched Topson and AdmiralBulldog, he is funny. I also watched a lot of Japanese streamers."
Even when she was exposed to the streaming world, she never really thought to become a streamer. Until one day, her friend suggested her the idea.
I was just playing Dota 2 and my Indonesian friend, she told me like, maybe you should stream it. You're funny and you're enjoying the game and not many Japanese girls play Dota on Twitch. She told me that.
And judging by her tremendous success, her friend was completely right.
Xiinya started her streaming channel in November 2021 under the username, xiinya_jp. A lot of fans might wonder, is xiinya her real name? The answer is no. Xiinya keeps her personal details away from the public and she doesn't reveal her name or her age. She explains that the Japanese culture is generally very private and so is she.
So how did she end up with xiinya as her username? The Japanese streamer shared that she had a senior in Junior High called Shiina. They played in a brass band and due to their great memories together, she made her Twitch name based on hers.
"We were in the same section, we played Percussion together. She really took care of me at that time and I really like her - that's why I copied her name."
She streamed a variety of stuff at the beginning including some Valorant and IRL streams but she mainly focuses on Dota 2. Despite never streaming before, xiinya is a natural under the spotlight. She streams and interacts with the chat effortlessly - blessing the audience with her funny comments and hilarious bilingual rages.
Currently, streaming is not quite her full-time job as she still does some work for music. Yes, she's very talented in music, even composing her own track for her Twitch stream. You can listen to one of her works, "Whistle of the Ancients", a track that she uses during the start of her streams.
Xiinya's thoughts on Dota 2 and its toxicity
Xiinya wants to keep her streams fun but at the same time, she has her eyes set on a goal. She is working to achieve 1K MMR before TI11, which will be in October 2022. Her current MMR is 850, holding a Guardian 1 medal.
When talking about the process of ranking up, xiinya expressed, "It's hard actually because Dota is my first MOBA game, and everything is new for me. There's a lot of heroes, skills, items.."
She finds Solo games to be intimidating - unsurprisingly due to the notorious toxicity in pub games. Xiinya queues in the Southeast Asia server and she shared that she has seen toxicity in almost all of her solo games.
[There is toxicity in] almost 100% games when I queue solo. I always open my mic and say Hi and they think I'm a boy. And they say, It's already 10pm why don't you go to sleep! In the beginning theyre very nice but if I do something wrong they become toxic.
When she feels like messing around, she'll just mock the toxic players but if not, she mutes them.
So with that in mind, xiinya constantly queues Party games with her friends and her viewers. "I play a lot with viewers actually. The viewers also teach me. I follow whatever they say and sometimes I get scammed. They say this Invoker is so easyyy!!" she laughed.
A mission to grow the Japanese Dota 2 scene
Dota 2's community in Japan is extremely small, or in xiinya's words, 'like a village'. However, there are rare glimpses of Japanese Dota 2 streamers that she highlighted, including Kosame Kiri and Suanzk.
"Kosame Kiri is actually casting Dota 2 games in Japanese and it's so cool. He's the one who streamed Dota 2 for a long time. Suanzk is one of my friends, he is an ex-pro player. I also watch his streams and I learned a lot from him," said xiinya. She explained that because the Dota 2 community in Japan is small, most local streamers are friends with each other.
"[The Dota 2 community in Japan] is just like a village. Before, Japan had two pro teams: DeToNator and ENLIFE. They disbanded a few years ago and there are no more pro teams in Japan right now. We are like LOST."
To make a change, xiinya starts a mission to expand the Japanese Dota 2 scene. She stated that the Japanese players are requesting a translated version of Dota 2 from Valve, which can make it easier for locals to play the game.
She also listed down what steps she wants to take to develop her mission.
"First step is more collaborations with other Dota streamers and players. Make an event, maybe an online event. The next step we can have an offline tournament. Maybe max 30 teams. I want to sponsor the prizepool if I become richer."
Xiinya and many other Japanese streamers are already actively making events. It is no doubt inspiring for Japanese players to see that the region is slowly coming alive for Dota 2.
Xiinya talked about what she wishes to see from the development of Dota 2 in Japan.
I want to see someday, a Japanese pro Dota 2 team going to TI. It's just a dream but I want to see it someday.
Xiinya joins Alliance
On May 14, Alliance announced Xiinya's arrival to its stream division, consisting of popular streamers such as Admiral Bulldog and drunkmers. It is xiinya's first big break, joining one of the most popular esports organizations in the world. She recalled how she was initially approached by the CSO of Alliance, Kelly "kellymilkies" Ong.
"In the beginning, Kelly from Alliance talked to me like are you interested to join an organization? I was so surprised. People like those people will never talk to me. It was unexpected. I was like, is this dream?"
She didn't let go of the huge opportunity. "There's a lot of freedom in Alliance and I really like it, that's why I decided to join," said xiinya.
---
We'll definitely see more of xiinya in the future, so if you're keen to follow and support her journey, check out her socials here:
If you enjoyed this interview, check out other Dota 2 interview pieces from Esports.gg!