New CoD, old problems, as the Travis-Rilea error is hitting Warzone and sometimes MW3 players as they're trying to enjoy some gunplay. Here's how to fix the annoying Travis-Rilea error:
CoD Modern Warfare 3 released on November 10, but just like last year with MW2, it's a bit rough around the edges. That goes double for online play were, there's some errors that need fixing. One frustrating error in CoD is the Travis-Rilea error that's once again reared it's ugly head.
This error is a connection issue caused by server communication problems. It's got a fancy name, but that's really just what CoD is using to call the two connection points, as far as we know. This causes an error to appear listing the reason as "Travis-Rilea," hence the name. Here's how to fix it:
How to fix the CoD Travis-Rilea error in Warzone, MW2, and MW3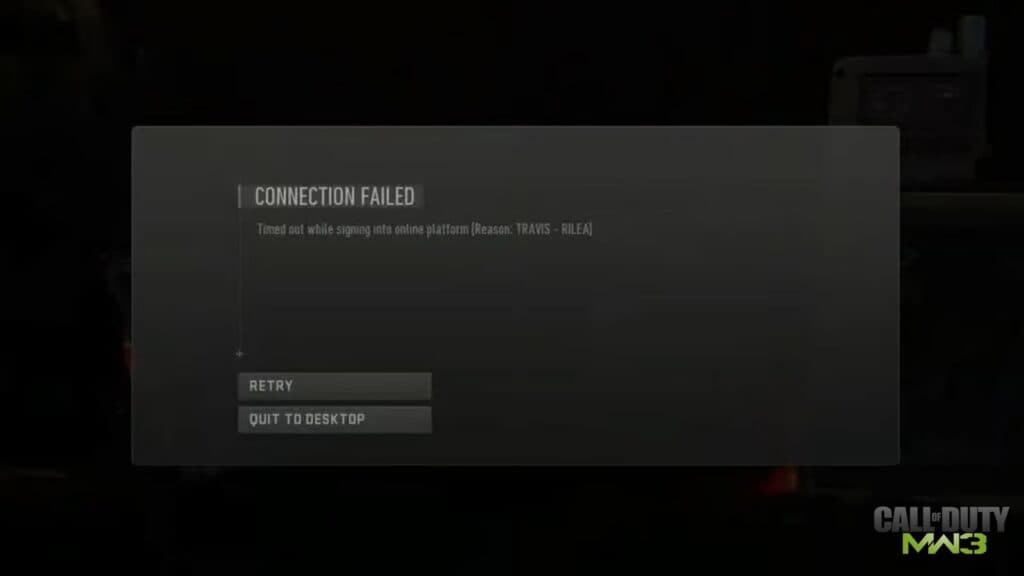 (Image via Infinity Ward)
If you're getting the Travis-Rilea error message while playing CoD, here are some things you can try to fix it:
Check the server status on the Activision website or Twitter page.

Restart your console or PC. Players have reported that restarting their console or PC has helped them access the game without encountering the Travis-Rilea error

Switch from a wireless to a wired connection. Wired connections are faster and more reliable.
If none of these steps work, restarting your router might do the trick.
Beyond this, we'd suggest heading to the official troubleshooting page on Activision Support, although their page doesn't currently offer much more help than above for this Travis-Rilea errors. However, it does have some good information on general troubleshooting.
Hopefully these simple steps will get you back to playing Call of Duty in no time! If you're having other issues why not check out our other guides:
---