Players have been frustrated to find their CoD MW3 Vault Edition isn't working. Here's what's going on with this frustrating issue.
Call of Duty: Modern Warfare 3 is here, but eager fans who purchased the Vault Edition, a premium version with extra unlocks and perks, are finding that things aren't working the way they expected.
This is luckily not a serious bug, but rather a case of Infinity Ward and Sledgehammer Games not quite telling us everything about the game. CoD MW3 Vault Edition is supposed to come with access to the Blackcell bundle for Season 1, which gives you the Battle Pass, 1,100 CoD Points, 50 Tier Skips, and a few other boons. But this isn't working right now. Here's why:
CoD MW3 Vault Edition Battle Pass not working? Here's why
CoD Modern Warfare 3's (MW3) Season 1 Battle Pass isn't live on launch. That's because Modern Warfare 3 has actually launched in the middle of an existing season for Modern Warfare 2. It's CoD MW2's and Warzone's Season 6, and the pass affects all three games.
This wasn't really made clear on the sale of the Vault Edition, so we don't blame anyone for not catching it. In fact it only seems to be listed in the small print of the promotional images, and in fonts so small, we've had zoom in all the way just to read them.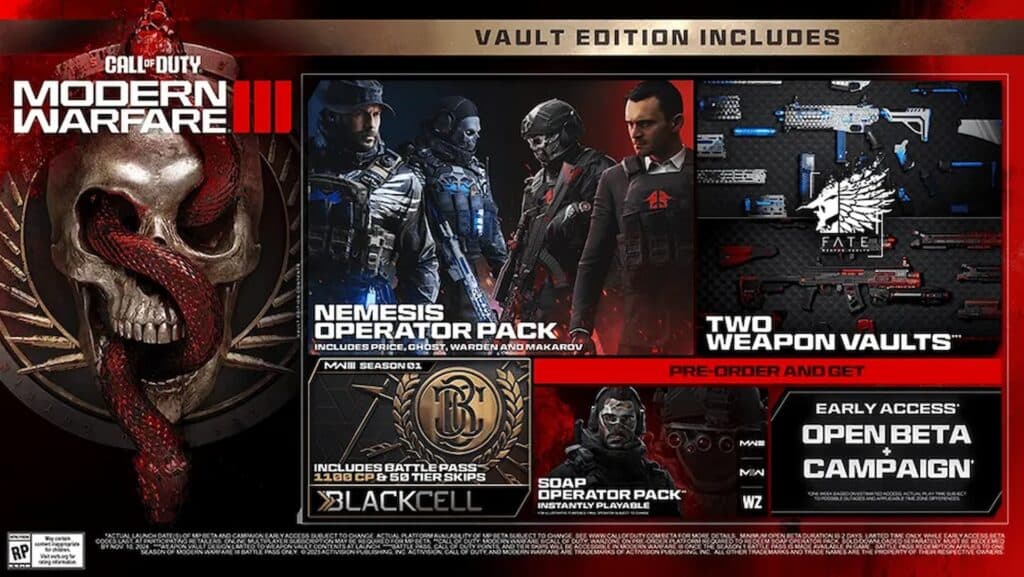 (Image via Infinity Ward)
Still, Vault Edition players get access to the Nemesis Operator Pack, two Weapon Vaults, and as a result a bunch of new weapons for Warzone and MW3. It's still frustrating, but don't worry about not getting your Vault Edition perks, they're on their way.
When does CoD Modern Warfare 3 Season 1 launch?
The Modern Warfare 3 Season 1 Battle Pass is expected to release in the first week of December. Some sites are reporting December 6, but no concrete date has been released by Activision.
CoD MW3 launched on Nov. 10, 2023, and the Vault Edition retails for $99.99. Even without being able to access all the perks on release, it's still a pretty good value pickup if you're serious about playing the game.
---