New World Halloween-Skins im ersten Store-Update hinzugefügt
Neue Masken, Waffen- und Rüstungsskins wurden mit dem ersten Store-Update der neuen Welt zum Spiel hinzugefügt. Seht sie euch unten an!
New World hat pünktlich zur gruseligen Jahreszeit sein Halloween-Update veröffentlicht. Das neueste Update ist die erste Änderung im New World Store seit dem Start. Neue Rüstungs- und Waffenskins, Wohnungsdeko, neue Emotes und neue Farbenpacks sind Teil des Halloween-Store-Updates.
Jack-o-Lantern Hausdekoration
Spieler können die neue Jack-O-Lantern-Hausdekoration kostenlos in der Sektion "Gehäusegegenstände" des Shops anfordern.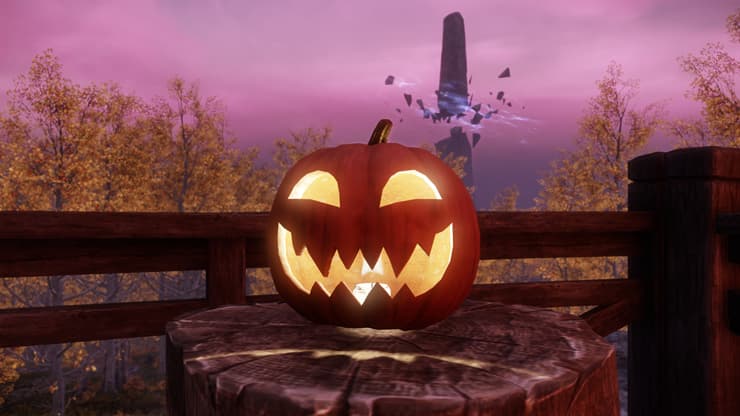 "Der Schurke war glücklich verdammt und verdammt glücklich. Du würdest auch lächeln, wenn du den Teufel selbst reinlegen würdest!"

Die Jack-o-Lantern ist bis zum 15. November kostenlos im Spiel erhältlich.
Masken - Kopfschmuck
Waffen Skins
Rüstungs Skins
Haunted House Deko Bundle
Die Spieler können auch das Haunted House Deko Bundle für 25.000 Glücksmark kaufen.
Dieses Paket enthält die folgenden Hausteile:
Gestohlener Grabstein
Zaubertrank-Bausatz
Verzauberter Besen
Gelbe Vorhänge
Blubbernder Kessel
Der Beschwörungskristall
Sündenbock Jacks verhängnisvolle Laterne
Jacks furchterregende Laterne
Sündenbock Jacks laszive Laterne
Geisterhafter Kandelaber
Wann werden die New World Halloween Skins veröffentlicht?
Die New World Halloween Skins wurden am 21. Oktober veröffentlicht und sind im Ingame-Shop erhältlich.
Spieler können sich außerdem das neue Warte-Emote kostenlos abholen, während sie auf den vollständigen Rollout der Servertransfers im Spiel warten.
Also schnapp dir deine Lieblingsskins und streife mit Stil durch Aeternum.
Rohan
Started esports with Dota, moved to CS, then OW, back to Dota 2, and now a bit of Valorant. I love city-building games, and have spent hours in Cities: Skylines only to have the traffic defeat me. Currently on a reading spree - the aim is to read 150 books in 2023. Can I do it? Would you?