Each energy drink from Rogue Energy has high-quality ingredients that can be found right on the tub of the product. We dive into what goes into Rogue Energy, and why you might want to make it your energy beverage of choice! #sponsored
Competitive video games and energy drinks have become an iconic duo over the past couple of years. Gamers spend hours playing games, munching on their favorite snacks and gulping down their favorite energy drinks. Rogue Energy has stepped into the ring with its own line of energy drinks.
Rogue Energy stands out in a crowd of its peers by being a dedicated gaming-focused company. It wants to offer professional esports players and streamers an alternative to their normal choices of energy drinks. Rogue Energy is filled with a plethora of high-quality ingredients and is not afraid to show you its nutrition panel.
The energy drink is filled with vitamins, antioxidants, and amino acids that will help with focus, energy, and alertness. Both professional and casual gamers can use Rogue Energy to keep their minds focused while playing their favorite games. Moreover, the drinks have zero sugar, are gluten-free, and are paleo-friendly. Manufactured in FDA-certified facilities, they are held to the highest standards and meet the requirements of the FDA.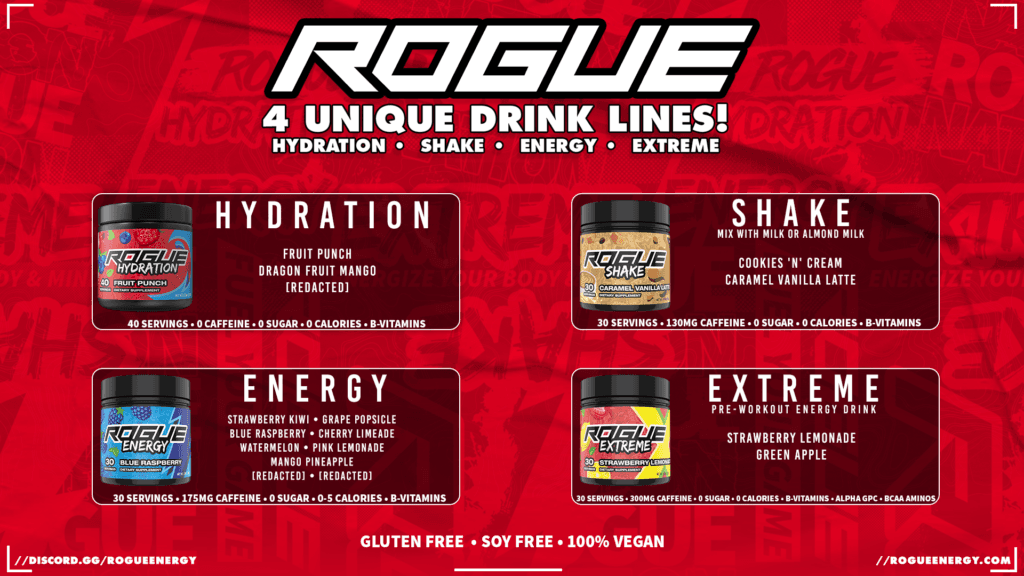 A display of Rogue Energy's products
When looking at the ingredients and nutrition panels on Rogue Energy, you will see plenty of ingredients that keep your mind sharp. Acai berry extract, a key component of this energy drink, is filled with antioxidants which can stimulate the immune system of the body. It also helps reduce inflammation and swelling. Antioxidants are known for protecting the cells in the body from over oxidation.
All the Vitamins You Need
Rogue Energy also has other ingredients that are known to help the body such as taurine and vitamin B 12, C, and E. Taurine is an amino sulfonic acid that occurs naturally in the human body. Usually, people use taurine for congestive heart failure and for inflammation in the liver. However, many people use taurine for nerve support and during athletic activity for a boost of energy.
Vitamin B 12 is used in many supplements and diets to promote healthy blood and nerve cells. This is an essential vitamin that the body requires in order to function properly. The obvious benefit of taking vitamin B12 is to prevent vitamin B 12 deficiency. Many people do take vitamin B 12 to help with their memory. People also use the vitamin to boost their mood and to help with their concentration.
Rogue Energy also has plenty of vitamin C and E in each of its products which makes these drinks packed full of healthy vitamins for people to consume. Probably the most well-known vitamin, vitamin C is one of the safest and most effective nutrients that a person can take.
Rogue Energy contains plenty of Vitamin C, an essential nutrient for the growth, development and repair of body tissues
Vitamin C can improve deficient immune systems and can be used for muscle soreness and to reduce fatigue. It is also known to help maintain the health of your skin, both for wrinkles and for redness. There are also some studies that show vitamin C can help with your blood pressure as well as the health of your heart.
Vitamin E is also a common vitamin found naturally in many of the foods that we eat as well as a supplement. People take vitamin E to try and help with eye health as well as motor functions. It is also a powerful antioxidant that may help with reducing UV damage in the skin.
Get Charged
Not only is Rogue Energy packed with nutrients, but it also has some caffeine to boost your energy up. It is widely known that caffeine gives your body and mind a jolt of energy and stamina. Most of us usually get our caffeine through coffee or tea. However, you can get your daily caffeine through Rogue Energy's line of products. The caffeine range on the Rogue Energy drinks ranges from 175 mg - 300 mg.
The average cup of coffee has about 95 mg of caffeine, so Rogue Energy gives you almost double the amount of caffeine than your morning cup of joe. The FDA highly suggests not to go over 400 mg of caffeine daily. Rogue Energy sits safely below that 400 mg limit so people can enjoy a drink from Rogue Energy's line of energy drinks without worrying about over-caffeinating.
"Rogue Energy is upfront with all of the vitamins, antioxidants, and ingredients that are found in the drinks so you will never have to wonder what exactly you are drinking. "
When considering what energy drink you want to purchase it is always recommended to look at the nutrition and ingredient panels found on the product. Many energy drinks might shy away from this as much as possible or are filled with ingredients that people may not be familiar with. Rogue Energy wants to change that and is very open to showing exactly what is in its products. It is upfront with all of the vitamins, antioxidants, and ingredients that are found in the drinks so you will never have to wonder what exactly you are drinking.
If you want to have a taste of Rogue Energy you can visit their website, and use promo code "esports" for 30% off courtesy of our partnership.
We want to thank our partners at Rogue Energy for sponsoring this article. Purchases made from links in this article may result in commissions for Esports.gg.
---
Disclaimer: The statements in this article have not been evaluated by the Food and Drug Administration. Rogue Energy products are not intended to diagnose, treat, cure, or prevent any disease. Rogue Energy products may not be recommended for people sensitive to caffeine.