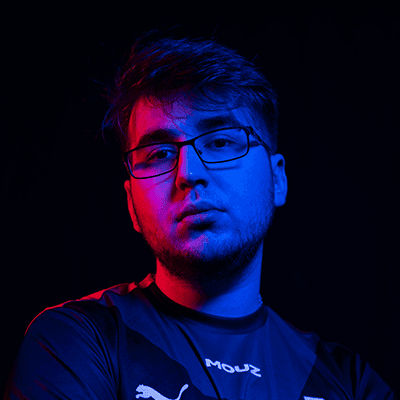 MOUZ promove torzsi ao elenco principal e coloca acoR no banco de reservas
Torzsi ganhou temporadas consecutivas na WePlay Academy jogando pela MOUZ NXT.
A MOUZ anunciou que torzsi irá passar a jogar no elenco principal e assumir o papel de ser o principal usuário de AWP na equipe. Enquanto isso, acoR não faz mais parte da equipe e foi colocado no banco de reservas.
Torzsi teve um ano de destaque em 2021 na MOUZ Academy. O jogador de 19 anos teve uma média de 1,24 ao longo do ano com a vitória da MOUZ NXT nas temporadas 1 e 2 da WePlay Academy. Com uma média de abates/mortes de 1,38, torzsi causou um grande impacto nos resultados da MOUZ NXT.
Obrigado por esta grande oportunidade. Espero poder superar as expectativas de todos. O ano passado foi cheio de surpresas e acho que fizemos o melhor com a MOUZ NXT e entrar para a equipe principal é um novo capítulo para mim! Eu os amo muito e desejo-lhes boa sorte.
Quem está no elenco da MOUZ de CS:GO?
Devido à promoção do torzsi, estamos colocando o acoR no banco de reservas por enquanto. Queremos agradecer acoR por seu trabalho árduo nos últimos meses, que foi coroado com uma vitória em um torneio no Flashpoint 3.
A MOUZ passou por várias mudanças no seu elenco nos últimos dias. A estrela do time, Ropz, deixou o elenco para se juntar à FaZe Clan. Com acoR também deixando a equipe, o novo time da MOUZ terá um visual completamente diferente.
A superestrela francesa, NBK, está supostamente negociando com a MOUZ para entrar no time, embora nada seja oficial ainda. Apesar de anunciar sua mudança para o Valorant, o jogador ainda não se juntou a nenhum time para o jogo de FPS da Riot.
A organização ainda não anunciou um substituo para Ropz, portanto fique atento para mais anúncios em um futuro próximo.
Por enquanto, o elenco da MOUZ de CS:GO é o seguinte:
Christopher "⁠dexter⁠" Nong
David "⁠frozen⁠" Čerňanský
Aurimas "⁠Bymas⁠" Pipiras
Ádám "⁠torzsi⁠" Torzsás
Frederik "⁠acoR⁠" Gyldstrand (no banco)
Chris "⁠chrisJ⁠" de Jong (no banco)
Traduzido por: Giuseppe Carrino
Rohan
Started esports with Dota, moved to CS, then OW, back to Dota 2, and now a bit of Valorant. I love city-building games, and have spent hours in Cities: Skylines only to have the traffic defeat me. Currently on a reading spree - the aim is to read 150 books in 2023. Can I do it? Would you?