With the announcements that some LCS teams will be using Academy players for Lock-In, some fans are decrying it as "giving up". But is it really a bad sign for the event?
Over the last few weeks, several teams have announced that they'll be playing Academy talent for the LCS Lock-In tournament. TSM and Dignitas, both due to visa issues, are unable to field their full rosters, while Cloud9 has not officially announced anything but is highly likely to join them. DIG is fielding Academy jungler Lawrence "eXyu" Xu, while TSM has opted to start their entire Academy roster. C9 will field a mixture of their Academy and LCS rosters.
This was met with an outcry from fans. 'It's only the second year since this tournament has been implemented,' the sentiment went, 'and already teams are giving up.' That sentiment isn't only wrong, it's a dangerous mindset for the future of LCS. It's not a bad thing for LCS teams to be fielding academy talent for LCS Lock In – in fact, more teams should be doing it.
Demacia and KeSPA Cups set an example for LCS teams
The main comparison to LCS Lock In is the Demacia and KeSPA Cups that Asian teams play – the former in China, the latter in Korea. These events have both been around longer than Lock In, and provide those regions with an exciting kick-off to the season – exactly what Lock In is trying to achieve.
Rosters participating in these tournaments tend to fall into one of three categories. First, there are teams that will field their full, starting roster, the one they intend to use in the regular season. These teams are usually projected to finish low in the regular season, and see these events as an opportunity to win some silverware and please their sponsors. There are also teams that will field their full academy roster. Usually, these are the top-ranked teams, coming off a Worlds appearance, whose stars are all taking time off. But most rosters fall into the final category, somewhere in the middle.
Most teams field a combination of their starters and their best academy prospects. It's a chance for the future stars of their organization to get some time on the big stage, play against top-tier talent, and get used to the spotlight.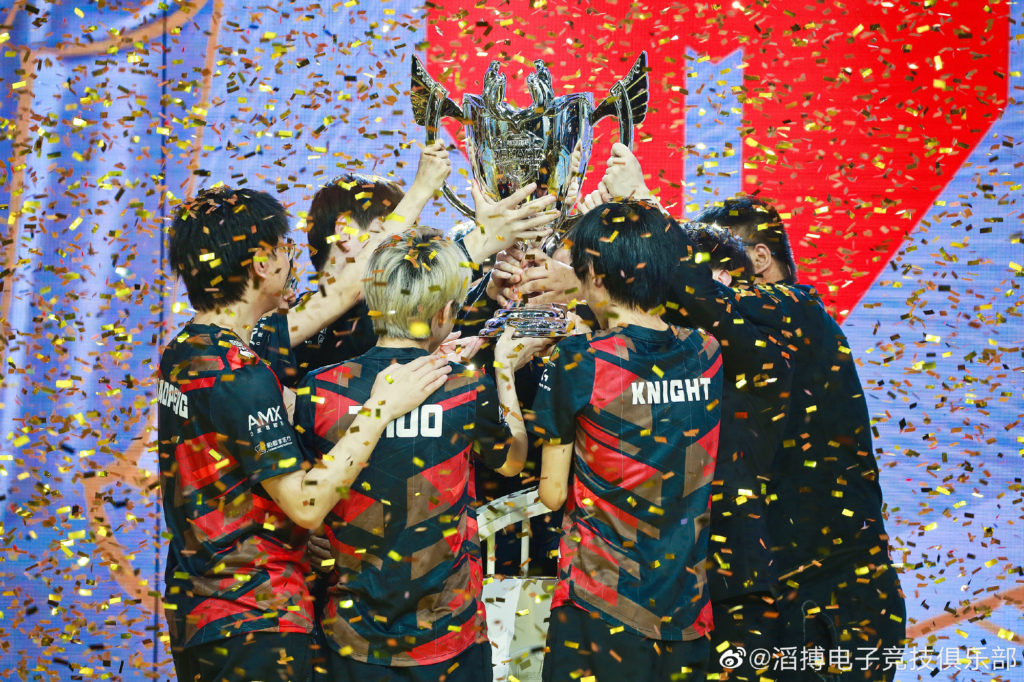 Echoes of Asian talent development
This approach clearly works for these teams. Huang "Xiaoxiang" Xiang went from a nobody to one of the hottest prospects in China thanks to a breakout performance at the 2019 Demacia Cup. After impressing in Academy, Chen "Strive" Liang put together very good performances in China's off-season events, and will be starting for Rare Atom in the LPL Spring Split. In Korea, the KeSPA Cup sadly switched to Academy talent only in 2021. But in 2020, teams fielded huge combinations of players, switching rosters seemingly every game. Notably, Kim "Karis" Hong-jo had a solid tournament coming in as a huge prospect for Gen.G. He'll be starting for Hanwha Life Esports in the LCK this year.
Maybe the crazier thing, though, is how all this makes the tournament more exciting. Unfortunately, viewership data isn't available for these pre-season cups.
But I, for one, can confidently say I LOVE watching the Demacia and KeSPA Cups. You get to see players you normally would never have an interest in watching. You get to be excited about the future stars of the game.
LCS Lock In and the increasing demands of LCS fans
Now let's wheel this back to LCS Lock In. What would the event look like if more teams used some of their Academy talent?
Imagine a 100 Thieves lineup of Tenacity-Kenvi-Abbedagge-FBI-huhi. Imagine a FlyQuest roster of Kumo-Josedoedo-Spirax-Johnsun-Aphromoo or a CLG lineup of Jenkins-RoseThorn-Palafox-Luger or Prismal-Poome. Perhaps you can see where this is going. Subbing in your best Academy talent gives them a shot against LCS-calibre players, and doesn't hinder the excitement of the tournament. If anything, it makes it more interesting to see how some of the league's future stars handle themselves.
It's also worth calling out the hypocrisy of some North American fans. NA fans have been screaming for more local talent and talent development, yet when an LCS team announces that they're using Lock In to give their Academy players a shot, people come up in arms against it.
It's something that LCS owners have not been shy about addressing:
"Here's the issue with League of Legends esports. Every single fan and journalist wants you to win now but then they preach about development of talent. It's win now, develop talent at the same time. It's a very difficult thing to do."

Matthew "Nadeshot" Haag on talent development in LCS
The discussion around Lock In these last few weeks has shown this tendency again. It's an attitude that has to change in North American fans.
It's not a bad thing for LCS teams to field Academy players in Lock In. It helps with their growth and the tournament becomes more interesting. Hopefully, this trend continues. Hopefully, teams start to field academy players by choice rather than being forced to by visa issues. And hopefully, North American fans can realize the tremendous benefits that can come from better utilizing their preseason tournament.
UPDATE: Just prior to the publishing of this article, Golden Guardians announced that they, too, will be using their Academy roster for Lock In.
---
Stay tuned to Esports.gg for the latest League of Legends news and highlights.