An in-depth interview with Melee's newest star player!
Super Smash Bros. Melee might be over 20 years old, but young star players are still making their presence known. This year's breakout star is Jake "Jmook" DiRado. The innovative Sheik main burst out onto the scene with his second-place finish at GENESIS 8.
Jmook followed that up by finishing 4th at Smash Summit 13, 5th at Battle of BC, and 2nd at Get On My Level 2022. He's yet to finish outside of the Top 6 at any major this year. The success culminated in him joining FlyQuest last month as their second Melee competitor.
image courtesy of FlyQuest
Esports.gg got a chance to sit down with Jmook to discuss his come up as a player, changing the meta with Sheik, and his recent string of tournament success.
Before the Stardom
Hailing from upstate New York, Jmook has been considered a "Hidden Boss" in his region for years. However, he says it's been more of a steady process than an overnight success.
Q: Even though you're a new name to many you've actually been an active Melee player for quite a while. Have you always been this good?
Jmook: I'd say it's been pretty gradual over the past couple of years. I started in 2014 so it hasn't been a meteoric rise. It's been more of an exposure thing. I've had more chances to play in tournaments and compete under pressure. I'm learning to developing tools to overcome nerves and beat better players.
Q: What was keeping you from breaking out earlier than you did?
Jmook: I was still in high school at the time so it was really hard for me to compete. If I did go to events it would be like once a year at most, and even that was pretty tough. So I was held back by my age essentially.
Q: It's no secret that online has done wonders for helping the Melee scene grow. How big of a role did netplay have in you gaining exposure and experience?
Jmook: It was definitely a key component of that early rise. For the longest time, I kind of had a lot of time to myself since my region was so spread out. I had to do a lot of solo practicing and VOD analysis. I couldn't actually play people that were way better than me. So online was my first shot at being able to play against Zain, Cody (IBDW), etc.
Jmook on Playing Sheik
Jmook is credited with revitalizing the presence of Sheik in Melee's competitive meta. He explained why he enjoys playing her so much and how it feels to be considered "the" Sheik main.
Q: Tell me your three favorite things about Sheik.
I like her movement. She's able to move around the platforms very quickly. I like that she's very nimble. Also that she's a ninja, that's a cool aspect of her.
Her punish game. I feel like when you get a punish with Sheik you have time to relax a little bit. It gives you time to collect yourself and allows you to set the pace. You're able to exert control over the entire game.
Probably her Needles. I think they're one of the coolest projectiles in Melee. They're so useful and versatile. You can set up so many situations with the different angels.
Q: Have you ever even thought of playing another character?
Jmook: I've had phases here and there throughout the years but it was never like a serious consideration. Like maybe I'd think about picking up Fox for a certain matchup but it never lasted long. For the most part I've always been ride or die Sheik.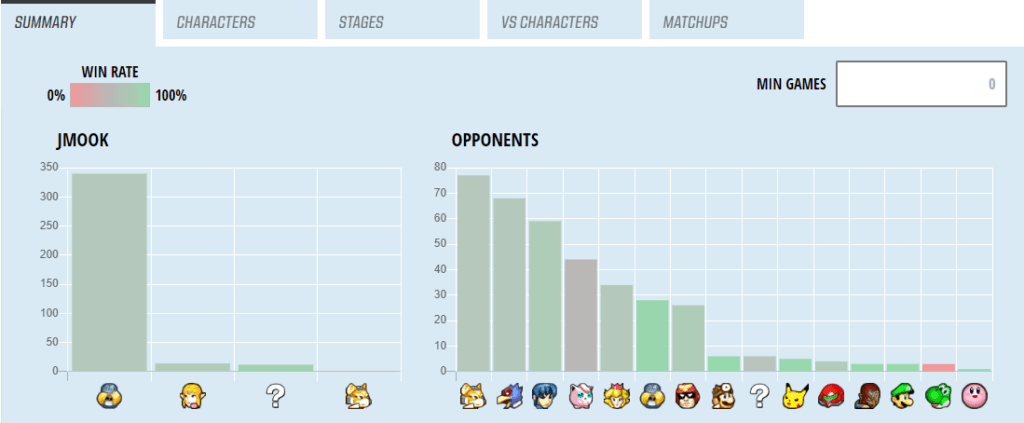 Jmook's character usage chart, courtesy of PG Stats
Q: How does it feel to be considered the new blueprint for Shiek?
Jmook: It's pretty humbling. It's funny that people are now looking up to me as like the modern example of Sheik. But I honestly looked up to Plup for so many years because he was the best Sheik for the longest time. Once he started playing Fox it was like we were missing that Top 10 solo Sheik. So now I've kind of replaced that a bit. And granted, there's a lot of really good Sheik players out there: Captain Faceroll, Krudo, Ben, Jflex. I think I'm just more of a Top 8 threat nowadays.
JMook on GENESIS 8
GENESIS 8 was Jmook's first standout performance at a major tournament. It simultaneously introduced him to a larger audience while making him a household name. He went undefeated for the majority of the event, only losing to Zain twice in the Grand Final for a 2nd-place finish. Nevertheless, Jmook had proved to the world that he was the real deal.
Q: Talk to me about your breakout at GENESIS 8. What range of emotions were you feeling during your Grand Finals run?
Jmook: For most of it I tried to filter the emotions out. It felt like it was a very special day, where it might be my one shot. I had no idea that it would pretty much change my whole life. So I tried to filter out all the doubts, the fear, and the nervousness. I just showed up trying to play my best, one set at a time. But then I started to surprise myself one set at a time. From beating Plup to Llod to n0ne and then Cody (IBDW). I was thinking, "Wow, a year ago it'd be great to even take a game off any of these players."
Q: You mentioned that the tournament changed your life. Could you feel that happening as you were taking sets off these great players?
Jmook: Oh yeah. As much as I tried to filiter it out, I could tell that it was something really special. Not just what I'm doing, but what the experience itself is actually doing for me. For the longest time I lacked that confidence needed to be a top player. Or I thought that I might get this good but will never be able to play in front of a crowd. GENESIS kind of revealed to me that I've been able to do this for a very long time, just in front of small crowds. But small crowds or big crowds, its still noise nonetheless. So I'm proud of myself for being able to play under that kind of pressure.
Q: GENESIS 8 is actually the only time you've ever lost to Zain, winning the other 4 sets. This includes the two Reverse 3-0's you pulled off against him at Get On My Level a few weeks back.
You also have an impressive record against IBDW (3-1). How do you keep your cool playing against the best in the world?
Jmook: It's definitely about maintaining confidence in your abilities. When a lot of people step on stage to face the best players in the world, they doubt their strengths. So they feel like they have to do more to cover up their weaknesses. They think they have to try harder and change up their playstyle instead of committing to the stuff they've been practicing for years and years.
You also have to understand the humanity behind it. The other player across the screen also gets nervous, even if they're the best player in the world. I think anyone would be nervous in a Game 5 when they're about to get reverse 3-0'd. That was probably my discovery while playing Zain. Although he's one of the best, I can make this person nervous just by doubling down on my strengths.
Q: After GENESIS 8 you tweeted that you'd get figured out, put back in your place, and most likely bomb. Safe to say that none of that has happened. Are you surprised at your own consistency?
Jmook: Oh for sure. I think a lot of people are. I think most players reach that point where they can be Top 10 or Top 15, but then they die out a little bit. Other players figure them out, then they lose confidence and think that it was a fluke or that they won't place well at tournaments. So I've honestly been very surprised that I'm still placing well at these events and am able to maintain that consistency.
On Smash Summit 13 and Goals for the future
Jmook's high placing at GENESIS 8 also automatically qualified him for a spot at Smash Summit 13. In his first time at the prestigious event, he finished 4th place. Jmook's stellar play at Summit put the wheels in motion for his eventual signing with FlyQuest.
Q: What was the experience like at your first Smash Summit?
Jmook: I had a wonderful time. It was like a full week of content, Melee, tournaments, and a lot of heavy matches. The back area of Summit kind of felt like a big VIP room the whole weekend. Normally every major has a room where the top players warm up. This whole event just felt like a warehouse-size VIP room.
Q: Does Summit feel like a normal tournament or is their a heightened intensity?
Jmook: Yeah it's weird because although you have less players in the bracket to worry about, they're a lot stronger. So rather than preparing for Fox or Jigglypuff, I need to learn how to beat this specific player. And some people thrive in that environment, and others thrive in Top 8's at majors in front of crowds.
Because at Summit you're just alone in a room with your opponent. The only other person there is the cameraman. It almost feels like an interrogation room. It's very quiet so everything that happens is super intense. It's similar to online tournaments where you're alone in your room but thousands of people might be watching the stream.
Q: FlyQuest shouted you out on Twitter after Smash Summit 13 and now things have come full circle with you joining the team. What kind of differences have they made in your career compared to when you were unsponsored?
Jmook: Simply the opportunities. FlyQuest has been nothing but supportive of my goals. They understand my needs as a person and nurture that. They help me travel to events, represent their brand, and "Showcase Greatness." That's our team motto but I believe it personally.
It's nice being able to do it with KoDoRiN too and have a West Coast/East Coast player dynamic.
Q: Do you have any big new plans for the near future that FlyQuest is helping with?
Jmook: Oh yeah, of course. I can't say those specifically, but stay tuned.
Q: What are the goals you hope to accomplish by the end of this year?
Jmook: Honestly, I hope to keep up what I'm already doing. I think I'm off to a very strong and fast start but I'm looking to maintain that. I want to go to as many events as possible and build up a solid stream schedule. Hoping to stream at home, go to like two events each month, and have a very consistent routine. But other than that it's just to be the best player in the world, and the best with Sheik.