The entirety of the Valorant North American Last Chance Qualifier has been postponed over safety concerns following a COVID-19 scare.
It's been an embarrassing week for Riot Games' Valorant in North America. Despite holding the tournament in their own backyard, Riot Games has suffered setback after setback with their North American VCT Last Chance Qualifier. And now, the nail in the coffin for the event, at least for now, as Riot has announced they're surrendering and regrouping as they move the event online.
"Given the events of the past few days, out of an abundance of caution and with the health and safety of all involved being top of mind, we have made the difficult decision to postpone the event until further notice," Riot Games said in a statement. " Player and staff remain our top concern as we navigate the current situation."
There's been no word on what this means for matches that have already been played. 100 Thieves currently sits in the upper bracket semifinals having beaten both XSET and Gen. G. Meanwhile, in the lower bracket, Gen G and Luminosity are set to square off. The rest of the first round has yet to be played.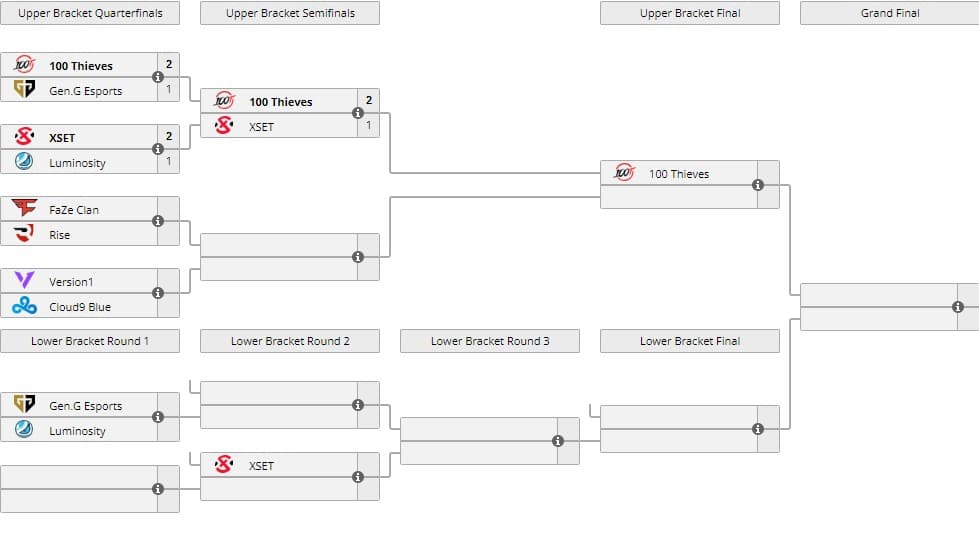 The bracket as it stands with VCT's NA Last Chance Qualifier on pause.
"We share the community's disappointment and we are working diligently to transition the NA LCQ to an online event, similar to VCT matches earlier this year," Riot continued. "Play will resume as soon as possible to send our final team to VALORANT Champions."
How the NA Last Chance Qualifier got to this point
To recap, here's everything that went down in the NA Last Chance Qualifier:
Esports.gg reached out to Riot Games for a comment on the format of this newly online LCQ, whether the bracket would be started over or if it would remain as is, and if the OCE teams Chiefs and ORDER would be able to participate. We were told that additional details would be coming in the next couple of days. The LCQ will have to be played before Champions in early December.