Team Liquid spoke to the media following their 2-1 victory over Copenhagen finalists Paper Rex.
In what was an epic best-of-three, EMEA side Team Liquid advanced through to the bracket stage at VCT Champions. This unfortunately meant the end of the road for Copenhagen Finalists Paper Rex. This series showcased how strong both sides are, including an epic match on Pearl, highlighting new angles to be exploited moving forward.
At the end of their epic bout, the media got to sit down with the Team Liquid Valorant squad in a post-series press conference. TL spoke about facing OpTic Gaming, how Jamppi is so good on the Operator, and much more.
Team Liquid sets a date with OpTic Gaming
North America versus Europe, a tale as old as time both in traditional sport and esports. Team Liquid will get to do battle against arguably NA's best side currently in OpTic Gaming. This match will feel more like a slugfest in comparison to their previous series. NA and EU play a more traditional game in comparison to other regions and both teams will be ready.
Team Liquid's ScreaM alluded to this when asked about their upcoming quarterfinal matchup with OpTic Gaming.
"I think it's a good matchup for us, OpTic is a great team and they are probably the best in NA right now. So you know, it's not going to be an easy matchup. But, I mean, I prefer to play against NA than APAC. To be honest, I think it fits us better because they are going to do things we know and not weird stuff. Where it was stuff like this that we cannot expect. Yeah, I mean, I can't wait to face OpTic honestly, it's going to be a good matchup."
eMIL plays down Europe's struggles on Pearl
Pearl is the latest addition to the Valorant map pool and has been played a few times at Champions thus far. Unfortunately for the EMEA sides, it looks like they need longer to practise on the new map. EMEA is 0-3 on the new map at Champions with multiple sides seeming to have their number.
Team Liquid's Valorant coach eMIL played down the point that EMEA is worse on the map than other regions despite the 0-3 start.
"I don't think EMEA is worse on Pearl I think I can answer for us, other teams that didn't have to go through LCQ obviously have more time on the map. So all I think is we at least have some experience on it. It's gonna be good for us. I don't think the score reflected our ability to play the map, to be honest."
Jamppi on what makes him one of the best op players
There is no doubting Jamppi is one of the best skilled in-game leaders Valorant has to offer. Not many IGL's will be seen wielding the Operator and doing it in style. Jamppi's OP skills were on display once again in their series against Paper Rex. The APAC side failed to contain Jamppi and on Haven, he was untouchable.
In the press conference, Jamppi was asked what makes him one of the best Operator players in the world.
I think there are definitely a lot of good Operator players and I think all of the OP players can hit the shots, like the top ones, but I think it's just more about positioning and when to peak and when to not and I'm still on the side of when to peak, I need to get some patience. I feel confident right now with my op skills and my team trusts me with the Operator so yeah, it's been really comfortable and I have the support from my team so I love all these guys.
Dimasick: "Thank you to my teammates for carrying me"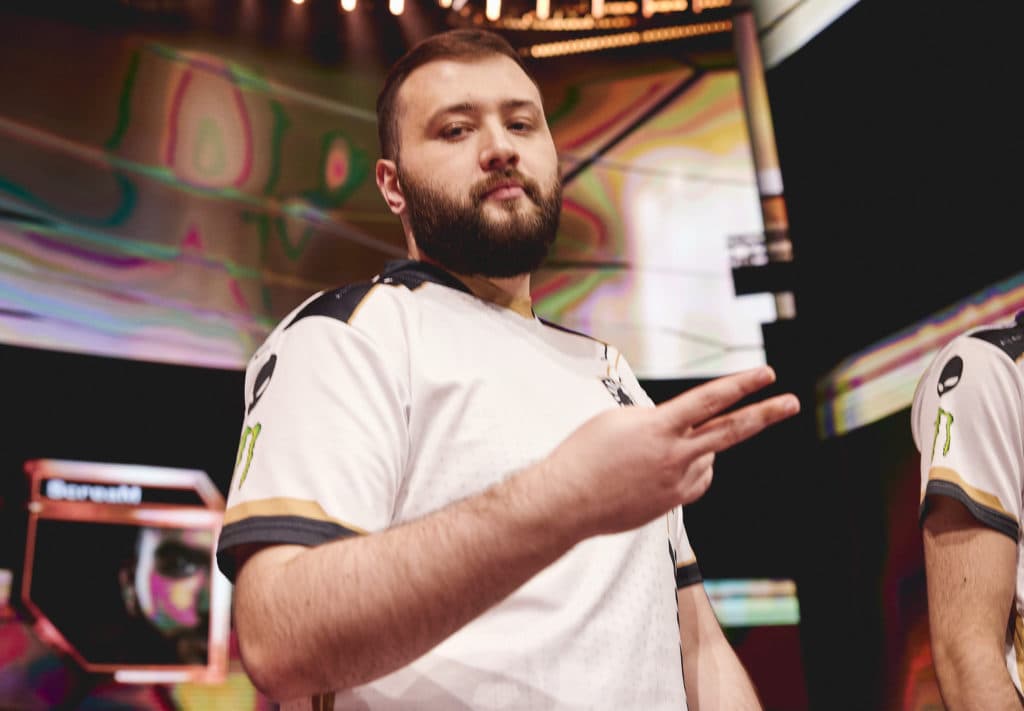 Dmitriy "dimasick" Matvienko of Team Liquid poses onstage after a victory against Paper Rex at the VALORANT Champions 2022 Istanbul Groups Stage on September 7, 2022 in Istanbul, Turkey. (
Photo by Lance Skundrich/Riot Games
)
Having made his debut for Team Liquid in the EMEA Last Chance Qualifier, Dimasick has raised the level of TL drastically, making them a viable threat to the crown. Dimasick helped his new organization climb all the way through the LCQ, even taking down the formidable M3C. Dimasick spoke about not feeling the pressure of playing for a new team in high-pressure situations, even thanking his side for helping him get through the series.
"For my mental, nothing special just prepare for this match. We just discuss what we will do and we just played our game. I feel not good today myself. You know I wanna say thank you to my teammates for carrying me. I don't have some pressure now you're playing an elimination match for playoffs. I didn't care and I'm not a young player. You know, I have some experience."
Dimasick
Valorant Champions 2022 returns today with the Group C and Group D deciders. Starting with Group C, Masters 2 Champions FPX will be taking on KRU. This is followed by a rematch between 100 Thieves and Fnatic.