Nearly halfway through the VCT, who are teams with the most VCT points and what are all these qualifiers leading up to? We give you the overview.
VALORANT's first international event, VCT Masters Reykjavik, marks the halfway point in Riot's ambitious plan for VALORANT esports, the VCT. Following First Strike, the VALORANT Champions Tour largely took the young esport out of the hands of third-party syndicate tournaments and firmly placed it into the hands of Riot Games. Bringing an unprecedented level of organization and promise to VALORANT esports.
Riot has largely met the goals they initially laid out in their announcement. Masters events have pivoted to International LANs. Recent news has confirmed that Stage 3 Masters will be held in Berlin following VCT Masters Reykjavik. General viewership among Challenger qualifiers and finals has grown through the proliferation of co-streams. Still, through the seemingly endless qualifiers and awkward event titles, it's hard not to lose sight over what these tournaments actually mean.
VCT Points boost for VCT Masters Reykjavik
What are VCT Points for?
Masters and Challengers events have thus far given VCT points. These points are accumulated to decide who will be attending VALORANT Champions, the ultimate end-of-the year tournament that is mostly closely comparable to League of Legend's Worlds. Each region has a limited number of slots, NA & EMEA receiving 3, Brazil & SEA 2, and other regions only one.
Knowing who is actually poised to qualify for Champions based off points is becoming more important as we near the end. Challengers only earns teams marginal points while Masters events are where teams really start to get ahead.
In addition, points distributed across Masters tournaments are heavily weighted toward the tail end. Masters gave domestic champions 100 VCT points, however VCT Masters Reykjavik will quadruple this. Masters 3 carries the most weight, automatically qualifying the top team for Champions and giving 325+ points to 4th place and up.
Despite this arduous journey riddled with qualifiers, only a marginal number of teams will qualify based off VCT points. A last chance qualifier will determine the last seed for every region or cluster of regions. A total of 16 teams will be determined, but who right now stands to qualify?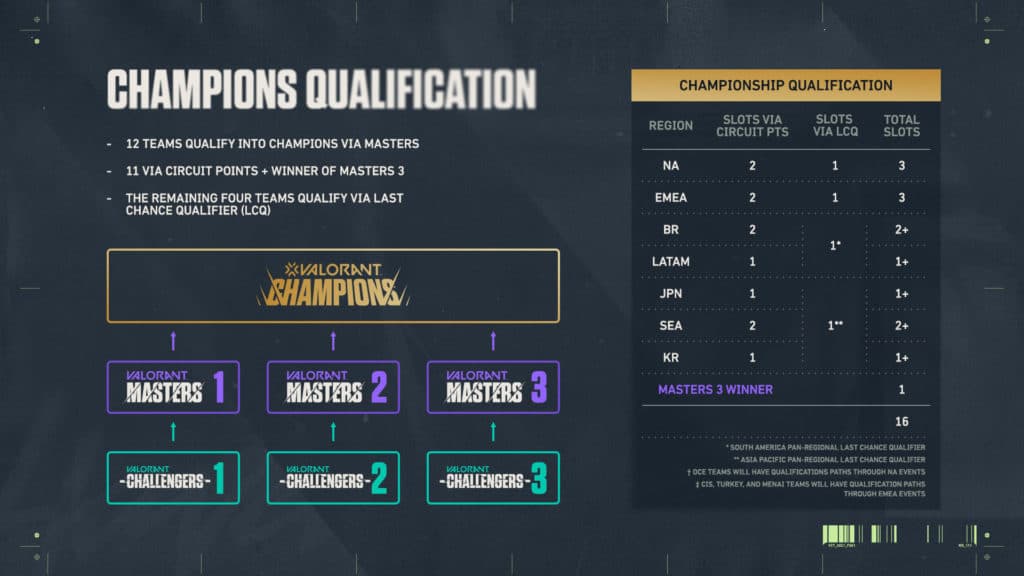 VCT Points: Who are the early favorites for Champions?
Clear early favourites in North America
In North America, Sentinels' dominance over their region has granted them 275 circuit points and a healthy 125 point lead. Version1 are a testament to how recent success in rewarded in the VCT, jumping 7 spots with their VCT Masters Reykjavik qualification, jumping over First Strike Champions 100 Thieves and Masters 1 finalists FaZe Clan.
If current trends persist, Team Envy, FaZe, 100 Thieves, and Cloud9 are all potential contenders for the LCQ. Sentinels are the closest to locking in one of NA's spots, however one upset could be disastrous in Stage 3.
Europe still a close race
Europe has far more volatile standings as no clear leader has managed to maintain a hold over the region. Team Liquid and Fnatic have impressively jumped 23+ spots to claim the top two positions. Their leads are unsteady though as every top 5 team are within arms reach of each other, no one more than 25 points ahead. A first place finish from either TL and or Fnatic could give the region it's first favorite.
In regions with historically dominant teams, their pre-VCT success means little when they are unable to qualify for Masters. For teams like Crazy Raccoon or NUTURN Gaming, coming from a region with only one representative for Masters, these international events such as VCT Masters Reykjavik are an opportune time gain the high ground over their domestic counterparts.
Will the VCT system stay?
Halfway through the inaugural VCT and on the precipice of the VCT Masters Reykjavik, we can observe two takeaways. First is that very few regions have early favorites. Sentinels by far have the largest domestic lead in terms of VCT points, as regions with presumed regional titans have far more contentious standings than anticipated. Secondly, the VCT values recent success above all else.
This preference shown by Riot has its benefits and drawbacks. One benefit is that regions will are ensured to send their 'hottest' teams, however this simultaneously means that Stage 1 Masters is easily the most inconsequential event of the VCT. Ultimately, entire regional landscapes could change after VCT Masters Reykjavik.
Whether or not Riot Games will maintain the VCT remains to be seen. Though there is clearly room to improve, the VCT has done its job in cultivating the emerging esports scene.