In an interview, The Guard's JonahP spoke on the dramatic win over Sentinels, Shroud's first professional match, and improving moving forward.
In a three-hour-plus series to open the North America Last Chance Qualifier, The Guard managed to stave off and escape the new-look Sentinels. 79 total rounds, two overtimes, and over 600,000 viewers on multiple platforms, The Guard kept their composure late in the series to clutch out the opening round and move on to the upper semifinals.
In a post-match interview with The Guard's Jonah "JonahP" Pulice, he spoke about the team focusing on themselves to improve and ignoring the noise outside the building. Moreover, he discussed Shroud's first professional VALORANT match, shutting down Tyson "TenZ" Ngo, and staying unpredictable with the introduction of the Brimstone Icebox composition.
Interview with The Guard's JonahP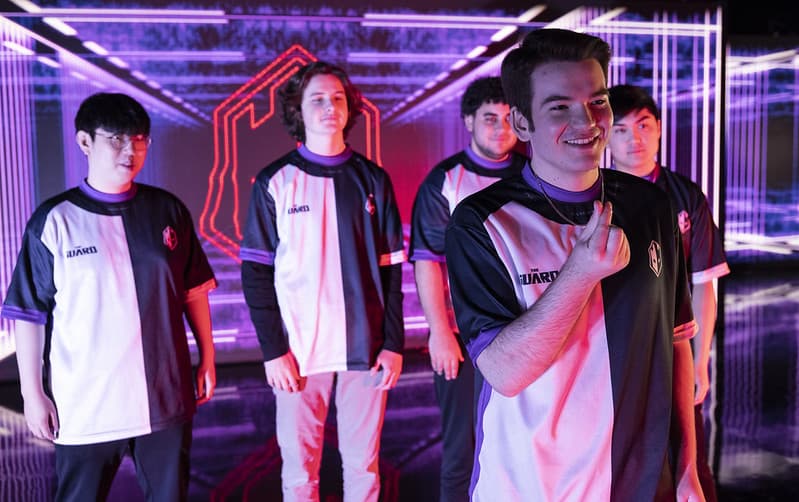 (Photo by Colin Young-Wolff/Riot Games)
Q: First off, congrats on the huge win. That series was absolute insanity. Icebox was so back-and-forth and felt like it came down to the minor details. How are you guys feeling after the win and how do you think your team performed?
JonahP: We're all feeling great. We've been boot camping hard. We've been prepping hard. Especially with Icebox and that new comp and, we pulled it out with the Brimstone. Even if it went to overtime, it still didn't feel like they knew what to do in certain situations so yeah, we feel good
Q: I was going to ask about the Brimstone on Icebox. That's a comp that M3C is Europe has popularized over the last year. What was the reason behind the pick or was that just something you've been saving?
JonahP: There's not really a specific reason, it's just like what we do at The Guard. We do our own thing, so if we just want to play Brimstone, we're going to play Brimstone and practice it. You never know, next game we might have something different and we just like being unpredictable and making it as hard as possible on the opponent. And, for me, I'm comfortable on any agent I play, so that makes it really easy for us to be able to change anything at any time.
Q: Entering this series, Sentinels brought in two new players onto the roster. How difficult was it to prepare for this new roster with little tape to study from?
JonahP: Before any games happen, no teams have any tape on anyone because leading up to the event teams in LCQ don't scrim each other so everyone's going in blind honestly and the thing we have to work on is just ourselves and make sure our executes and retakes are drilled and focus on ourselves and we adapt midgame
Q: Today's matchup broke the VCT North American viewership record. Obviously, you guys have played in even bigger matches in Stage 1 and at Reykjavik, how does this compare to those games?
JonahP: To us, it was just another game. We don't think about viewers or who is watching. We just focused on ourselves pretty much
Q: On the player cams, it was clear that there was a lot more energy in the room. Each big play came with a big reaction. What was the feeling in the room and are you guys more comfortable playing in those big spots than previously?
JonahP: In Stage one and two, one of our biggest problems was emotions when we were losing, like losing confidence, not in the team but individually, when we start losing rounds. I know it's the first match, but I can already tell like today we were able to bounce back and get hyped up. So much better than the first two stages and that's what we know our biggest problem is and I'm proud of us for showing the ability to bounce back
Q: You guys continue to run Sayaplayer on the Jett over the Chamber for specific maps. Is it a comfort pick?
JonahP: It's not really like what he prefers or what we prefer. It's just like if we want to play him on Jett or Chamber, we can. There's not really a reason behind it. I know a lot of teams don't play Jett, but we're not like other teams. We run what we want to run and Saya's Jett is just unbeatable. He's the best in NA, for sure.
He's a great player but for long term, I don't think he's going to be on that team, so it doesn't really make sense to me why they did that, but I'm sure they're just having fun, and enjoying it.
Jonahp on shroud
Q: Now, I have to ask you about Shroud. What were you guys expecting to see from him and what was your initial reactions when he first got signed?
JonahP: Expectations for Shroud - we know he's going to be strong mechanically, and not as strong Valorant-wise. So, going into the game we just keep telling everyone, Shroud is insane and he can shoot back. We just have to make him play Valorant and just throw everything at him and put him in situations he's never been in before and we could tell that had an effect on him.
When he first got signed, I don't believe anyone believed it at the beginning for a couple days. It was a big surprise. I mean, he's a great player but for long term, I don't think he's going to be on that team, so it doesn't really make sense to me why they did that, but I'm sure they're just having fun, and enjoying it.
Q: As for TenZ, you guys did a great job limiting him on the Chamber and shutting down his Operator. What was working?
JonahP: The Brimstone helped a lot with that for Icebox and I think he was 4-10 or 4-11 when he was on defense, just our comp denied him to do pretty much anything. We didn't run the comp just because of TenZ specifically, but we played it really well and we didn't let him play his game.
Q: One of the major swing rounds on Icebox was your 3k at A Maze. Could you walk me through that play?
JonahP: I knew the ult was dropping and I saw the trails, so I was just full-sprinting Maze. I saw the trails and had my crosshair ready. I killed the Viper, so I knew the ult was dropping and held. I knew I didn't need to push anymore, so I held and the Kay/o just ran into me and it was actually only a 2k. TenZ was the last one and I dinked him and I just called for my team to peak when I shoot and he peaked me I dinked him. He was 10hp and my teammates cleaned up
Q: It felt like trent was back to himself today. He went huge in the win. What makes him such a dominant player in the server?
JonahP: For stage 2, it's not just Trent's fault. Everyone on the team had a bad stage 2 but today he popped off and that's just what he does, honestly. In one round, in practice, we preach not to over fight sometimes but trent's like I'm feeling it, I'm fighting and we let him do his thing and it works
(Photo by Colin Young-Wolff/Riot Games)
Q: You guys will move on to face the winner of Cloud9 and Shopify Rebellion. Where does your team need to improve heading into the Upper Semi's and is there a preference for your opponent?
JonahP: Preference? No. It doesn't really matter we have to beat everybody anyways. There's only one team that makes it so we don't care who we play. Preparation…watch their match, they're going to watch our match and just go from there. There won't be too much information to gain from them. We'll probably gain more information watching back our game than watching their game so we're just going to focus on ourselves more than the other team and then just come back cleaner for the next game
The Guard will face the winner of Cloud9 and Shopify Rebellion in the Upper Semifinals. The Guard hold an 0-1 record against C9 and a 2-0 record against Shopify Rebellion (formerly LG).
Feature image courtesy of Colin Young-Wolff/Riot Games