New Sentinels head coach Kaplan spoke with esports.gg following the team's VCT Americas Week 4 series against LOUD.
Sentinels showed up against LOUD during VCT Americas Week 4. Even in a losing effort, they proved that LOUD has weaknesses and they have strengths. After the contest, we spoke with Sentinels coach Adam "Kaplan" Kaplan.
This was his first series in the role after the abrupt removal of Donald "SyykoNT" Muir. He gave us what he could regarding the transition and discussed all of the stories leading up to and coming out of the contest.
SEN Kaplan discusses preparing with Marved, facing LOUD, and more during VCT Americas super week
"I don't know how much you can say, but I'd like to start with your transition to Sentinels head coach. Were you aware it was going to happen before the announcement or did you find out the same time the rest of the world did?"
Kaplan: "I can't answer that explicitly, but I'll just say it was pretty sudden to all of us."
"Are you able to disclose any details on why it happened?"
"This is quite the week to start your head coaching adventure with the team. Two matches because it's super week. The first one against the three defending 2022 World Champions on LOUD. And Marved in place of TenZ. Did you feel at all like you were thrown to the wolves?"
Kaplan: "I think we've been thrown to the wolves for the first four weeks. Our schedule is pretty stacked on the front end, so it's not something we aren't used to at this point. Leviatán, NRG, these are all really tough games for us."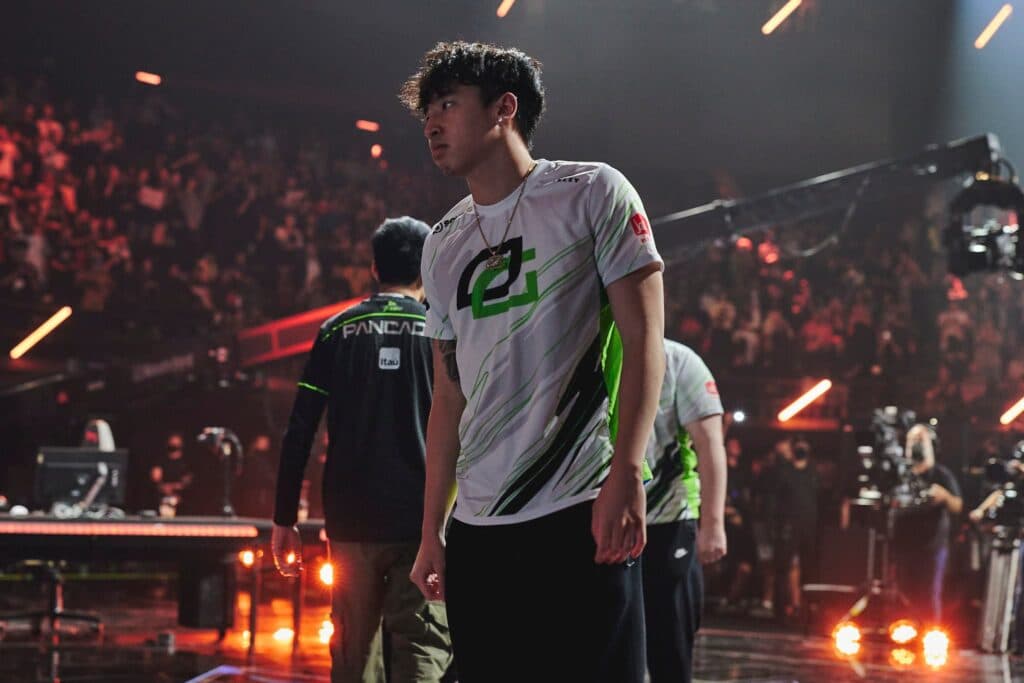 Marved, defeated at Champions, in his last appearance with OpTic Gaming (Photo by Lance Skundrich/Riot Games)
"Speaking of Marved. As a substitute player, how did he fit into match preparation, and in what ways did that change after everyone learned TenZ would be sitting out?"
Kaplan: "So, we started scrimming with Marved on Tuesday and then he flew in on Thursday. We've had two and a half days of scrims with him and it restructured the way we have to build our comps and build our map pool. Obviously, because not only is Marved coming in, but then we're moving the roles around as well. Pretty much just a fresh start."
"This isn't your first rodeo in the coach spot, but this is the VCT and one of NA's most prominent organizations we're talking about. So, in the same sense as the Marved question, how does your week-to-week, or even day-to-day responsibilities change after Syyko was let go?"
Kaplan: "I think I'm definitely going to be more focused on the personal side than I was before. My title was Strategic Coach, and while I did work hard to build relationships with the players, I take that on as a full responsibility at this point.
"Where I make sure the players are feeling good, that they're honest with each other, that there isn't any tensions or issues that haven't bubbled up to the surface yet. Just putting out fires before they happen and still focus on the strategy side, but trying to give the team more agency there and just work with them collaboratively on that."
LOUD and Sentinels began their series on Pearl (Photo by Robert Paul/Riot Games)
"So, coming into this match up versus LOUD, in the short time you had to prepare, was there anything you saw that you knew you could exploit?"
Kaplan: "Yeah, Drew and I worked together on studying the other team and anti-strating them. We also watched some of their VODs as a full team beforehand and there were definitely some patterns we noticed.
"There were points where they broke the patterns and there were other points where I don't think we exploited patterns we were aware of well enough. A lot of that's on me and setting our game plan up and I think that on two and a half days of practice, you need to go in with confidence and focus more on the fundamentals."
"And how much of the Sentinels game plan went the way you expected it to?"
Kaplan: "I think it went really well. I think Pearl obviously exceeded expectations. And ascent, we just were running out of gas going to map three. I think we really wanted to close it out in two and on Haven, we did a really good job.
"It's tough to play against that comp, because it's not something you can easily get practice against since LOUD are pretty much the only team playing it. I'm frustrated with my own final timeout in that map, too, but all in all, I think we did a pretty good job trying to adapt to them."
"Let's touch on that timeout then that you mentioned. Was it just the timing of it? Was it what you said? Was it what you were seeing? What made you frustrated with it?"
Kaplan: "I think we probably could have played slower against their comp and I didn't explicitly suggest a slow play. Part of that is getting used to when you move roles around and bring a sub in, it can really change the dynamic of a roster.
"We have a team that can play a lot slower with this five. So, our style, even with one player swap, can change a lot and I think that's something I can take into account further if we end up playing with this five more in the future."
"Well, you know how it goes. If a few plays went differently, we could have easily seen another outcome. So, based on that and the little bit of success the team saw against LOUD, what can we expect going forward? Are you committed to the original lineup or are you leaving the series with an open mind on how to proceed with the roster?"
Kaplan: "We're going to figure things out day by day, but I really can't comment on any of that."