This is the impact of VALORANT esports.
After a weekend of VALORANT action, St. Clair College students won the Red Bull Campus Clutch Canada National Final! This victory earned the St. Clair Saints a trip to Istanbul, Turkey. There, they will represent Canada on the international stage.
Red Bull Campus Clutch Canada National Final 2023 winners (Image via St. Clair College)
St. Clair College wins Red Bull Campus Clutch Canada National Final 2023
Between Oct. 28 and Oct. 29, Canada's top VALORANT collegiate teams duked it out for the gold in Overactive Media's Red Bull Gaming Studio. The event boasted an in-person viewing party where attendees met up and cheered for their favorite teams.
One of the attendees was Jazmine Sarmiento, who rooted for St. Clair College. "That's like one of the best schools for esports," she said. For context, the school created Canada's first varsity esports program. This program features an esports broadcast lab alongside varsity training rooms, work-integrated learning, hands-on content creation training, and more.
"I know what happened last year," Sarmiento continued, referring to the 2022 National Final. "But I wasn't able to make it. So I promised myself this year — I'm going to make sure that I can attend." Sarmiento then added how the event is great for making friends and new connections.
Jeevan Bhella, Alexander Verissimo, and Jazmine Sarmiento (Image via Amy Chen)
Red Bull unites Toronto VALORANT scene
Streamer Alexander Verissimo cheered for St. Clair College as well. Verissimo also attended the event last year with his father, who highlighted how schools support esports by educating both kids and parents about them.
Meanwhile, Jeevan Bhella said that he's a fan of Toronto Metropolitan University (TMU) because a couple of his friends are on the TMU VALORANT roster. TMU is also known for its Red Bull Gaming Hub, which is a dedicated space built for training, competition, virtual production, game design, and the overall growth of esports in the city.
Bhella also detailed his excitement about the game's upcoming Agent, noting that Iso's ultimate is similar to Domain Expansion. Domain Expansion refers to a technique used in the Jujutsu Kaisen manga and anime.
The impact of esports on school selection and beyond
Elsewhere, Jacob Garrido predicted St. Clair College's victory. However, he revealed to esports.gg that he wanted TMU to win.
"I think St. Clair's gonna take it all, but I'd want TMU to win. That's probably the school I'm gonna be attending next year," Garrido said. "I need them to win. I want them to win, but I think St. Claire's gonna take it."
He then revealed there are various VALORANT-related online communities, including on Discord and Twitter. Garrido has a high interest in the game's competitive scene at both the collegiate and professional levels. He said that he started playing the game during the height of the pandemic when he saw a lot of streamers try it out.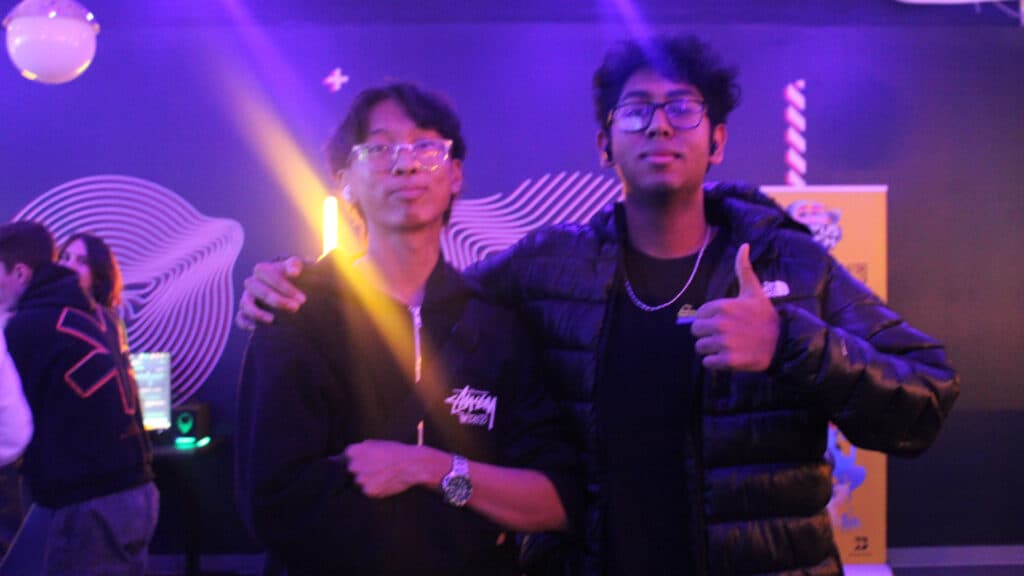 Jacob Garrido and Rudra Barman at the VALORANT esports event (Image via Amy Chen)
"After that, you know, it's just like a rabbit hole. And I just kept playing over the years and got better and better. And now? I just want to compete," he added.
Rudra Barman, however, rooted for Torch EC and told esports.gg that VALORANT is his first esport. After he got into the game, he met a bunch of people who were just as interested in the competitive scene as himself.
"I also follow all of VALORANT esports. I've been around for a long time and I'm just here to show my passion," he said.
That's all for now. Stay tuned on esports.gg for more news and updates!