Valorant Champions stars Benkai, yay, Tacolilla, and Boaster spoke the media ahead of the start of group play on Wednesday
"I appreciate if everyone asking the questions could go a bit slower because I don't have enough time (to make sandwiches). I've only made one for Boaster so far"
(Image via Colin Young-Wolff/Riot Games)
In three International events, Paper Rex's eccentric IGL, Benedict "Benkai" Tan, has established himself as the pre-eminent class clown of VALORANT. Even outdoing the heart and soul of Fnatic, Jake "Boaster" Howlett, and surprising media and fans every time he gets in front of the camera.
One event removed from a map five loss to FPX in Grand Finals, Benkai shows off his trademark calmness in the pre-event press conference. Facing higher expectations and being more of a target at Champions, Benkai making sandwiches for his colleagues oddly displays a level of confidence that permeates throughout the Paper Rex roster. There's an unbending mentality that makes them a favorite.
Competing More than just results for Paper Rex Benkai
For Benkai, his mission goes beyond trophies and titles but proving to his region that this is a viable career path.
"It's definitely an honor to bring APAC to the front stage for the first time and just to show everyone else that it's possible and something you can achieve in our region because as a profession, it's a bit looked down upon from where I come from in Singapore so getting those results meant that I was showing people back home that what I'm doing is actually possible," said Benkai.
Paper Rex made history at Copenhagen. As for Boaster and Optic's El Diablo, aka Jacob "yay" Whittaker, the event was marred by disappointment. Despite both placing within the top four, the expectations were set much higher.
Now, a theme is trending for Europe's most consistently good team in Fnatic. Copenhagen was yet another event where Fnatic was looked at as one of the favorites and ended up slightly underperforming under the bright lights.
"So, this time around, I'm trying not to think about lifting the trophy because every event I'm like 'oh, I believe that we can win it' and then we end up not getting to the final. So, this event I'm just going to take it game-by-game, and I'm just like we got 100 Thieves first, let's give Nadeshot a reason to remember me and we'll see how it goes from there"
Optic yay on staying consistent with constantly changing meta's
Moving to yay and Optic, this is a team entering the event with a championship and another top three finish in 2022. Examining the favorites, Optic, along with Copenhagen champs FPX and runner-ups Paper Rex, are absolutely the teams to watch.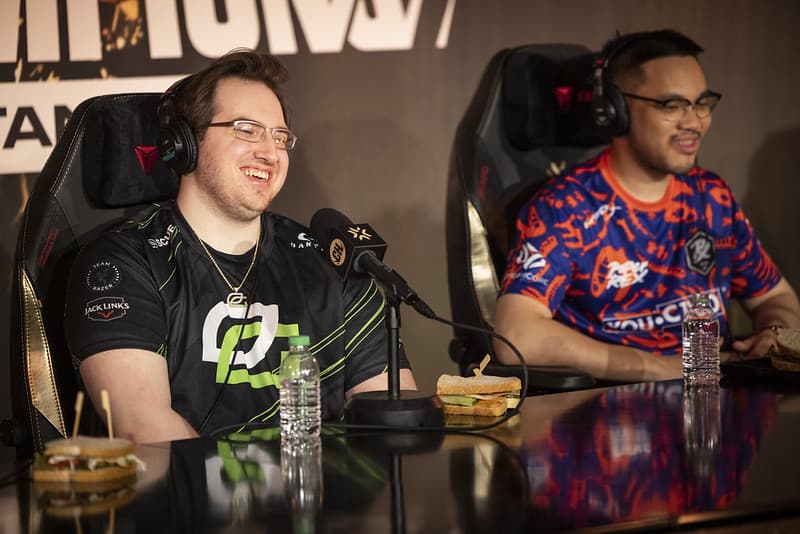 (Image via Colin Young-Wolff/Riot Games)
No matter how much the game changes between events, Optic has proven head coach Chet "Chet" Singh and Pujan "FNS" Mehta are forward thinkers in terms of how they develop strategies and compositions in a meta that changes frequently.
"I think with us, we're always trying to experiment. We're always trying to pull out our unique style of play and I think that's the main reason why I believe we have such consistency."
Optic yay
"Our ability to adapt to the current meta on hand because a thing a lot of teams struggle with in general. They're good for like a meta or two and then when there's a major shift, whether that be new agents or nerfs or buffs, usually they're pretty slow to it. But, I think with us, we're always trying to experiment. We're always trying to pull out our unique style of play and I think that's the main reason why I believe we have such consistency."
Consistency in Valorant is a truly unobtainable concept, considering teams have to actively reinvent themselves at each event to stay competitive. This isn't Counter-Strike where the meta will subtly change over the course of the year. No, in Valorant, staying vigilant on the meta and experimenting is the one way to stay relevant. Optic pioneered this idea as well as any team in the world and results reflect that.
Fnatic Boaster on the introduction of Pearl at Valorant Champions
As for the biggest change teams need to adapt for heading into Champs, that would be the map Pearl. Unlike with previous map releases, Pearl hasn't been out long enough to learn and there's virtually no tape to study.
(Photo courtesy of Colin Young-Wolff/Riot Games)
It's unclear which teams will favor the map in vetoes, but Boaster believes it will get picked.
"It's hard to say whether teams will end up picking it or to kind of see how good teams are on it because it is so new and no one at this level, other than a few NA games, I guess, have really shown what's going on, on that map and the meta on that map. So, it's really kind of cool that we get to play a new map potentially and yeah, I'm looking forward to it. I think teams will pick it. I don't know if it will be any team's first pick. They got to have massive bravery to pick that, that's for sure"
Fnatic Boaster
The event will kick off with Paper Rex facing the heavily anticipated international debut of China's Edward Gaming. The match starts at 5am MST on August 31st.