The next VALORANT map can only be reached with the help of Neon, according to the game's rich and complex lore.
While VALORANT is known for its tactical and strategic gameplay, the FPS actually has very rich lore that dictates upcoming agents and maps. Now, the VALORANT community believes that Neon holds the secrets to an upcoming eighth map that has yet to be revealed.
Killjoy revealed her gaming setup on Twitter back in November of 2021. While most people were preoccupied with her possibly playing League of Legends, some VALORANT fans noticed that coordinates were included in the image. These coordinates were found out to be Lisbon, Portugal, which is now believed to be the location of the next map.
But there is a problem getting to this alleged new map.
The first seven maps in VALORANT are located throughout Earth 1. The next VALORANT map, however, would be in Earth 2. So how can Riot Games explain how agents would move to a different planet? Well, the answer is complicated but hidden within VALORANT's dialogue and storyline. And it all leads to the newest agent, Neon, making the jump possible.
Lore hints that Neon is key to the next VALORANT map
To get to Earth 2, VALORANT agents would need teleporter tech. Unfortunately, teleporter tech was disabled in the Everett-Linde Lab when Chamber destroyed the radiante collider that was used as the power source for this teleporter. Everyone within the lab died.
"They were light years ahead of [VALORANT] with their LRC program...The data on radianite exposure, the biome acceleration..." Killjoy said of the event where all of the scientists died due to an unpredictable radiante reaction.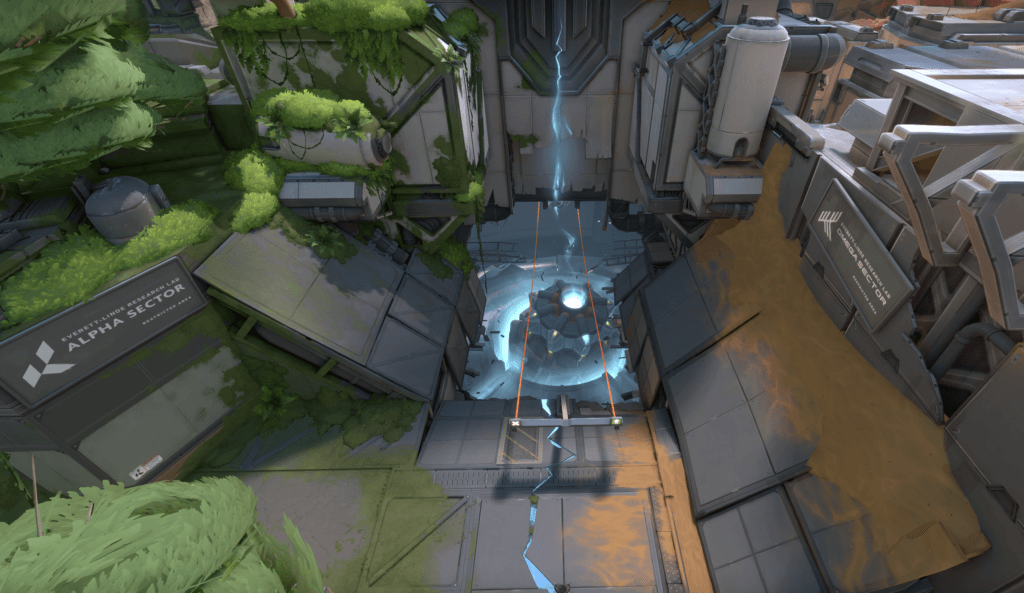 A special project was announced to recreate this teleport technology at Fracture, the map that resulted from the explosion at the lab. Chamber told Brimstone that he is the key to the project since he has the schematics of the teleporter.
"Please Brimstone, I am your key to the other side. You should at least pretend to like me," a voice line goes.
Thanks to his security clearance, Chamber was able to give the schematic he obtained at Fracture to Killjoy. But Killjoy quickly ran into a lot of issues while working on the project. She reported to Chamber that there were an abundance of power outages due to the Everett-Linde Portal.
"I think it's going to be fine. But finding a viable energy source is proving problematic. Standard electrical currents just won't work. But you know what could help? More lab funding," Killjoy said in a call to Chamber. "Seriously, this portal won't power itself."
In response, Chamber started looking for a power source, knowing that a radiante with electric power was the solution to the power outage. There were many hints at this point that an electric-based agent were coming in various trailers. Voice lines also pointed to this possibility.
"As you'll see, her abilities are uniquely suited to help with the special project. She's a perfect fit, I think," Chamber said to Killjoy.
Another voice line has him telling Killjoy not to be embarrassed over the lack of power, stating he has a solution.
And now, there are hints within VALORANT that Neon and Killjoy are working together. In a voicemail to Brimstone, Killjoy explains that she and Neon started working on rebooting the portal. While Neon is nervous, Killjoy likes her and is astounded by the powers she possesses.
"We're still working on stabilizing the connection between our side and omega but we'll get it done. Maybe it's time to start planning the mission for after we break through. Sounds like a Brimstone thing, yeah? Good luck with that!"
When is the next VALORANT map released?
VALORANT has a set schedule for releasing maps that coincides with the acts within each episode. It will most likely come out when Episode 4 comes out in 2022. That could be later this month. The VALORANT map may not come out right when the next episode drops but developers will probably start dropping more details in the near future.
Portions of Map 8 have been teased, including that the location may include a geo-dome mentioned in previous lore hints. But players will have to wait for Neon and Killjoy to fix the portal to find out more about the new map.