The EMEA top 12 are set and Fnatic isn't among them, having been eliminated by Team Liquid. These 12 will play for four spots at Masters Berlin, beginning August 12th.
After several weeks of play, the top 12 European teams in VCT Stage 3 have been determined. And shockingly, Masters Reykjavik runners-up Fnatic aren't among them. Fnatic looked bad all stage and couldn't hit their shots, resulting in their early elimination to Team Liquid.
Fnatic's downfall
Fnatic's struggles started in the qualifiers for Challengers 1, where they lost 0-2 to G2 and dropped a map to Wave Esports. In the main event, they'd suffer a similar fate. They were taken down by Guild Esports, before losing another 2 maps to G2. This put them out of contention for the first four spots, and they'd have to battle in another 8-team bracket for the last 2.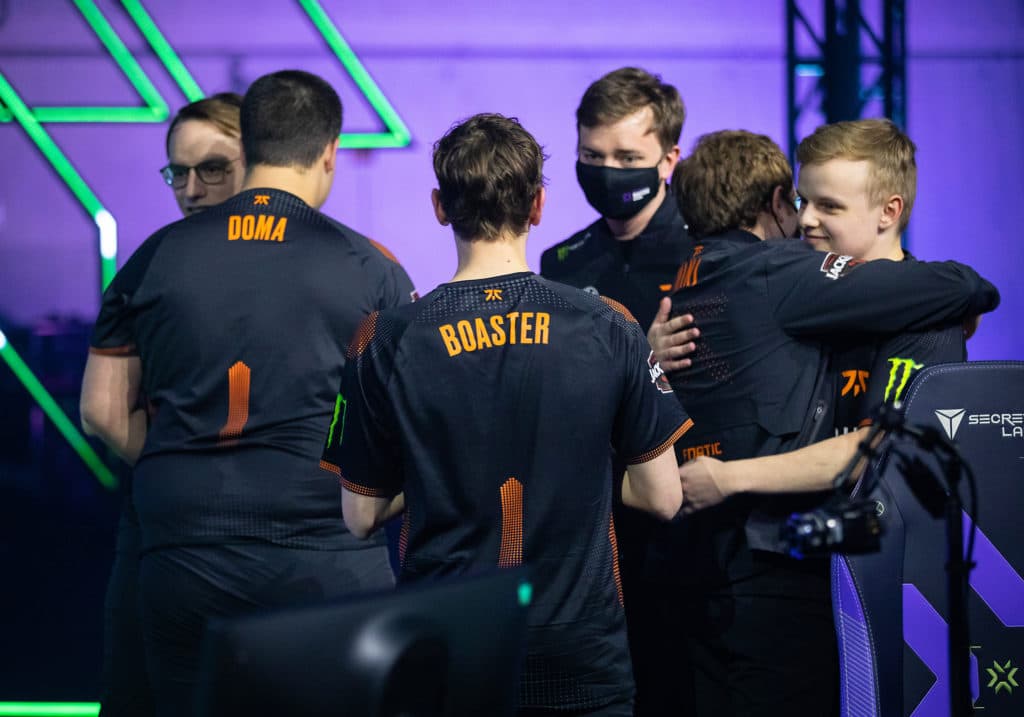 Fnatic at Masters Reykjavik. Image credit: Colin Young-Wolff/Riot Games.
Challengers 2 went better, as you'd expect against weaker competition. But Fnatic are the type of team that shouldn't need to face weaker competition to have success. And ultimately, they'd fall short yet again. With Vodafone Giants having a tremendous run, they faced Europe's other Reykjavik representative, Team Liquid, for the final EMEA Challengers Playoffs spot. It was a close, back-and-forth affair, but Liquid edged out ahead with the win.
Fnatic are not out of contention for Champions, VALORANT's year-end LAN and equivalent of Worlds in League of Legends. They may still grab an automatic spot depending on who from Europe qualifies for Berlin and how well they do. Ultimately, that's unlikely. But they are locked for the Last Chance Qualifier, so we will see them again in the VALORANT Champions Tour. But they'll have to step up their game if they do want to make it.
So, who does have a shot at Berlin?
Europe
The six European teams attending playoffs are Acend, G2, Guild, FunPlus Phoenix, Giants, and Team Liquid. Acend have been absolutely unstoppable, and should be a massive favourite to secure a spot, especially with four up for grabs. G2 and Giants are dangerous teams as well. With Europe generally being considered the strongest of the 3 EMEA regions, we should see at least 2, probably 3, of the 4 Berlin representatives come from these six teams.
Turkey
Supermassive Blaze (SMB), Oxygen Esports, and Fire Flux Esports will be representing the biggest fanbase in EMEA. SMB are the team to watch here, and have been billed as Turkey's "superteam" since their formation. Fire Flux star Volkan "sociablEE" Yonal could also have a big breakout performance here.
The CIS
Lastly, the ever-dangerous CIS come in with three solid teams. Gambit should be a favorite to go to Berlin, and are one of the most creative teams in EMEA. Especially watch for sentinel player Ayaz "nAts" Akhmetshin. Natus Vincere and forZe round out the lineup, two solid teams that European rosters can't underestimate.