The groups have been revealed for Masters Berlin. Sentinels-G2 will be an anticipated opening matchup, while Group A is stacked and Envy get lucky in B.
Riot Games have officially announced more details around Masters Berlin, including the broadcast talent working on the event and the teams in each of the four groups. The groups announcement comes after a leak by Riot Japan earlier today.
Group A is the "Group of Death", while Envy get lucky in Group B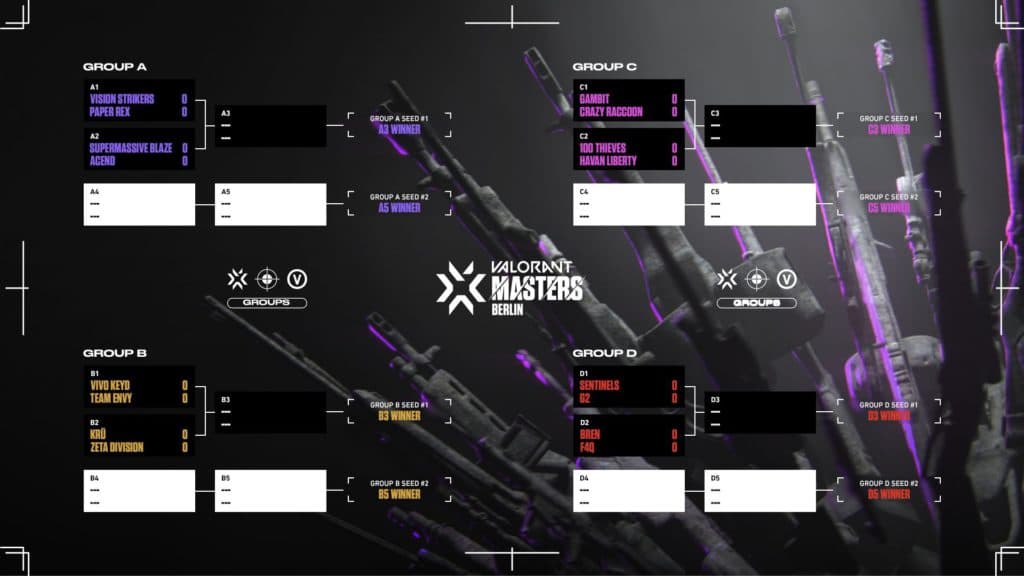 Image credit: Riot Games.
According to an article put out by Riot, the teams were sorted into the following pools:
NA #1, EMEA #1, KR #1, BR #1
NA #2, EMEA #2, LATAM #1, SEA #1
JP #1, BR #2, KR #2, EMEA #3
NA #3, SEA #2, JP #2, EMEA #4
They were then sorted into the four groups, allowing inter-regional matchups only for EMEA.
Group A
Group A is already being called the "Group of Death", and with good reason. Korea's #1 seed, Vision Strikers, will take on heavy underdogs Paper Rex in their opener. In the other opening match, two EMEA teams square off, Turkey's Supermassive Blaze and Europe's Acend.
There's three incredibly strong teams here, and it's difficult to predict who would make it out. Assuming Vision Strikers beat Paper Rex, they'll have two chances at advancing. SMB got the better of Acend regionally, but whether that will translate here remains to be seen.
Group B
If Group A is the "Group of Death", Group B in Masters Berlin is the "Group of Life". North American third seed Envy should certainly be the favourites to advance here. Their opening match against Brazilian first seed Vivo Keyd will be close, but should still go Envy's way.
KRÜ and ZETA DIVISION are the other teams here. KRÜ come in looking very strong regionally and are probably the favourites; whether that makes them better than Keyd will have to be seen.
Group C
Group C is a very interesting one. Gambit and 100 Thieves are the clear favourites, however, Brazilian second seed Havan Liberty can throw a wrench into those plans. Japanese team Crazy Raccoon also return from Iceland, and could surprise teams as well.
Group D
Lastly, Group D features a match we've all been waiting for. After months of Twitter banter, Sentinels and G2 will finally be facing off.
Sentinels are quite clearly the favourites to win this group, as well as the whole tournament. Meanwhile, the other spot is completely up for grabs. Korean 2nd seed F4Q seem poised to take it, but G2 or Southeast Asian champion Bren could certainly fight for it as well.
Are the Masters Berlin groups too imbalanced?
There's already been plenty of criticism towards the seeding and finalized groups, as there was with the original format announcement for Masters Berlin. Envy, the third seed from NA, have by far the easiest group of any of its teams. In addition, two EMEA teams are in the same group, when there's four teams from that region and four groups total.
It remains to be seen whether or not Riot will change things, like they did for the format. With teams now preparing for their opening opponents, though, it seems a bit more unlikely.
Stay tuned to Esports.gg for the latest VALORANT news and updates.