OpTic Gaming brushed off Kru Esports in the Group A Decider to secure their spot in the Masters 2 Copenhagen Knockout Stage. Marved was hailed as the MVP, and for good reason.
OpTic Gaming have beaten Kru Esports 2 - 0 in the Group A Decider match at Masters 2 Copenhagen. The reigning Masters champions made quick work of their LATAM opponents as they secure passage to the Knockout Stages. The performance of OpTic Gaming's Jimmy "Marved" Nguyen was a highlight of the series.
OpTic ease into the Knockout Stage
OpTic came into this fixture off the back of their tense three-map thriller against Loud. Following on from that match, it seemed like the Reykjavik champions were looking more like themselves again in the eyes of their fans.
That said, there were still some doubts hanging around about whether they would be able to make it over this final hurdle into the knockout stage. Especially given Kru's recent performances against both Loud and Guild; who beat OpTic in their first match of Group A at Masters 2 Copenhagen.
"I would be lying if I said there wasn't any extra pressure on us to perform, because expectations are higher. But for us we try to treat every game as it is. And honestly, every game is hard."
Jaccob "Yay" Whiteaker, OpTic Gaming in the post-match interview
Yet, despite the fact they had less than 24 hours to prepare for their match against Kru, coupled with the fact that they were staring down the barrel of an early exit from Copenhagen, OpTic managed to put together one of the most dominant performances of the tournament thus far. A sign which bodes well for the Greenwall's prospects of defending their Masters crown..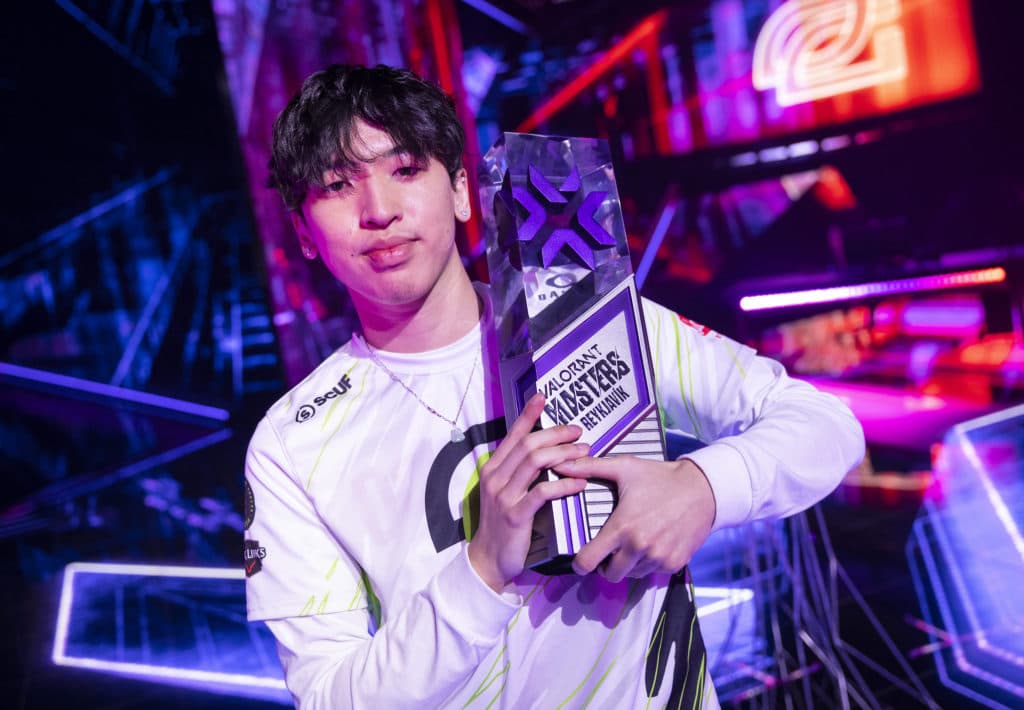 OpTic Gaming Marved was part of the VALORANT Masters Reykjavik winning team (Image Credit: Riot Games)
Marved smokes the competition
While everyone seemed to be firing on all cylinders for OpTic, it was Jimmy "Marved" Nguyen who shone the brightest against Kru. The Canadian was a frag machine at times, as he seemed to dispatch opponents with ease.
Quick Facts for Marved in this series:
29 kills on Split with 48% head shot rate
18 kills on Haven with 31% head shot rate
41% average head shot rate for the 2-0 series
At least half of Marved kills came from headshots
This near-inhuman feat was promptly recognized by the community as he was named the MVP for the second match in a row. When asked about his performance during the post-match press conference, Marved gave the following response.
"I was definitely feeling it in that match," he said. "I felt like whatever angle I was holding I would get the kill. And it was like that for most of the time."
Marved also stated that he was playing in a more aggressive capacity than he normally would. A mentality that certainly benefitted his team in the match.
What's next for OpTic in Masters 2 Copenhagen?
With their win in the Group A Decider, OpTic will be moving on to the Knockout Stage of Masters Copenhagen.
There OpTic will face off against fellow NA rivals Xset; the team that beat OpTic in the Na Challengers Stage 2 playoffs final. And given how well OpTic, and Marved in particular, have performed in their last two matches, this could turn out to be quite the spectacle.