In the rematch for the second seed in group B at VALORANT Champions, LOUD handled ZETA Division, ending the dream for Japan's best team.
Brazil's LOUD has qualified for the VALORANT Champions playoffs after dispensing Japan's ZETA Division in a swift 2-0 fashion. The win advanced LOUD into the playoffs where they will face the group A winner Leviatan. For ZETA, it's a bitter pill to swallow as their Championship dreams come to a forceful halt after an overall successful 2022 campaign.
The ZETA Division run comes to an end
"After this loss, I don't have many positive feelings right now. In Masters 1, we had a pretty good run but in stage 2, we weren't able to qualify and as for Champions, we weren't able to get out of groups. So, towards next year, we do want to try harder."
ZETA Division laz
For many, ZETA Division is one of the defining teams that made up the 2022 season. The run at Masters Reyjavik inspired the entire world and put Japan back on the map for FPS fans. The story of 2022 can't be told without referencing the impact this team had not only in Japan but in APAC and the world at large.
(Photo by Lance Skundrich/Riot Games)
Unfortunately, ZETA ran into one of the deepest teams in LOUD at VALORANT Champions and will need to look towards 2023 to reclaim that Stage 1 glory. As for LOUD, they will move into the playoffs and should be considered one of the most dangerous teams remaining.
LOUD dominating with a player advantage
In the win over ZETA, it was a case of LOUD being able to effectively deal with their execute-focused play style and win with mid-round calls and adjustments. In-game leader for LOUD, Matias "Saadhak" Delipetro, expertly called the game leading to LOUD not dropping one round at a player advantage. In 22 opportunities at 4v3, 3v2, 4v2, and 5v3, LOUD didn't drop a single round, despite only taking first blood 38% of the time.
In a post-match press conference, Saadhak spoke on winning these rounds and how easy it is to call mid-round when players are doing their jobs.
"I think the mid-round calls are very productive because the team always knows what to do. When we get the first pick, it becomes really easy to stay alive and just play off of each other and when it doesn't work, well it doesn't work, right? But, I think that's it - when we get the first blood, the map becomes easier and a lot simpler," said Saadhak.
LOUD winning rounds despite a 38% FBSR
On Bind, a map LOUD has had middling results on, ZETA was consistently finding early picks on Saadhak. He ended up with a 6% FBSR with ZETA specifically targeting his side of the map. Despite his failings early in rounds, LOUD was incredibly successful in trading the next kill and ruining the ZETA set plays. The rest of the team were playing well off each other and trading off Saadhak, ending with a team KAST of 78%.
Regardless of lackluster first blood numbers, LOUD was great in every other element of the game. The Jett compositions caught LOUD off guard but did a excellent job at shutting down ZETA's star Koji "Laz" Ushida on the Jett. Nonetheles, they did a great job denying space to limit what ZETA could do post-plant.
Furthmore, ZETA is known as a slower-paced, default-heavy team but they surprised LOUD with a style shift. The play calling was more aggressive, but it was only a matter of time before the team adjusted.
"I think they caught us by surprise with the Bind composition. The pace was really fast, as we said and they were kind of like, 'we're here, we're pushing fast. We're doing things fast and punishing people who stand in front of us' and for preparations, we just talk about stopping the aggressive setup and once we managed to do so, I think we found great success."
LOUD bzka on their ability to win on any map
Many questioned floating Bind, but it allowed them to show off their mastery of the map pool. It also allowed them to pick into Ascent, a map that they've become unbreakable on defensively.
LOUD head coach Matheus "bzkA" Tarasconi spoke on winning Bind and the depth of their map pool. He also touched on banning Pearl over Bind and the Ascent defense.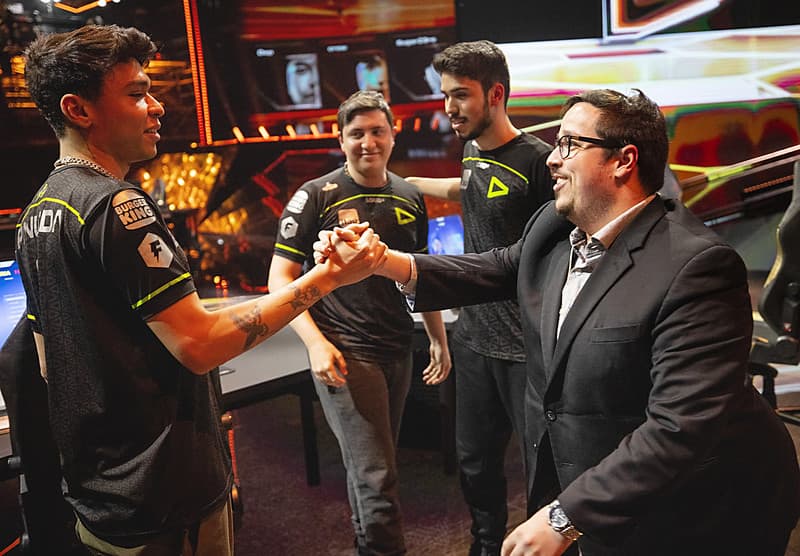 (Photo by Colin Young-Wolff/Riot Games)
"So, first, about the ban on Pearl, we're a team that plays all the maps from the map pool. We don't have a permaban and we just feel that this match would be better for us to ban Pearl because we know Zeta plays it very well and we struggled against Optic as well. So, we had a preference to go to some other maps for this specific match against Zeta. It just works for this situation. And, the other part was, that I feel that like all the maps, we have an understanding of the map, rotations, and how to play every position."
LOUD bzka
With the win, LOUD will be playing Leviatan on the Istanbul stage in front of a live crowd. Aside from former League of Legends professional Gustavo "Sacy" Rossi, it's the first time LOUD will be given the opportunity to play with a roaring crowd.
Featured image courtesy of Lance Skundrich/Riot Games