In an interview, LOUD head coach Matheus "bzkA" Tarasconi spoke on the disappointing result against KRU and not succumbing to the pressure.
Since the formation of the LOUD roster, the team has done nothing but produce wins. It's been a rarity to see LOUD face any amount of adversity considering how dominant they've been inside Brazil. Now faced with the threat of elimination at the hands of the reigning champs OpTic, LOUD will have to summon the strength to overcome their biggest obstacle according to their head coach bzkA.
In a post-game interview with LOUD head coach Matheus "bzkA" Tarasconi, he preached confidence and that all the mistakes made against KRU Esports are fixable.
"As a coach, what I hope they find in this situation is that it's not over yet and that's something we're going to talk about. We don't have any time to think negative thoughts about the game, so we just need to think forward and that's what we're going to do.

I think the biggest problem in those moments was our communication game. Sometimes we were communicating too much and sometimes we were communicating not 1% of what we should be communicating. It's not the LOUD we played in Reykjavik. It's not the LOUD we played in Brazil, so I'm 100% sure we're going to get better, 

LOUD coach Matheus "bzkA" Tarasconi
Little time to prepare at Masters Copenhagen
Time has been a huge factor in Copenhagen. The time to prepare for the event with miniscule days to travel or practice wasn't enough for LOUD to feel comfortable. BzkA didn't use it as an excuse, but believes this hurt his team in preparation for these late round moments.
"We didn't have very much time here to practice for this tournament specifically. So, I think we didn't have the game written but we won the VCT in Brazil and we had to have one week off to prepare for the trip and be able to travel here and as soon as we got here we only had two days of practice. The other days we had to do a lot of media setups in preparation for the tournament so we didn't get many games so I think that's what caused the most damage to us."
For LOUD, it's not a lack of confidence. It's a team that has the ultimate belief in themselves and has seen just how far their talents can take them when playing together. It could simply be an off-day for the two young phenoms Erick "aspas" Santos and Felipe "Less" de Loyola.
However, KRU's Roberto "Mazino" Rivas did an excellent job limiting the explosive fire power of their heavy hitters. 
LOUD bzkA on the adjustments needed to win Masters
For bzkA, he didn't get the sense the loss stemmed from LOUD's compositions or game plan. It was the micro decisions in the big moments that made the difference. KRU converted 26.6% of their clutch opportunities, showing LOUD not performing late in rounds and more specifically when defending retakes.
"I think Sacy is one of the best Fade players in the world and aspas is one of the best Raze players," said bzkA. "I don't think the problem today was the meta or our comp. It's very different from when we got to Masters Reykjavik."
"We had to learn a lot there. We had to learn a lot of meta comps, new styles and the Chamber meta that we didn't use in Brazil. So, we learned a lot during the tournament in Reykjavik and I feel we got here way more prepared for the event. The knowledge of the map that we have didn't have before. So, I just think it was something out of the course that happened today."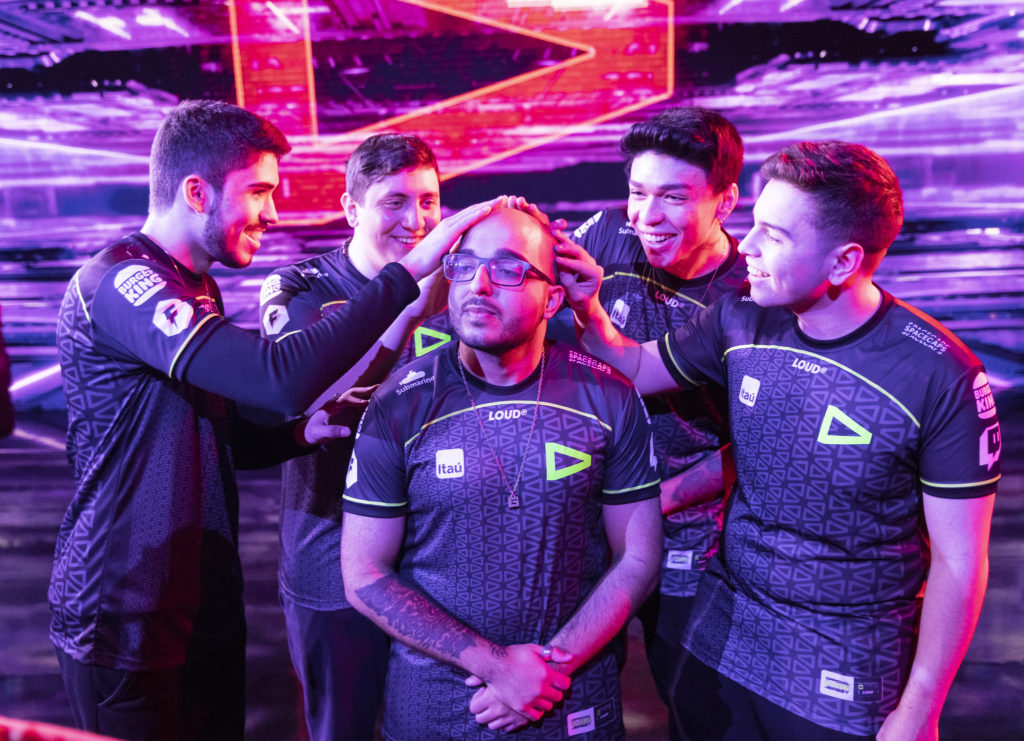 KRU Esports win 83% of Pistol Rounds in win over LOUD
Moreover, when asked about LOUD's failure to win pistol rounds against KRU, bzka pointed to a lack of fundamentals in the Brazilian region. His words invoked the infamous phrase minor region team. In the case of LOUD, they finished with a perfect 18-0 map record in Brazil. Despite a flawless Stage 2, the lack of competition might be a detriment to LOUD's development.
"I feel at international events both in Europe and even if we were playing against KRU, who is a Latin American team, every team worldwide knows how to play pistol rounds and eco rounds. That put them in favour of the basic fundamentals and that's something that we lack a little bit in Brazil, so maybe we just got used to the way they play it and we couldn't switch for this tournament yet but we're going to do it." 
As a result of a stagnant regional meta, LOUD has fallen behind the curve in terms of innovation. The team needs to learn on the fly at the Masters event, mostly in-game. The burden turns to adjusting to more advanced styles.
LOUD bzkA on a potential KRU rematch
With OpTic on the horizon, LOUD is in a fight for their tournament life. It would be a first to worse scenario for a team too talented to finish last. Falling from the Grand Finals to finishing 12th would be a steep drop. The focus is solely on OpTic, but bzkA wouldn't mind the opportunity to get revenge on KRU.
I'm looking a lot at that rematch against KRU, man," said bzkA. "We want to face them again. I think what happened today is not what LOUD represents. KRU's a very good team. I really had a lot of respect for them and I think they deserved to win today because they played better and they have proved themselves already in other tournaments and I have a lot of respect for them."
LOUD will face the reigning Masters champions OpTic gaming at 12pm PST on July 12th.