Despite a devastating 3-0 loss at Berlin Masters, it seems that Envy still trusts in their region's strength.
With VALORANT Masters Berlin now in the books, EMEA has come out on top as the region that's on everyone's minds as the best in the world. However, Team Envy, despite their 3-0 loss in the Grand Finals, doesn't think that's the case. In fact, they are pretty decisive that Gambit is a special case for the EMEA region, and that NA Valorant is still king.
NA had an "off day"
"I still think North America is the strongest, but we didn't have our best game today," Jimmy "Marved" Nguyen said in a post-game press conference. "I'm sure the other NA Valorant teams would have made it close too. The only team that I'm worried about in Europe is Gambit. Once everyone in North America gets a little better it should be on our side."
Marved prepares for battle against Gambit.
At this event, North American teams put up impressive results against EMEA teams, generally speaking. The one exception to that rule was G2 Esports, who managed to win out at the end of the group stage against Sentinels - who themselves called the result "expected." Arguments can ensue after the event as to whether or not that had more to do with the format, or if Sentinels already being qualified for Champions in December.
Regardless, Gambit came out on top today, and it really only came down to a few rounds. Envy traded blows with Gambit much more than the 3-0 scoreline would suggest, with the map score of 15-13, 13-11, and 13-9. Ever humble, Envy's Pujan "FNS" Mehta attributed that to carelessness at the end of a long tournament.
"I feel we got a little careless on some rounds, and others I feel I definitely could have called better on Bind specifically. On both Bind and Haven, there were rounds where we should have very easily won the round if I had made a different call or a slightly better one."
Envy FNS on why Master's Finals went Gambit's way
Valorant Economics 101
It seemed that neither team was really able to pull away economically either, but that didn't enter the mindset of these players, despite Envy not really being challenged at this event up until now.
"We take every game one round at a time, so we weren't really thinking about us having a bad map because weren't pulling ahead by a lot of rounds," Marved said. "I just think in the late rounds they clutched up harder than we did. That's why they come out on top today."
Of course, exit frags could have played a role, as even in the rounds that Envy won, very few of them were clean.
"They obviously played those rounds well, breaking our money," Marved explained. "I'm not sure if it cost us the match but they definitely played it well. We were a little careless, but we can't say overall that's what lost us in the match. It was obviously mistakes."
North America, who?
On the other hand, Gambit was a lot more succinct about Envy's vision of NA still being the best region:
"I can tell you this honestly. NA who?" Bogdan "Sheydos" Naumovsaid in Gambit's post-match presser to general team laughter.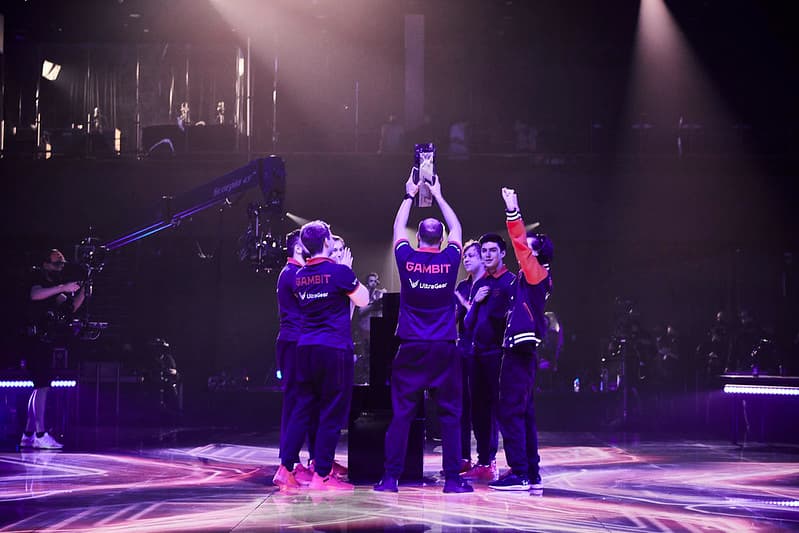 Gambit lifts the Masters Berlin trophy - Image: Riot Games
"Ay, that's a bad," Timofey "Chronicle" Khromov said, with Nats chipping in: "He's just joking."
---