Evil Geniuses take care of business against FunPlus Phoenix at Champions LA
Will EG be able to get off to hot start to life at Champions, or will FPX hit them with a reality check?
It's Day 2 of VALORANT Champions 2023, and Evil Geniuses are facing off against FunPlus Phoenix in what should be a spicy affair in Group B of Champions LA. It's the first meeting between an American and Chinese team in the VCT era, and you can catch up with all of the latest scores and updates from the match as they happen below!
Evil Geniuses (EG)

FunPlus Phoenix (FPX)

EG (13 - 8)
Ascent

EG (13 - 8)
Pearl

N/A
Bind

(2 - 0)
Final scores for EG vs FPX Champions LA 2023
Confident EG face off against mysterious FPX at Champions LA
Masters Tokyo finalists EG have already gotten a taste of life at international events. Now they have their eyes set on greater ambitions as they stand as one of North Americas' best hopes of finally claiming the Champions crown — and on home soil no less.
Though they have left their underdog status behind them, there will still be plenty of eyes on EG. Especially as they find themselves in, what Boostio claims is, "the easiest group" that they could have gotten at this tournament. A statement which is sure to resonate with FPX today.
Not much is known about this FPX roster, seeing as their last major appearance on the VCT stage was back in LOCK//IN where they were beaten 2-1 by Karmine Corp in their only match in the competition. They finished third in the VCT China qualifiers to reach Champions. But other than that the squad is quite the mystery to say the least.
EG are the clear favorites in this matchup, and it is clear they are confident about making it out of their group. But we'll soon find out whether that confidence may be misplaced or not.
Evil Geniuses VALORANT Roster: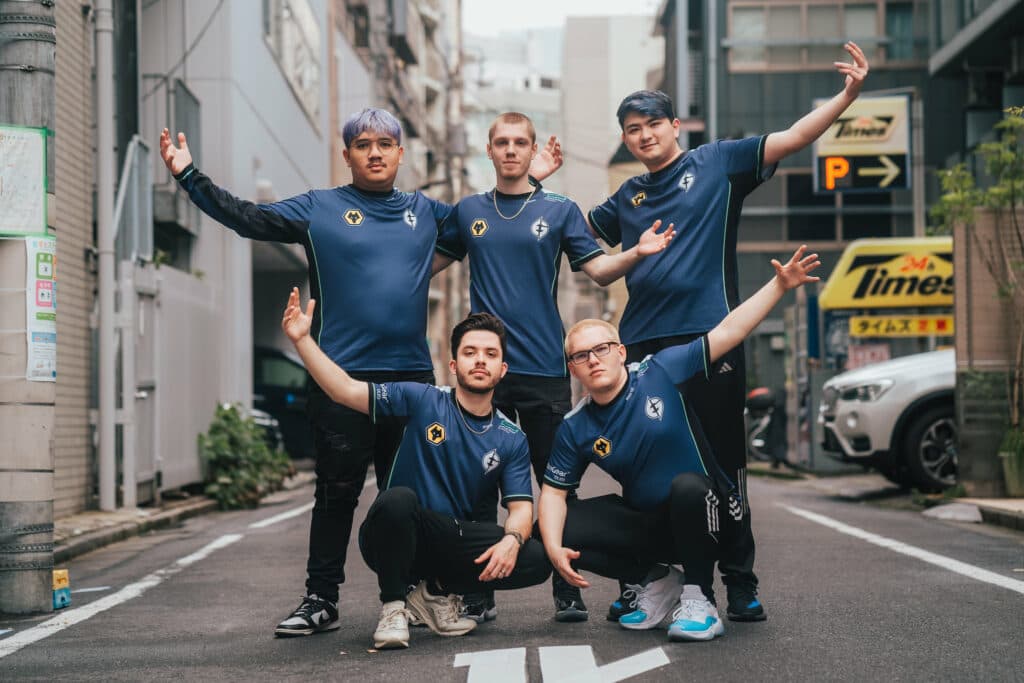 Evil Geniuses VALORANT Roster Champions LA (Photo by Lee Aiksoon/Riot Games)
Kelden "Boostio" Pupello (IGL)
Ethan "Ethan" Arnold
Alexander "jawgemo" Mor
Corbin "C0M" Lee
Max "Demon1" Mazanov
FunPlus Phoenix VALORANT Roster:
FunPlus Phoenix VALORANT Roster Champions LA (Photo by Lance Skundrich/Riot Games)
Zhang "BerLIN" Bolin (IGL)
Zhang "AAAAY" Yang
He "YuChEn" Cai
Huang "Yuicaw" Yung-chieh
Tang "NiazohTZH" Zehao
Yu "Lysoar" Hao Liang
EG take care of business on Ascent
We begin the match with a trip to Ascent curtesy of Evil Geniuses. The American side go for a standard double-initiator setup. On the other hand FPX go for a bit of an unusual double-controller setup consisting of an Astra and Omen as well as a Skye.
Lysoar pops off with a 4k to give FPX the first pistol round of the map and get things going on their attack half. They secure their anti-eco fairly comfortably before falling in their bonus round. EG shut out FPX in the next couple of rifle rounds to give themselves the lead at 4 - 2 whilst seemingly flustering their opponents in the process. Causing them to utilize their first timeout of the map. And they come out looking refreshed from the timeout as they start to pile the pressure onto EG, with AAAAY having a standout performance on his Skye. But EG are able to respond well to keep the score level at 6 - 6.
EG take care of business in the second pistol round, as well as in their anti-eco and bonus rounds as they jump back in front at 9 - 6. They break the 10-point mark soon after with FPX looking a lot less confident on their defensive setup. The Chinese side manage to keep themselves alive in this map, with AAAY weighing in with another multi-kill. But EG remain fully in control of proceedings, and they soon find themselves on map point at 12 - 8. And the gulf in quality on this map was evident, as EG close out Ascent 13 - 8 and take a 1 - 0 lead in the series.
Jawgemo rises to the occasion on Pearl
After their solid performance on Ascent, EG head over to FPX's pick of Pearl for map 2 of this series. FPX opt to stick with the same composition they used on Ascent. Whereas EG go with the tried and true double-initiator composition.
EG take the opening pistol round, with Demon1 bringing the pain right from the get-go for his side. And it provides the American team with a building off point as they establish an early 4 - 1 lead. With Jawgemo continuing to have a strong performance in this series. The lead only continues to build for EG, while FPX struggles to come to grips with the mid-round calling. And their efforts are fairly rewarded as EG take a commanding 9 - 3 lead into halftime.
Jawgemo clutches up again for EG as they take the second pistol round to crack double-digits on the map. FPX finally find some life on this map as they shutdown EG's bonus round, despite a little parting gift from C0M. The Chinese side start to chain together a solid streak of rounds to half the deficit to 11 - 8, with EG having lost the plot a bit. The American side regain their composure a bit to put themselves onto match point. And though FPX had looked far better than they did in the first half, in the end their efforts were in vain. Resulting in Evil Geniuses taking Pearl 13 - 8 and the series 2 - 0.
How to watch EG vs. FPX Champions LA?
We are at the business end of the 2023 VCT season. Sixteen of the best VALORANT teams from around the world have come together in the city of Los Angeles as they fight for the right to be called Champions. Fans who wish to watch the EG vs FPX match at Champions LA may do so be heading to the VALORANT Twitch and YouTube channels.
You can also tune in via the embedded stream link down below for those who don't wish to click off of this page.
---
Head on over to our Champions LA hub for all of the latest news from across the tournament here at esports.gg.