Dori and DRX Changers gear up for GC Japan Split 1
DRX Changers is entering Game Changers Japan Split 1 with a single goal in mind — to start their journey to the GC Championship.
DRX is a household name in VALORANT. After acquiring a Vision Strikers team that went on a record-setting win streak, they cemented their place in competitive VALORANT. DRX has consistently been a top international team and the organization hopes to continue that trend with their Game Changers roster.
In late 2022, DRX Changers began to build a team around Yume "Dori" Suzuki. This choice established their GC competition in Japan. And with Masters Tokyo being a prime example of VALORANT's popularity in the country, DRX Changers is looking to secure that fan base as their own in Split 1.
The wait is finally over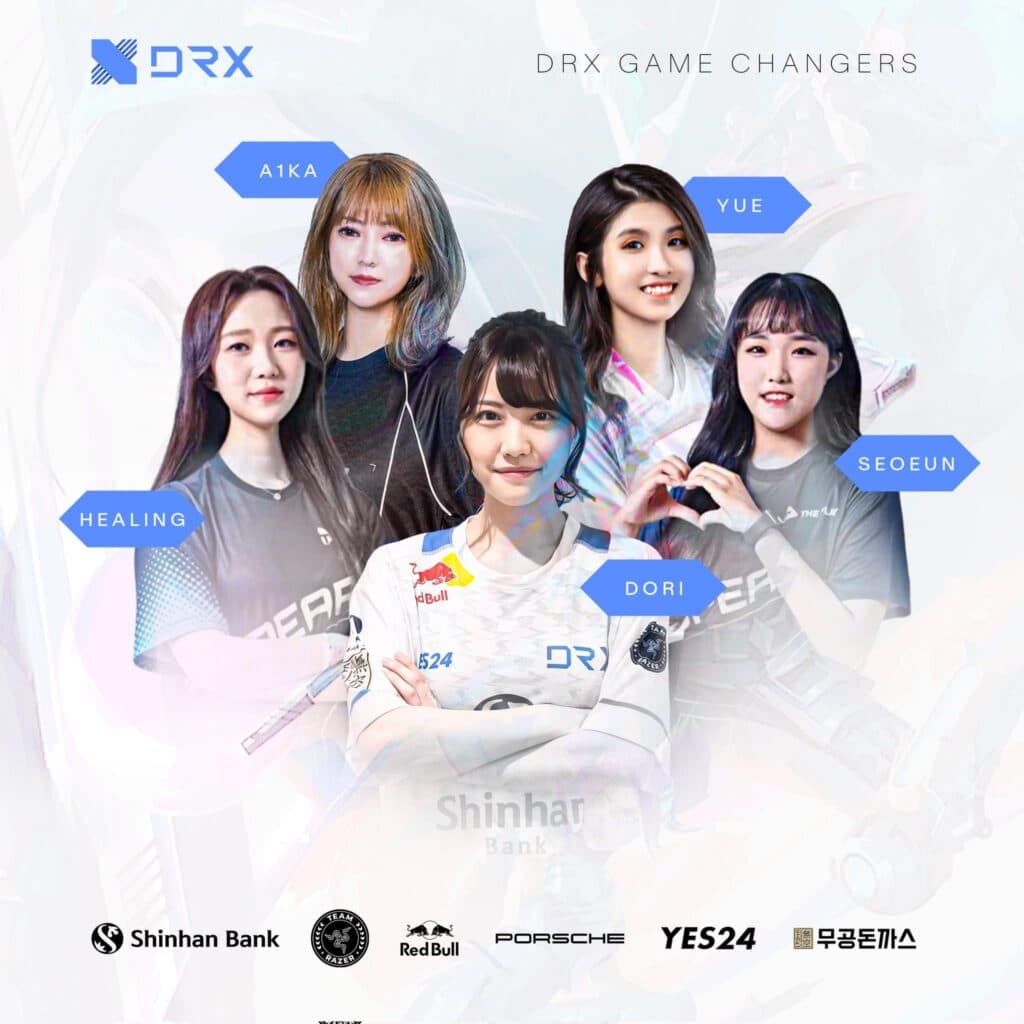 (Image via DRX)
A couple months after the announcement of DRX Changers, the entire team began to take shape. The starting roster consists of:
Dori
Jeong "SeoeuN" Seo-eun
Won "Healing" yoo-jin
Ye "Yue" Ling-juan
Ayami "Aika" Matsui
This group of players from multiple Asian countries came together in December, but they've had to wait to make their Game Changers debut. We got a taste of their abilities throughout Split 1 and 2 of VALORANT Challengers League: Japan.
Then we all received a further look at what the centerpiece of DRX Changers, Dori, is capable of in the Team Deathmatch Showmatch at Masters Tokyo. She helped Team Japan take a 2-1 victory over Team International in VALORANT's newest game mode.
Now, she'll look to make a statement with the rest of DRX Changers in Game Changers Japan Split 1. Their long-awaited GC debut is finally here. The open qualifier begins on July 14, while the main event bracket starts on July 28. And it is safe to say that the Japanese VALORANT fans will be cheering them on every step of the way.
"With this team, I think we can go to the top. I believe my team and I believe in myself to take on the challenge. I am looking forward to it."
- DRX Dori
DRX Changers in Split 1 is their chance to shine
The open qualifier for Game Changers Japan Split 1 divides teams into four groups. DRX Changers is in Group C with Crest Gaming Stellar, Sasanqua, KAGUYA, DetonatioN FocusMe, and Daphne. Each group is its own Double Elimination bracket with every game being a best-of-three.
DRX Changers will have to make it out of their group as the number one team, which is entirely possible with their first round bye. They will then qualify for the main event of Split 1 with the other group winners. The four group winners are placed in another Double Elimination bracket, with the top team automatically qualifying for Split 2.
Split 2 is where they can guarantee themselves a spot in the East Asia GC tournament and a shot at the GC Championship. They won't need to be flawless in Split 1, but they'll need to be a cohesive unit to survive against a slew of Japan's best Game Changers rosters.
"Playing VALORANT here in front of largest audience I have ever seen, and where exactly the pro players play for Masters. It was an honor and great experience for me."
-DRX Dori
If they make it through the tough GC events in Japan, they'll have a chance to expand their reach to a global audience, just as the other DRX VALORANT team has done. Dori has felt the energy of a massive live crowd. It's time for the rest of DRX Changers to do so at the GC Championship, and that starts with Split 1.