Crazy Raccons in-game leader Munchkin is ready to make a deeper run at VCT Champions after their mindset shift at VCT Masters Berlin.
Coming into VCT Masters Berlin, expectations were low for the Crazy Raccoons to challenge any team at the event. In fact, many even believe that the Japanese second seed were deemed the worst team at the event. In their first match against Gambit, Crazy Raccons went 13-1 on both Bind and Icebox. However, just one mental shift to play without fear made all the difference in their play. In their next series against Havan Liberty, they went 2-0 off the back off impressive performances from CR Munchkin on Jett, posting a 145.1 ADR and leading them to a rematch against Gambit.
Once again the underdogs, Crazy Raccoons challenged the eventual VCT Masters Berlin champions. In both maps, they garnered early first half leads and even took Gambit to overtime on Icebox. And while they eventually lost the series 2-0, ultimately their run at VCT Masters Berlin can be considered a success for the team.
In this interview - conducted through a Riot Games intrepeter - we speak to Crazy Raccoons in-game leader Munchkin to talk about their performance at VCT Masters Berlin, the team's language barrier and their plan to perform well at VCT Champions in December.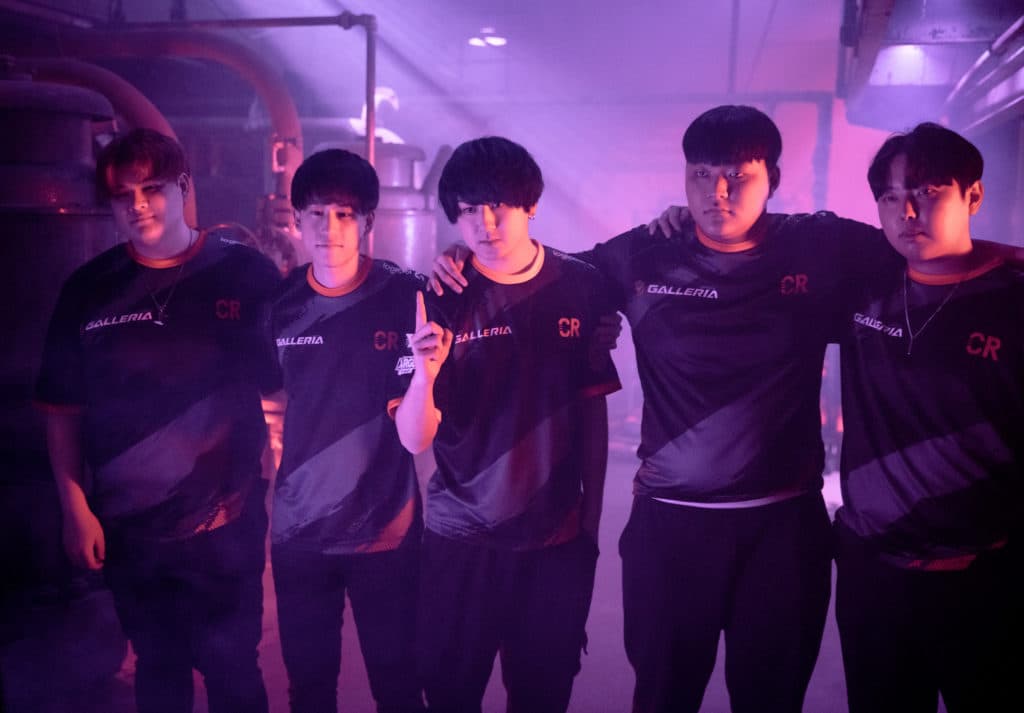 REYKJAVIK, ICELAND - MAY 24: Team Crazy Raccoon poses at the VALORANT Champions Tour 2021: Stage 2 Masters Features Day on May 24, 2021 in Reykjavik, Iceland. (Photo by Colin Young-Wolff/Riot Games Inc. via Getty Images)
Could you tell me about VCT Masters Berlin and being able to show Crazy Raccoons can compete at a higher level?
CR Munchkin: "I think we were finally able to show our true potential. Scrims throughout our time in Berlin were actually really good, but we struggled bringing that same type of success onto the stage. But against Gambit and Havan Liberty, we were finally able to show that level of gameplay. As for the results against Gambit, I was disappointed in my own play. I know that this team is capable of achieving amazing things if I can improve my own gameplay.
Still, I think we proved to the world that we are almost on par with the top EMEA team. Next time at VCT Champions, we will show this even more.
In my interview with Medusa, he mentioned that after your first series at Berlin, there was a mindset shift to play without fear. Talk to me about the mindset shift after that first series.
CR Munchkin: When we practice back home, we base a lot of our practices or strategies off of what NA and EU teams are doing.
For us to go and play in Iceland and even in Berlin to face these teams we were studying was quite challenging mentally. All that work we were putting in to replicate these top teams and then to face them, you almost feel like you are going to do a worse version of what they are great at.
That was a big challenge initially. After the Gambit game, the biggest discussion we had during our team task was that we have to overcome this fear of playing these opponents. Having a good result over the Brazil second team gave us so much confidence that being yourself is very good. We can innovate off of what NA and EU teams instead of directly copying them which really helped in this mindset shift.
BERLIN, GERMANY - SEPTEMBER 16: Teams Crazy Raccoon and Gambit Esports make an entrance at the VALORANT Champions Tour 2021: Stage 3 Masters on September 16, 2021 in Berlin, Germany. (Photo by Colin Young-Wolff/Riot Games)
Talk to me about this team's growth just throughout Berlin. It seems like you guys are a lot more confident.
CR Munchkin: I think for Berlin the biggest thing that has impacted our growth was the coaching staff and analysts. They were able to pick out what our strengths and weaknesses were to perform better. For Berlin, it really was having those extra eyes to view our gameplay that gave us new perspective on how to grow.
I want to talk about this team being a Korean and Japanese fusion. Do you feel like that language barrier can be troublesome at times compared to a team who all fluently speak the same language?
CR Munchkin: You're absolutely right. There is definitely a language barrier sometimes. Though, I would not say that there's a language barrier during our halftime chats. Our language barrier really affects us round by round. Whenever we are in these site holds 2 vs 3 or need minute communication, this is where it makes a big difference.
We have to be able to make small calls and quickly relay to our teammates where the enemy is. For myself, my Japanese is not great currently. These situations are where I really struggle for now and would like to improve more on.
Do you feel like Japanese is going to be one of those things that you continue to work on before VCT Champions?
CR Munchkin: I think we definitely have what it takes to perform well at VCT Champions. We have the best coaching staff and a very strong team. That being said, I need to improve two things on my own end to succeed. Like you mentioned, Japanese is going to be a big thing I work on during the break.
There are many in-game scenarios where if I had a better grasp of the language, we would win those important rounds. Secondly, my wrist and my hand were not healthy. So I think I need to make sure that for the next two months, I'm going to cure or fix whatever is wrong with my wrist.
Any final statements to doubters that do not believe Crazy Raccoons is a team that can compete at a high level?
CR Munchkin: I don't think Crazy Raccoons as a team struggles with strategy and tactics like some may think. The biggest difference we realized in Berlin was that each individual player can sometimes fall behind mechanically when we're up against NA and EU teams.
To cover for that, we've been practicing a lot of small tactics and small strategies that can overcome this aim deficit. For Champions, I think the biggest thing we have to focus on is our personal abilities and aim. And once again for myself, my Japanese and making sure I am healthy to compete.