We spoke to PRIX WORKSHOP after their official Namco clothing collaboration that brought King's Tekken 3 outfit to life sold out on its first day.
A clothing collaboration between Tekken developer Bandai Namco and PRIX WORKSHOP has sold out of most of its stock in just a single day. All stock for the tracksuit bottoms, based on King's iconic Tekken 3 Player Two outfit, are sold out, with the accompanying shirt now only available in extra small.
We wrote in December that the collaboration was set to come to stores on Jan. 18, 2022, but we never expected the instant sell out. The PRIX WORKSHOP store listed the PRIX X TEKKEN 3 King Joggers for $80, with the accompanying PRIX X TEKKEN 3 King T-Shirt (Player 2) listed at $70. Still, despite a $150 price tag, many eager would-be King cosplayers found out it sold out in minutes.
Accounts differ, with some saying most sizes sold out instantly, while others saying the largest and smallest sizes were around for a few hours before vanishing. It seems more people were keen to grab this King fit than ever expected.
How to grab the King outfit now?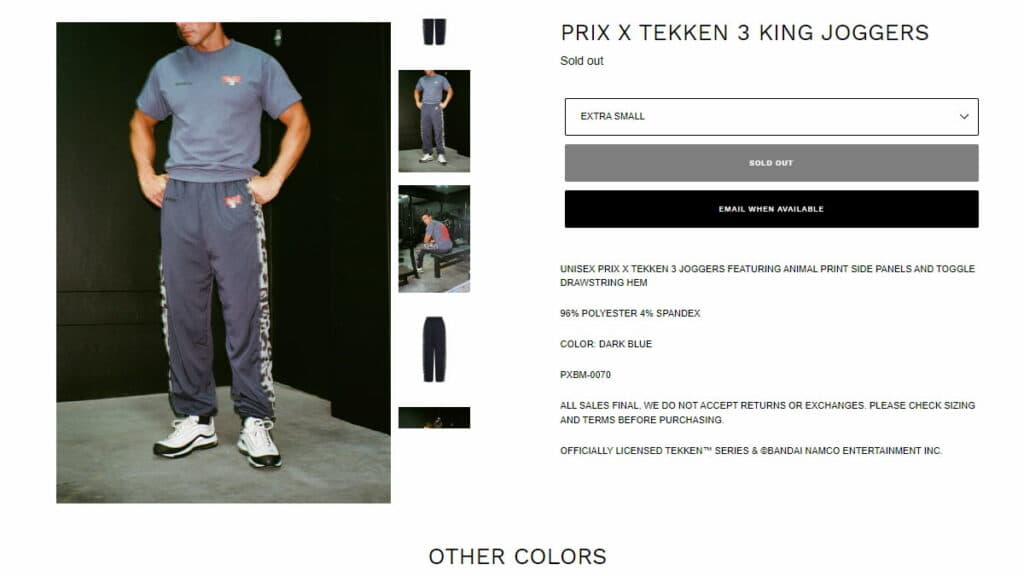 Part of the now sold-out King outfit on PRIX WORKSHOP's website
PRIX WORKSHOP has added an "email when available" button to each of the items, which will presumably notify eager fans when the gear is back in stock. Beyond the King outfit, there are some nostalgic Tekken t-shirts showing off Jin Kazama, Yoshimitsu, and King.
Esports.gg reached out to PRIX WORKSHOP after the hugely successful sale and asked them if they expected their Tekken 3 collab to sell out so quickly: "It surprised us for sure, we know how frustrating it is to miss out on drops, as is pretty standard in streetwear. At PRIX we really loved the pieces but didn't anticipate the actual demand since this was our first gaming collaboration and had no idea if our audience were ready yet. We're endlessly grateful for the community support."
"We're currently working on a restock of the King (P2) pieces which probably won't be available until the end of March."
PRIX WORKSHOP on King (P2) outfit restocks
So on to the most pressing question for all potential buyers. When's the restock? "We're currently working on a restock of the King (P2) pieces which probably won't be available until the end of March."
But why Tekken? Why streetwear style? We asked PRIX to give us a bit more background on their brand: "We're a lifestyle brand founded in 2018 in New Zealand and heavily focused by gaming and automotive. We like to express our passions through the clothing and accessories we design, trying to bridge the gap between fashion and these typically male-dominated industries."
What's next in the PRIX X Tekken 3 collaboration?
It's clear that a lot of people loved the iconic King joggers and t-shirt look, but we wanted to know if PRIX had plans to emulate other Tekken 3 looks? Bryan Fury snakeskin trousers perhaps? Maybe Paul Phoenix leather Jackets?
"Yes! Thankfully we've built a great relationship with the wonderful team at Bandai so we'll hopefully have the chance to include more characters in the future. It was almost impossible to pick which to focus on for this collection, as we understand how important different characters are for Tekken fans, which is just a testament to the awesome job the devs did with world building back in the late 90's."
It sounds like Tekken and streetwear fashion fans are in good hands with PRIX. And it's not just Tekken that PRIX appears to be looking to collaborate with. "We have some big gaming related collabs lined up for 2023 which are just as meaningful to us as PRIX X TEKKEN 3. So keep your eyes out!"