"All competitors who participate will receive $75 cash value," according to Cloud9.
Cloud9 has announced the C9 Mang0 Nation Tour for Super Smash Bros. Melee players!
Presented by Blockchain.com, the C9 Mang0 Nation Tour features a $35,000 prize pool plus a trip to compete at the Big House 10 tournament.
How the C9 Mang0 Nation Tour Works
There are five competing regions, and the player cap for each of them is 1,024. These locations include the following:
West: Alaska, California, Hawaii, Idaho, Montana, Nevada, Oregon, Washington, Wyoming, Alberta, British Columbia, Northwest Territories, Yukon
Southeast: Alabama, District of Columbia, Florida, Georgia, Mississippi, North Carolina, South Carolina, Tennessee, Virginia
Southwest: Arizona, Arkansas, Colorado, Kansas, Louisiana, New Mexico, Texas, Oklahoma, Utah, Mexico
Northeast: Connecticut, Delaware, Maine, Maryland, Massachusetts, New Hampshire, New Jersey, New York, Pennsylvania, Rhode Island, Vermont, New Brunswick, Newfoundland, Nova Scotia, Prince Edward Island, Quebec
MIDWEST: Minnesota, Missouri, Nebraska, North Dakota, Illinois, Indiana, Iowa, Kentucky, Michigan, Ohio, South Dakota, West Virginia, Wisconsin, Manitoba, Nunavut, Ontario, Saskatchewan
In terms of prizing, the payout structure per region is as follows:
1st place: $2,500
2nd place: $1,250
3rd place: $1,000
4th place: $750
5th/6th place: $500
7th/8th place: $250
"All prize winnings will be paid out in bitcoin to the crypto wallet address provided at registration."

C9 Mang0 Nation Tour start.gg page
These winnings will be paid out in bitcoin, which means competitors must list their crypto wallet address when they sign up.
The first-place winners who are not signed by an organization will get a travel package to fight alongside mang0 at Big House 10 from October 7-9. According to the event page, this will include airfare and lodging accommodations.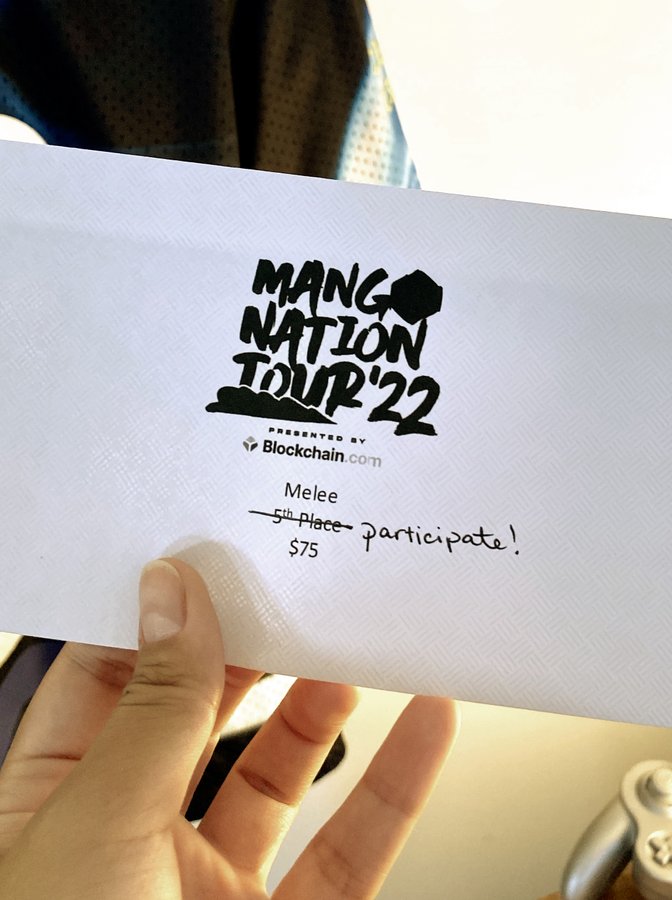 As for the top eight Super Smash Bros. Melee players of each participating region, their streams will be broadcast through mang0's and Cloud9's respective Twitch channels.
All participating competitors will receive $75 cash value as well, according to Cloud9 on Twitter.
How to Register for the Super Smash Bros. Melee Event
The C9 Mang0 Nation Tour will kick off with the West Region bracket on July 23 at 3 p.m. PT. This will be followed by more brackets. Here is the schedule:
West: July 23 at 3 p.m. PT
Southeast: July 30 at 3 p.m. ET
Southwest: Aug. 20 at 3 p.m. CT
Northeast: Sept. 3 at p.m. ET
Midwest: Sept. 17 at 3 p.m. CT
Interested players can now register for the action via start.gg. For those who don't have a crypto wallet, they can create via the Blockchain website. 
Stay tuned to esports.gg for the latest esports news and updates.