Kai Cenat PS5 giveaway turns into riot, streamer faces serious charges from NYPD police
A Kai Cenat giveaway turned into a riot, leading to attacks on police, damaged property and chaos in downtown New York.
Kai Cenat's PlayStation 5 giveaway being held in New York turned into a riot as a crowd, of an estimated 2,000 people, descended on Union Square in Manhattan. Kai Cenat himself was taken into police custody, initially for his safety, after the New York Police department were forced to intervene. However, he now faces serious charges.
People began to gather in Union Square after Twitch mega streamer Kai Cenat had shared with his viewers that he would be giving away PlayStation 5 consoles, PCs, and $100 gift cards. "We gonna go crazy for New York," said the streamer on stream ahead of stepping out to head to the meet.
Key Points from Kai Cenat riot
Over 2,000 "young people" flocked to Union Square on Friday afternoon
Police took Kai Cenat into police custody for safety and questioning on Friday 4 August
Kai Cenat was released from police custody on Saturday 5 August
Kai Cenat will be charged by NYPD for inciting a riot and unlawful assembly
Police made 65 arrests with 30 being juveniles
Crowds reportedly looted a construction site for axes and shovels
The "crowd of young people" allegedly threw paint cans, rocks and bottles at police
Fireworks were apparently lit and thrown at police
Police state Multiple police cars were destroyed
Three police officers were reportedly injured
Why was Kai Cenat arrested?
The Kai Cenat giveaway event in Union Square was not an officially permitted or sanctioned event according to the New York Police Department. It also led to acts of violence, vandalism, disruption and ultimately 65 police arrests.
As a result Kai Cenat's punishment is he will be charged with at least two counts of inciting a riot and unlawful assembly according to Chief Maddrey, NYPD's Chief of Department. Kai Cenat was originally arrested for safety and questioning on Friday afternoon on August 4. He was later charged and released the following morning on Saturday August 5.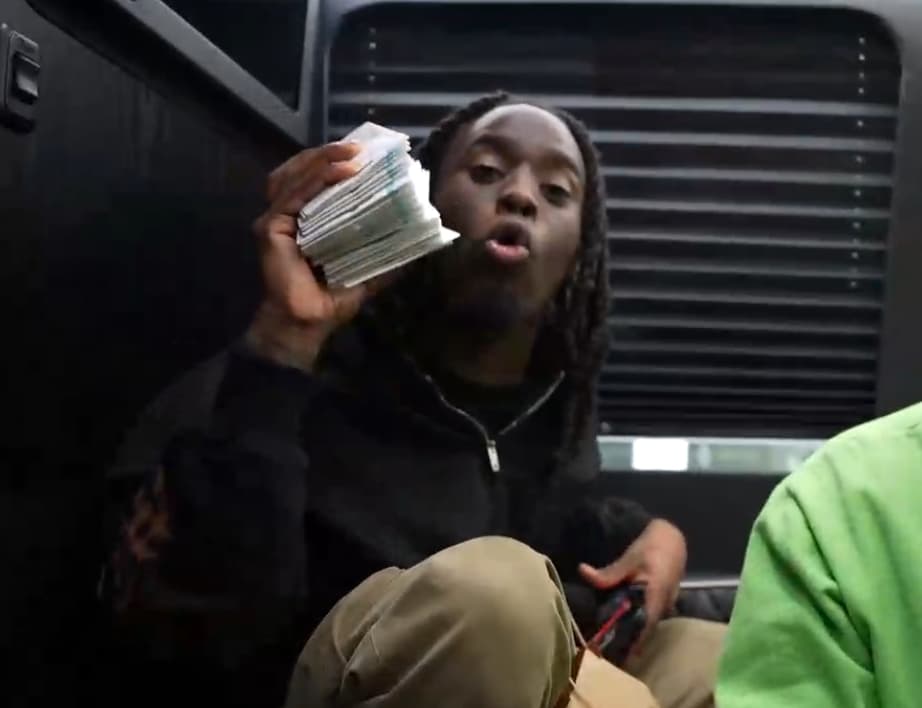 Kai Cenat with a massive stack of $100 gift cards he said he still planned to give out when "it was safe"
When is someone guilty of "Inciting a Riot"?
"A person is guilty of inciting to riot when he urges ten or more persons to engage in tumultuous and violent conduct of a kind likely to create public alarm."
Definition for the charge of inciting a riot - Class A Misdemeanour
When is someone guilty of "unlawful assembly"?
"A person is guilty of unlawful assembly when he assembles with four or more other persons for the purpose of engaging or preparing to engage with them in tumultuous and violent conduct likely to cause public alarm, or when, being present at an assembly which either has or develops such purpose, he remains there with intent to advance that purpose."
Definition for the charge of unlawful assembly
Inciting a riot is a Class A misdemeanour, and is a felony according to the Federal Anti-Riot Act of 1968. The Anti-Riot Act makes it a felony to "travel in interstate commerce with the intent to incite, promote, encourage, participate in and carry on a riot". The punishment for Inciting a riot is a fine and/or imprisonment of up to five years. So far there have been no official updates on what his exact punishment will be.
When asked why the Kai Cenat riot was unique and escalated so quickly, Chief Maddrey of the New York Police Department said it was "the power of social media, the danger of social media."
"We went from 300 kids to a couple of thousand kids in minutes. We have to be responsible when we use this tool [social media]."
NYPD make official statement about Kai Cenat riot
The Kai Cenat riot was so large in scale that the NYPD Chief of Department briefed the media twice on the incident.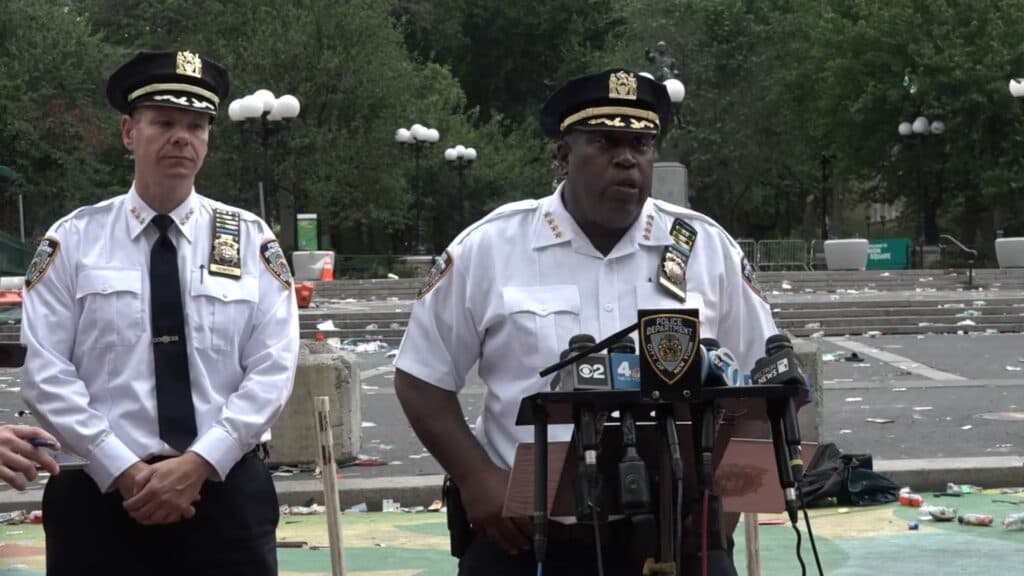 According to the NYPD they were alerted to a crowd forming in Union Square at around 1:30 p.m., and it was "quickly determined" that it was caused by Kai Cenat's call to action. By 3 p.m. the post went viral and "thousands of people began to arrive at Union Square".
Once Kai Cenat arrived on the scene things took a turn. The NYPD said individuals in the park began to commits acts of violence to both the general public and the police.
Crowd members loot shovels and axes, throw fireworks and destroy police cars
According to the NYPD, a construction site located within the park was looted and articles were thrown including paint cans, bottles and rocks. "People were walking around with shovels, axes and other tools from the construction site," said Jeffrey B. Maddrey, NYPD Chief of Department. "In addition, people were lighting fireworks and throwing them at police."
In the second briefing to the media, the NYPD shared that during the Kai Cenat riot they had to be "very, very delicate" with the crowd due to their young age. "We wanted the kids to comply with us and leave, but we were met with a lot of resistance. We were attacked" said the NYPD's Chief Maddrey, who went on to say that 65 arrests were made, 30 of which were juveniles.
"I had thousands of kids out there, I need thousands of parents out there," said NYPD's Chief Maddrey.
"We don't want to do this, we want our young people to come out and have fun. But when it gets to the point where they're disorderly we want the parents to take control. Young people destroyed our vehicles. My car is destroyed, the Commissioner's car is destroyed, other police vehicles are destroyed. They destroyed food carts, they destroyed stores."
The Chief went on to say when the police were finally clearing out the area, young people were taking plates from diners in the middle of their meal and throwing them at police officers.