We caught up with rising Twitch streamer and Rogue Energy partner HFoxx77 to talk about her stream, the importance of mental health and learned about her impact on the platform.
For most of us one career is enough, but HFoxx77 is different. By day she is a senior user experience designer, by night she is an aspiring Twitch streamer, and in-between she is studying to be a national academy sports medicine personal trainer.
The 29-year old rediscovered streaming during the pandemic, and picked up where she left off in 2014. "I went hard partially because of quarantine and because I wanted to rebuild my community as fast I could!"
HFoxx77 had a lingering 700 followers from her first period as a streamer, and many returned for what has been a glorious return. So much so, that the young streamer was recently nominated for two awards in the GameHer Awards, one of which was for the Rising Star: Streamer Award.
"I am super excited about it. It's honestly the biggest honour I think I've had in my gaming career so far," said HFoxx77. "When I got the email I immediately called my parents freaking out. They have no idea what gaming is but I told them anyway. Then I told my entire community immediately!"
HFoxx77's dream is to be a full-time content creator and part-time personal trainer. We spoke to the rising streamer and Rogue Energy partner about her career so far.
HFoxx77's stream has one motto: "Do no harm but take no shit"
Which is the harder grind, personal trainer or Twitch streamer? "Twitch streamer 1,000%," said HFox77 instantly."
"Even though there might not be a physical aspect to it, there's a huge mental aspect to constantly being 'on' and trying to be there for your community while taking care of yourself can be really hard," she added.
"I have always been super open, honest and transparent with my entire community about where I'm at mentally. And I think that gives me a huge advantage."
HFoxx went on to explain that while typically streamers may try to obscure their true feelings, she deliberately does the opposite. This approach she feels lends itself to having deep meaningful conversations about hard topics such as mental health with her viewers.
"I genuinely think that my community centres around mental health so you'll see a lot of that on my stream," said HFoxx77. "I also talk a lot about empowerment of women in gaming because that's a big deal to me."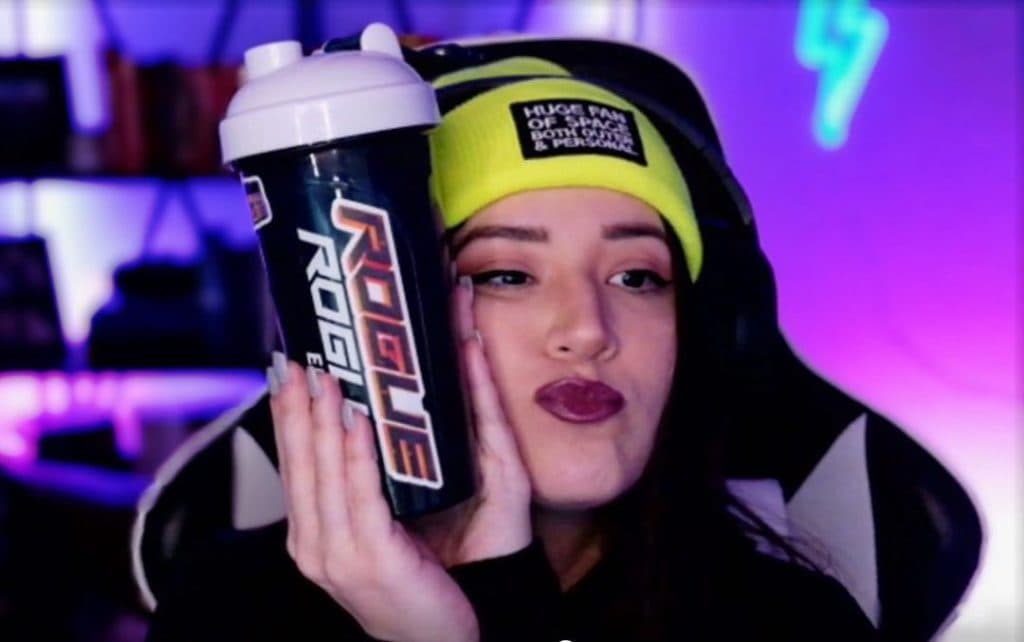 "I obviously am a woman in gaming and I've been in this industry for a really long time and I've seen quite a bit. I try to bring awareness to that anytime I can on my stream. Other than that we drink, we hang out, we have a good time and we try to laugh as much as we can."
HFoxx77's motto for her stream is "do no harm but take no shit", and it is a motto that she lives by. HFoxx77 does her best to avoid toxicity despite playing VALORANT and Call of Duty, which she admits are both well known for being volatile. She does however, dabble in horror games "because it's hilarious and I'm awful at them".
"I was one of the first streamers to stream Outlast," said HFoxx77. "Which is awful because I am not a good horror streamer and I don't even think I finished the game. I freaked out a fifth of the way through and couldn't walk further, (laughs) that was pretty funny."
"One of the things I say a lot is 'comparison is the thief of joy' [...] I think everybody in this industry grows at their own pace."
HFoxx77 on making sure you go at your own pace
"Comparison is the thief of joy"
It is common known fact that jumping between games can make it harder to progress your stream compared to someone who sticks to one title. What is more the climb up the Twitch streaming ladder can be a grind at times.
So I was curious to ask HFoxx77 what her advice would be to someone who might find it difficult to bounce back from a poor stream.
"One of the things I say a lot is 'comparison is the thief of joy'. So I try my best not to compare myself to the bigger streamers, or even other creators I am close with who are larger than me," said HFoxx77. "I think everybody in this industry grows at their own pace."
HFoxx77 is a Rogue Energy Partner
"Any event at any time could pivot the direction, whether that's a good stream or a bad stream. But listening to my mental health and state has been huge. "
"When I started streaming I ignored that, and was focused on the goal of growing the stream. At the end of the day, your content will only be as good as your mental state. So if you need to take some time or take a step back to focus on yourself, you should definitely do that."
"At the end of the day, your content will only be as good as your mental state. So if you need to take some time or take a step back to focus on yourself, you should definitely do that."
HFoxx77 on the importance of taking care of your mental health as a content creator
HFoxx77 herself has taken time to reset, in particular after being diagnosed with ADHD. "It was something I went 28 years without knowing and it has been a huge journey for me," said HFoxx77.
"Having people in my community come forward and say 'hey me too' or just reaching out to check up on me if I need to take some days off streaming has been insane. The fact people take time out of their day to check on their streamer, I love them for that"
"I do think it's a big dark side of twitch that people don't talk about is the mental toll and comparison and how dark it can get when you are stuck in numbers and only looking at viewership and only looking at followers or likes all of that stuff. As opposed to like stepping back and looking at your community as a whole and the people that you do have. It just steals the entire experience away and I think a lot of people get stuck in that hole."
Rising Twitch streamer and Rogue Energy partner HFoxx77
HFoxx77 the comfort streamer
A Twitch streamer's community can often become a support group for those within it, especially after a tough day at work or the "real world" in general. The ability to bring joy to viewers, is one reason why many find streaming incredibly rewarding, and HFoxx77 agreed.

"It's always been the most rewarding when a few followers come in and they tell me I'm their comfort streamer," said HFoxx77. "I don't see myself as one of those super comfortable cosy streamers I'm sort of blunt and honest and in your face. I talk about hard things and that doesn't usually equate to comfort with me, but I guess I am that for people and that's still so crazy."
Hfoxx77 shared in our interview that some of the most impressionable visitors to her stream were younger women who were scared of making their voices heard.
"The most impactful for me are younger girls that end up coming from Tiktok or Instagram and DM me to say that for the longest time they weren't playing with their mics on, but that I gave them the voice to play with it and defend themselves," said HFoxx77. "That's insane to me, that people feel they have a voice through me, that I am giving them power to speak up and hold their ground."
The future is bright and comes with a Rogue Energy partnership
HFoxx77's stream is on the rise and the creator is hopeful to expand both her YouTube and her Tiktok as well as her Twitch. In terms of sponsors and support, after her return to streaming in 2020, she applied for Rogue Energy's affiliate program, and eight months later became a Partner.
"I was looking for an energy drink that gave me energy but wasn't crazy bogged down with insane chemicals," said HFoxx77 bluntly. "Obviously studying to be a certified personal trainer led me to do a bit more research and Rogue Energy was the cleanest formula I found, which is what I wanted."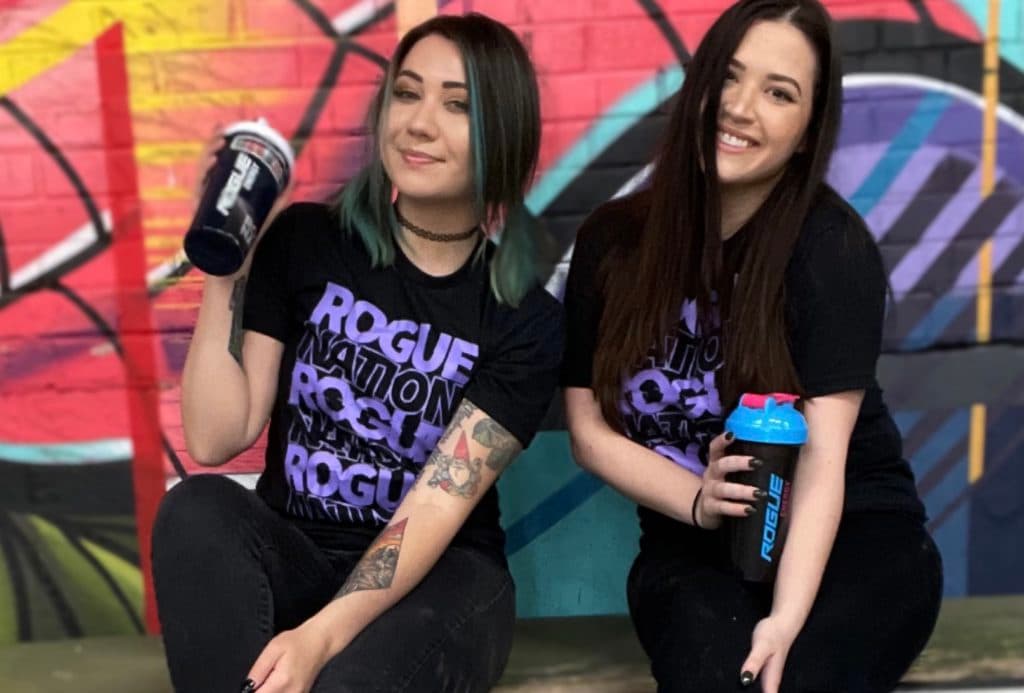 HFoxx77 (right) with fellow Rogue Energy partner Onoez (left)
"I absolutely love their community and the brand and what they stand for, and they feature a lot on my stream whether that's giveaways or debating what flavour is the best. Honestly Zac (Rogue Energy's CEO) has done an amazing job curating a group of partners that represent the brand. I'm super happy to be a part of it."
Any plans for October? "I'm hoping to do a Fallout Vault Dweller Cosplay," said HFox77. "I'll also be giving away a couple of Rogue Energy's spooky bundles!"