The RLCS 2021-2022 season announcement impressed fans, pros, and we break down why.
The RLCS 2021-2022 season was officially announced today with more regions, a bigger prize pool, and the return of LAN competition.
RLCS 2021-2022 Season Details
The Rocket League community's patience has been rewarded today after a midday Psyonix stream. The San Diego team announced a record $6,000,000 prize pool, the addition of three regions, and a revamped format. Let's dive into all of the major changes!
The shiny prize pool is intended to support the expanded RLCS field that now includes: the Middle East & North Africa, Subsaharan Africa*, Asia-Pacific North, and Asia-Pacific South. While Subsaharan Africa will be able to compete at Worlds, they won't be a full region this year.
RLCS 2021-2022 will see the general format from last year (three splits, regional events, and majors) but The Grid has been axed in favor of third party tournaments. Psyonix emphasized that events will be capped at 16 teams and has leaned heavily on the Swiss system in place of group stages.
Majors will be held on LAN while the fate of regional events are in the air. The first major LAN will be held in Stockholm, Sweden (players only) while the World Championship will be in North America.
The World Championship now features a "wildcard event" and regions' performance will impact how many spots that region will guarantee in the main event. For example, if North America performs exceptionally well at the Spring Major, they can earn up to five guaranteed spots at the World Championship.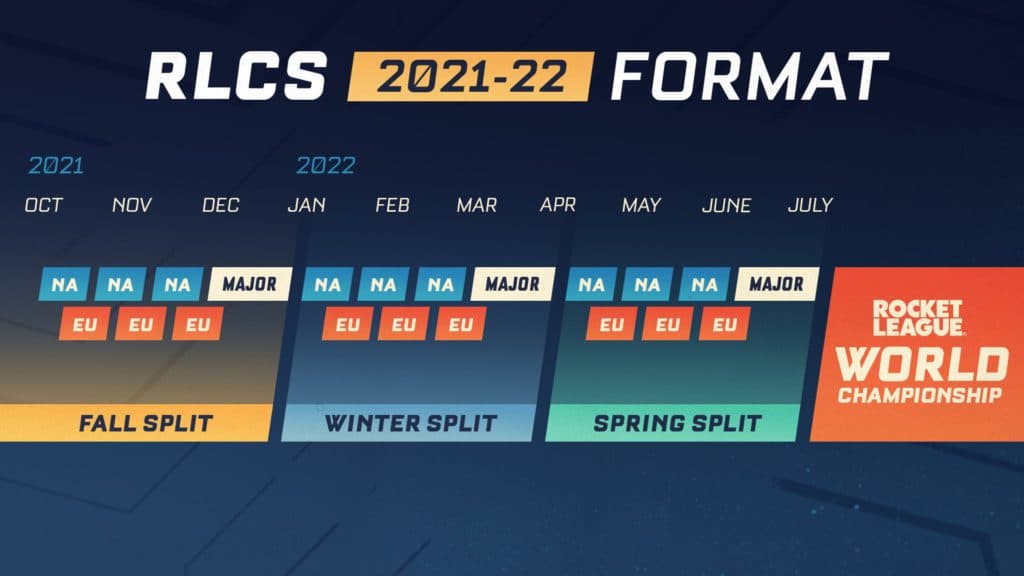 Photo Credit: Psyonix
Community Reactions & Ecosystem Updates
The community had a lot of pent-up emotions over the upcoming season. RLCS X offered up a range of mixed emotions with the lack of LAN finals, change to the format, and little in the way of answers from Psyonix.
With the addition of new regions, Psyonix promoted several third-party TOs to official positions. One of those, Nishant "Nish" Chahar was hired as the APAC Regions Regional Manager to unanimous applause.
A leading tournament organizer based out of India, Nish is cautiously optimistic about what his new role/RLCS expansion means for Asian Rocket League.
I am really excited that players have something to grind for, and improvements will come with time. I can't wait to see Asia dominate in the future!
Nishant "nish" Chahar
In addition to expanding regions, Psyonix is looking to expand its esports decal store and broadcast package. Psyonix announced they are expanding the number of teams who qualify for decals and each team will receive home/away kits. Kits will be designed in partnership with the organization and orgs are free to put sponsors on their decals.
The last change revolves around the broadcast itself. Psyonix will be utilizing Unreal Engine to produce graphics packages to highlight teams and create innovative, fresh engaging streams for fans. It remains to be seen what Unreal Engine can provide, but Psyonix were extremely excited to show it for their fall split of the RLCS 2021-2022 season.